Sier wins first-ever Carnegie Mellon An Bratach Dubh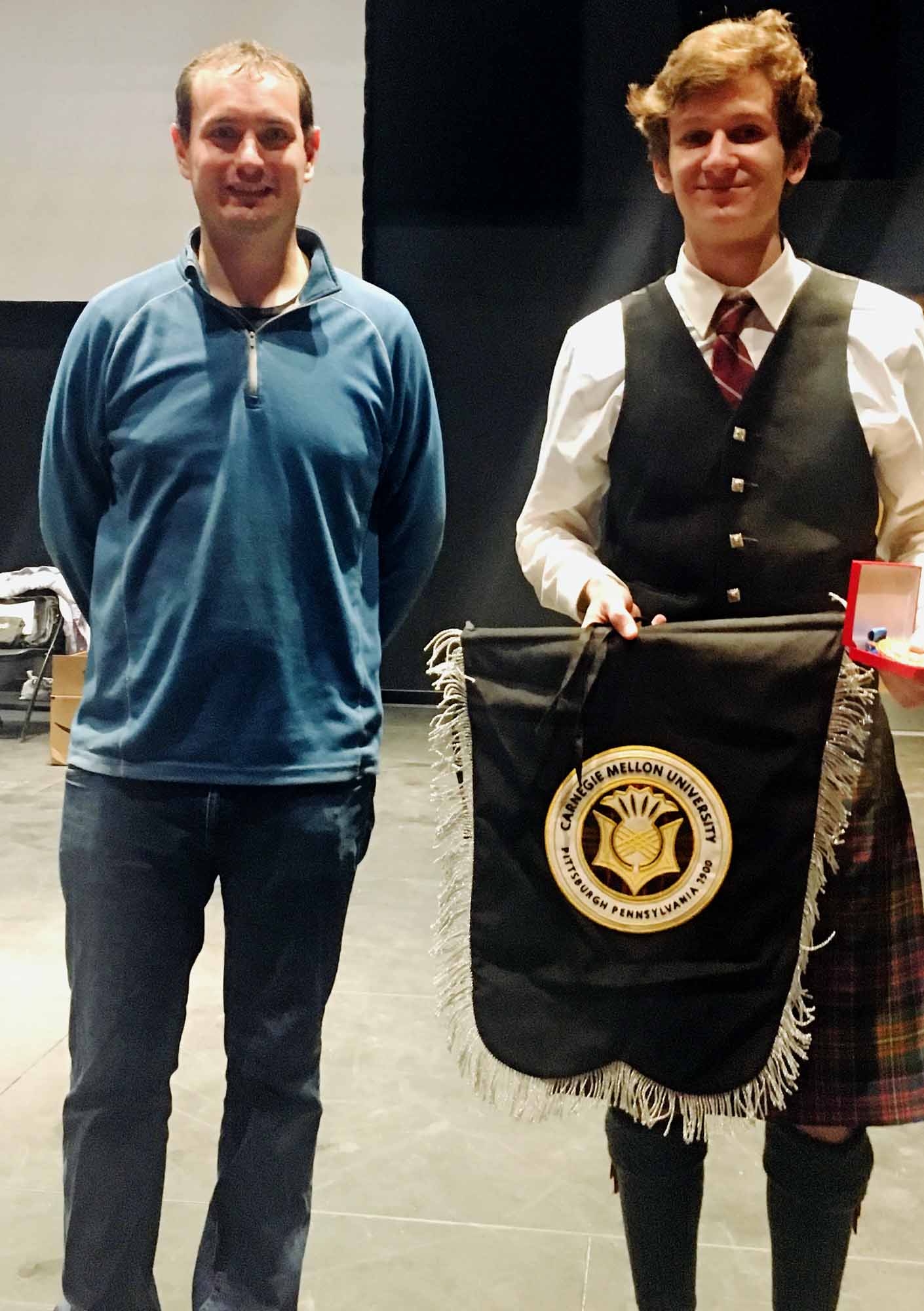 Pittsburgh – March 8, 2019 – Kolya Sier was the winner of the An Bratach Dubh (Black Banner) as the best overall at the first Carnegie Mellon University solo piping competition, an event confined to students from the school. Nine competitors submitted three piobaireachd, three march, strathspeys and reels and 6/8 marches. In the morning, competitors played a 6/8 march followed by a piobaireachd. In the afternoon, competitors played a march, strathspey and reel followed by a different piobaireachd from the morning.
"It was a terrific day of piping and I was proud of all nine of my students," said Carnegie Mellon Director of Piping Andrew Carlisle, who organized the event. "It is great that the university today has this body of top pipers at this grade one level. For me, this was testing the waters holding this competition, hopefully following this successful day, we could look at running a full scale solo piping competition at Carnegie Mellon in future years."
The competitions were held at the Cohen University Centre Studio Theatre, and were judged by Joyce McIntosh and Jimmy McIntosh, who started the piping program at Carnegie Mellon, the world's first university-level degree major in Highland piping.
Morning Piobaireachd
1st Kolya Sier, Illinois, "The Big Spree"
2nd Bobby Dunn, New Jersey, "Lord Lovat's Lament"
3rd Ryan Kavanagh, Ontario, "Lament for the Union"
4th Tyler Destremps, Pennsylvania, "Melbank's Salute"
5th Colin Tait, Michigan, "Nameless: Hiharrin dro o dro"
6th Alex Burlew, Pennsylvania, "The Groat"
Afternoon Piobaireachd:
1st Bobby Dunn, "The Battle of Waternish"
2nd Kolya Sier, "Lament for Donald Duaghal MacKay"
3rd Ryan Kavanagh, "The Battle of Bealach Nam Brog"
4th Colin Tait, "The MacDougalls' Gathering"
5th Tyler Destremps, "Grain in Hides and Corn in Sacks"
6th Evan Burlew, Pennsylvania, "Lord Lovat's Lament"
MSR
1st Tyler Destremps, "74th's Farewell to Edinburgh," "Loch Loskin," "Arnish Light"
2nd Bobby Dunn, "Kantara to El Arish," "MacBeth's," "Cecily Ross"
3rd Kolya Sier, "Southall," "John Roy Stewart," "Broadford Bay"
4th Steven MacDonald, Florida, "The Abercairney Highlanders," "The Ewe wi' the Crookit Horn," "The Cockerel in the Creel"
5th Ryan Kavanagh, "Pipe-Major George Ross's Farewell to the Black Watch," "The Top of Craigvenow," "The Rejected Suitor"
6th Evan Burlew, Pennsylvania, "The Glengarry Gathering," "Lady MacKenzie of Gairloch," "Fiona MacLeod"
6/8 March
1st Kolya Sier, "Mrs. MacDonald of Uig"
2nd Bobby Dunn, "MacLeod of Mull"
3rd Steven MacDonald, "Miss Ishabel T. MacDonald"
4th Colin Tait, "Tug Argan Gap"
5th Ryan Kavanagh, "John MacColl's Farewell to The Scottish Horse"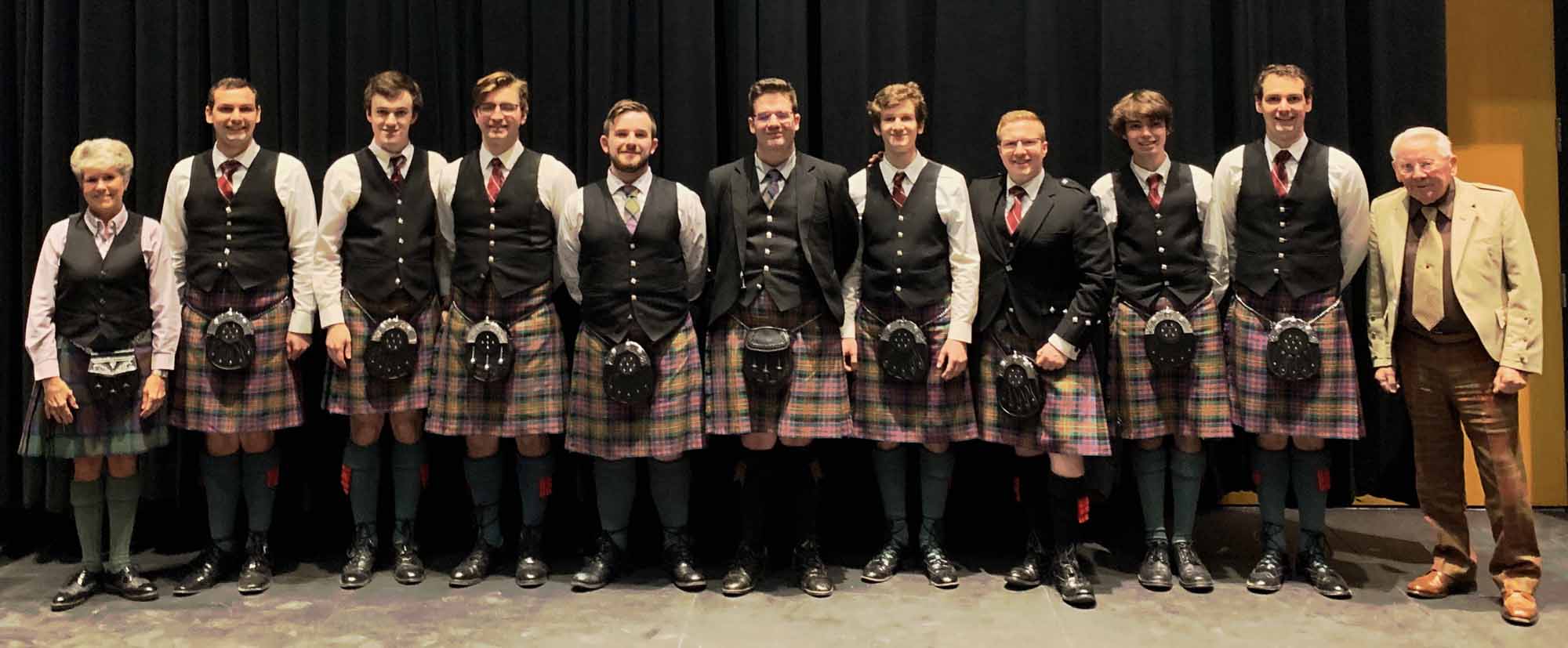 Competitors and judges at the first ever Carnegie Mellon Solo Piping Competition.
---
Related stories

Carlisle lands Pittsburgh piping job

---

Carnegie Mellon starts formal search for program director

---

Baughman gets the Carnegie Mellon gig

---
A student's guide to piping and university/college