Special discount on NYPBS Edinburgh concert for pipes|drums readers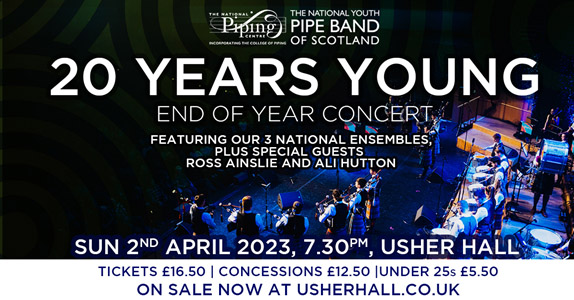 The National Youth Pipe Band of Scotland's April 2nd concert at Edinburgh's famous Usher Hall will mark the twentieth anniversary since the initiative began, and the organizers are now offering a 20% discount on tickets exclusively for pipes|drums readers.
Full-price tickets to the "20 Years Young" show are £16.50 and available directly from the Usher Hall online box office. Anyone younger than 26 can get a ticket for only £5.50, and tickets for senior citizens are also discounted to £12.10.
pipes|drums readers can use the discount code "PIPESDRUMS20" to get 20% off the regular price.
NYPBS Director Steven Blake has provided a sneak peek into the show, saying the various bands will showcase a mix of new and classic content.
"I think for NYPBS this will be an important opportunity to signal the future we want to build," Blake said. "And it feels like our most eclectic mix of music yet from the program – we're taking some real creative and execution risks in terms of pipe band performance, while also engaging with classic repertoire from Simon Fraser University, the 78th Fraser Highlanders, Vale of Atholl, and Donald Macleod, but also modern pipe music and music from fiddle players, not to mention showcasing work created through our emerging composers programme, bringing new voices to the art form."
Blake also noted that the event ties in with the twentieth anniversary of Creative Scotland's Young Music Initiative program, and comes at a time when artistic funding is under threat across the UK due to government cuts.
"At a point in time where funding in the arts is potentially under threat it feels like a vital time to celebrate and discuss the value of them," he said.
Started by the National Piping Centre in 2003, the NYPBS has over the years had many exceptional young pipers and drummers go through its ranks, including many who have continued with some of the world's greatest competing pipe bands.