Springbank goes to MacLeod
Campbeltown, Scotland – September 16, 2017 – Roddy MacLeod was the overall winner of the annual Springbank Invitational Solo Piping Competition, the annual event put on by the local Kintyre Pipers Society. MacLeod won the Piobaireachd and enjoyed a third and second in the double MSR and 6/8 March, which each piper played before their piobaireachd. The 6/8 March had to be by an Argyllshire composer.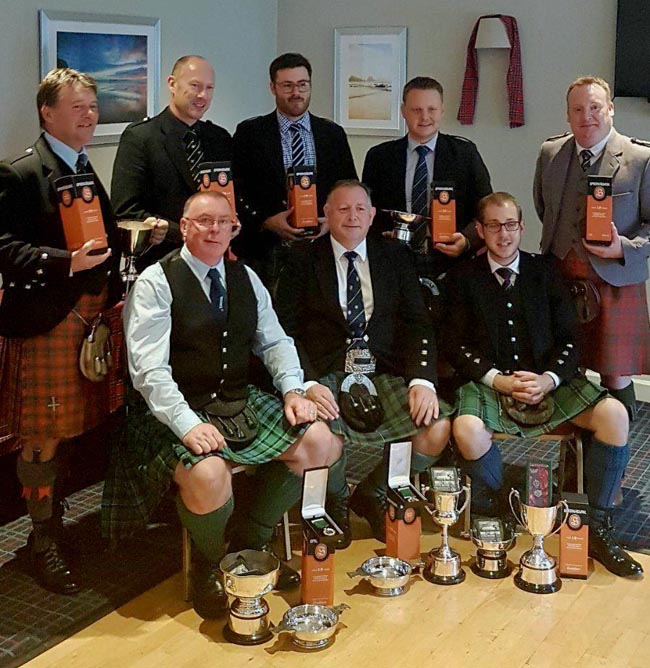 In honour of the late Willie McCallum Sr., McCallum Bagpipes presented a set of Duncan MacRae Bagpipes to the Kintyre Piping Society for the purpose of loaning to beginner pipers. Willie McCallum Jr. made the presentation to Kintyre Piping Society President John Brown.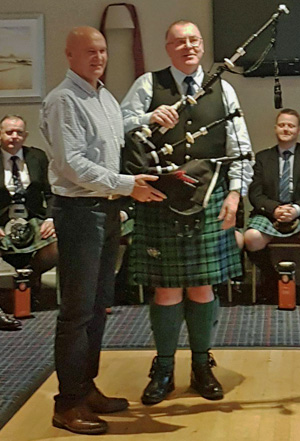 Piobaireachd
1st Roddy MacLeod, Glasgow, "Lament for MacSwan of Roaig"
2nd Alasdair Henderson, Glasgow, "The MacDougalls' Gathering"
3rd Gordon McReady, Renfrew, Scotland, "The Vaunting"
4th Iain Speirs, Edinburgh, "In Praise of Morag"
MMSSRR
1st Willie McCallum, Bearsden, Scotland, "Capt. Campbell of Drum a Voisk," "Angus Campbell's Farewell to Stirling," "Dora MacLeod, "Susan MacLeod," "Roddy MacDonald's Fancy," "The Man from Glengarry"
2nd Callum Beaumont, Linlithgow, Scotland, "Miss Elspeth Campbell," "Mrs. Duncan MacFadyen," "Tulloch Castle," "Bob of Fettercairn," "The Cockerel in the Creel," "Drumlithie"
3rd Roddy MacLeod, "The Clan McColl," "The Argyllshire Gathering," "Lady Louden," "The Shepherd's Crook," "The Grey Bob," The Sheepwife"
4th Alasdair Henderson, ""the Dke of Roxburgh's Farewell to the Blackmount Forest," "Inveran," "Piper's Bonnet," "Bob of Fettercairn," "Sandy Cameron," "Mrs. MacPherson of Inveran"
6/8 March
1st Angus MacColl, Benderloch, Scotland, "The MacNeills of Ugadale"
2nd Roddy MacLeod, "The Braes of Scotland"
3rd Willie McCallum, "P-M Ronnie McCallum"
4th Gordon McCready, "The Highland Brigade Depot"
Hornpipe & Jig
1st Alasdair Henderson, "Hazel Thompson," Michael MacDonald's Jig"
2nd Angus MacColl, "Kylie Howie's" "Calum's Bridge"
3rd Gordon McCready, "The Captain's Pledge," "P-M Jimmy MacGregor"
4th Willie McCallum, "St. Valery," "Kenneth MacDonald's Jig"
Also playing but not in the prizes: Glenn Brown, Glasgow.
Iain MacFadyen and John Wilson judged all events.