St. Laurence O'Toole: 2018 Scottish Champions
Dumbarton, Scotland – July 28, 2018 – The fourth and penultimate 2018 RSPBA major championship, the Scottish, was won by St. Laurence O'Toole of Dublin at picturesque Levengrove Park in the shadow of Dumbarton Rock. The band also won the drumming. It was the second major win for SLOT in 2018. This year's European Champions and reigning World Champions Inveraray & District placed second, a point behind. An unusual spread of four places between piping judges kept 2018 British Champions ScottishPower, who were first in ensemble, from a potentially higher placing.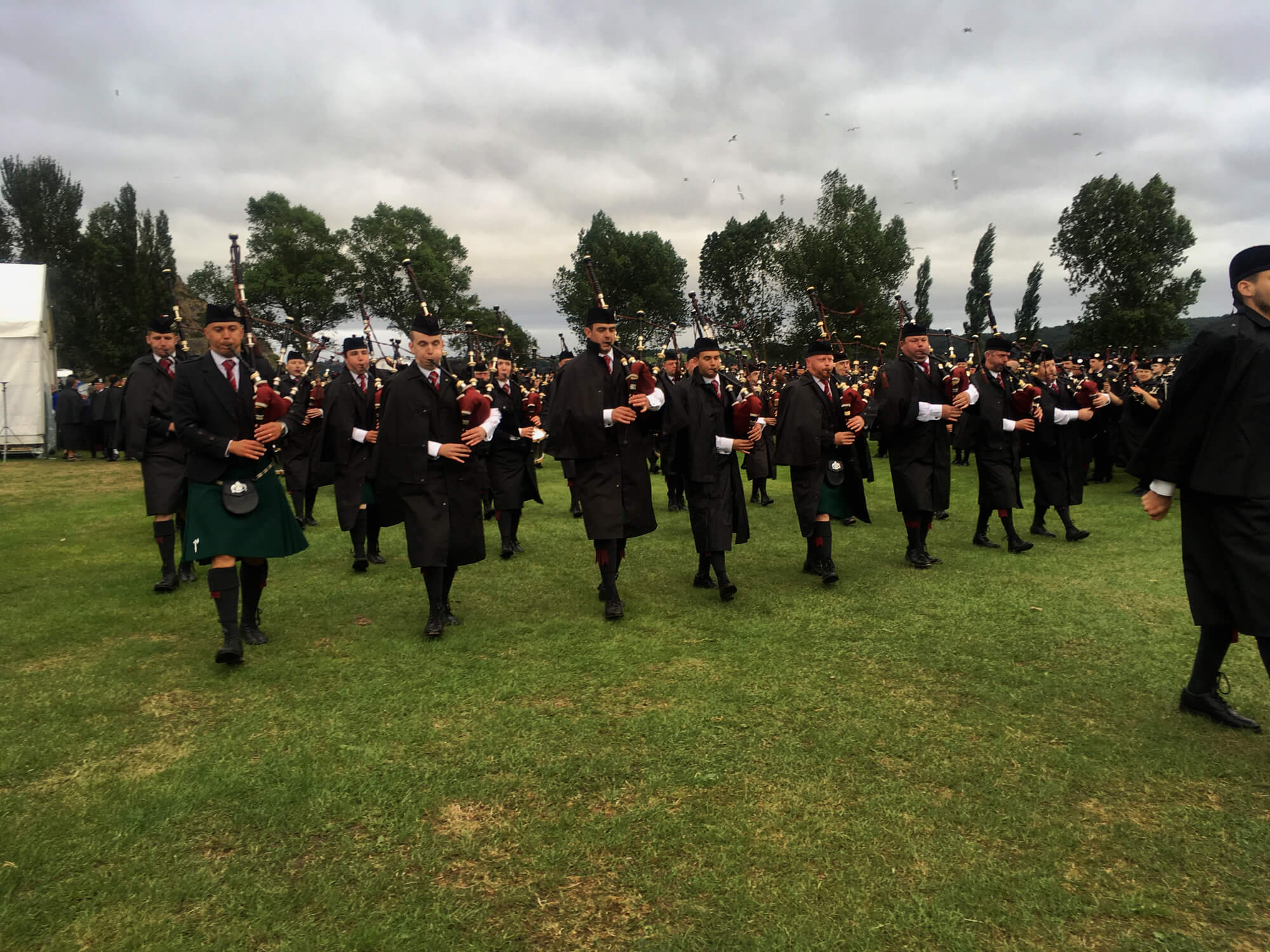 In Grade 2, Ravara of Northern Ireland continued their successful comeback with a win. Winners of Grade 2 at the European and United Kingdom Championships, MacKenzie Caledonian of Dundee, Scotland, were out of the prize list altogether, finishing seventh, with a twelfth in drumming hindering their chances.
Weather was mixed, with temperatures starting okay, but rapidly decreasing as the day went on, finishing with a cold, blustery and wet march past. It was the last major event before the World Championships in Glasgow, August 17-18.
Grade 1 (MSR, 15 competed)
1st St. Laurence O'Toole (1,2,1,4)
2nd Inveraray & District (2,1,4,2)
3rd Field Marshal Montgomery (3,4,2,3)
4th ScottishPower (7,3,3,1)
5th Police Scotland Fife (6,6,5,6)
6th Shotts & Dykehead Caledonia (4,5,11,9)
Judges: Jim Wark, Ronnie McShannon (piping); Sandy Steele (drumming); Paul Turner (ensemble)
Grade 2 (Medley, 14 competed)
1st Ravara (1,1,3,3)
2nd Grampian Police (2,4,7,2)
3rd Closkelt (4,3,9,1)
4th Manorcunningham (5,6,1,5)
5th Isle of Islay (3,2,10,6)
6th Bucksburn & District (6,7,2,8)
Judges: Harry Stevenson, Donald MacPhee (piping); Stuart Coils (drumming); Gordon Craig (ensemble)