St. Laurence O'Toole: 2019 UK Champions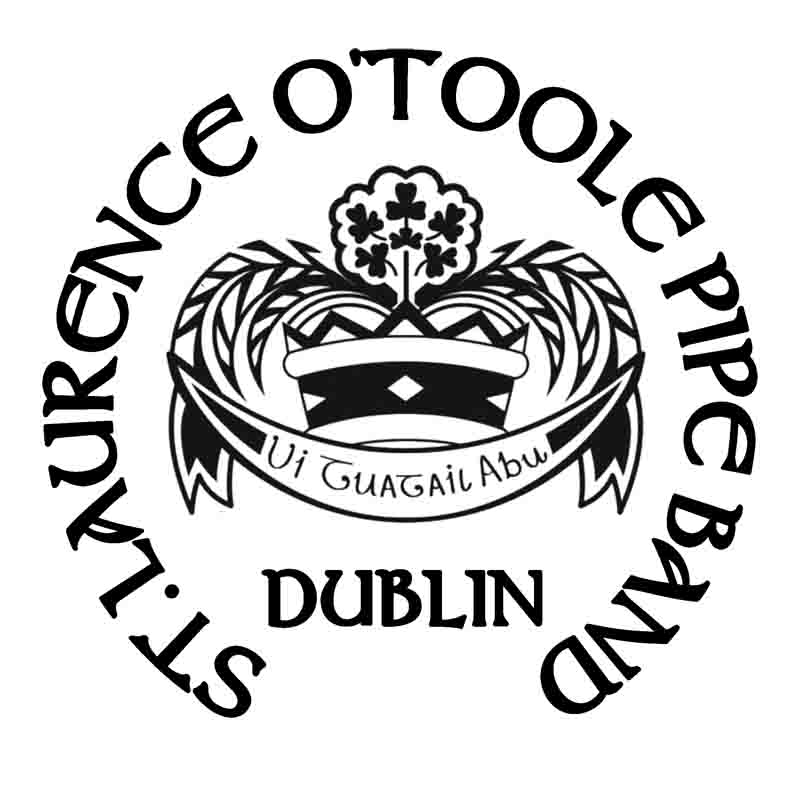 Lurgan, Northern Ireland – June 15, 2019 – The United Kingdom Championship was won by St. Laurence O'Toole, taking the second major in the RSPBA's five-championship season. It was the band's second major win, achieved in convincing and rare straight-firsts style, making a major statement on the young season.
On a dreary, wet day, the march past was cancelled and the awards ceremony was reduced to only centre bands, with only pipe-majors and lead-drummers participating in the prize-giving.
In Grade 2, Closkelt continued their excellent year with a second major championship win, while Ravara continued their re-ascension since being a Grade 1 band a few years ago. Northern Irish and Irish band took the top two and three places, respectively, in Grade 1 and 2 and, with the exception of the juvenile grades, Northern Irish and Irish bands won every grade.
Grade 1 (medley, 12 competed)
1st St. Laurence O'Toole (1,1,1,1)
2nd Field Marshal Montgomery (2,2,2,3)
3rd Inveraray & District (4,3,3,4)
4th ScottishPower (5,5,5,2)
5th Peoples Ford Boghall & Bathgate (3,4,7,5)
6th Police Scotland Fife (6,6,6,6)
Judges: Harry Stevenson, Tom Brown (piping); Ciaran Mordaunt (drumming); Jim Baxter (ensemble)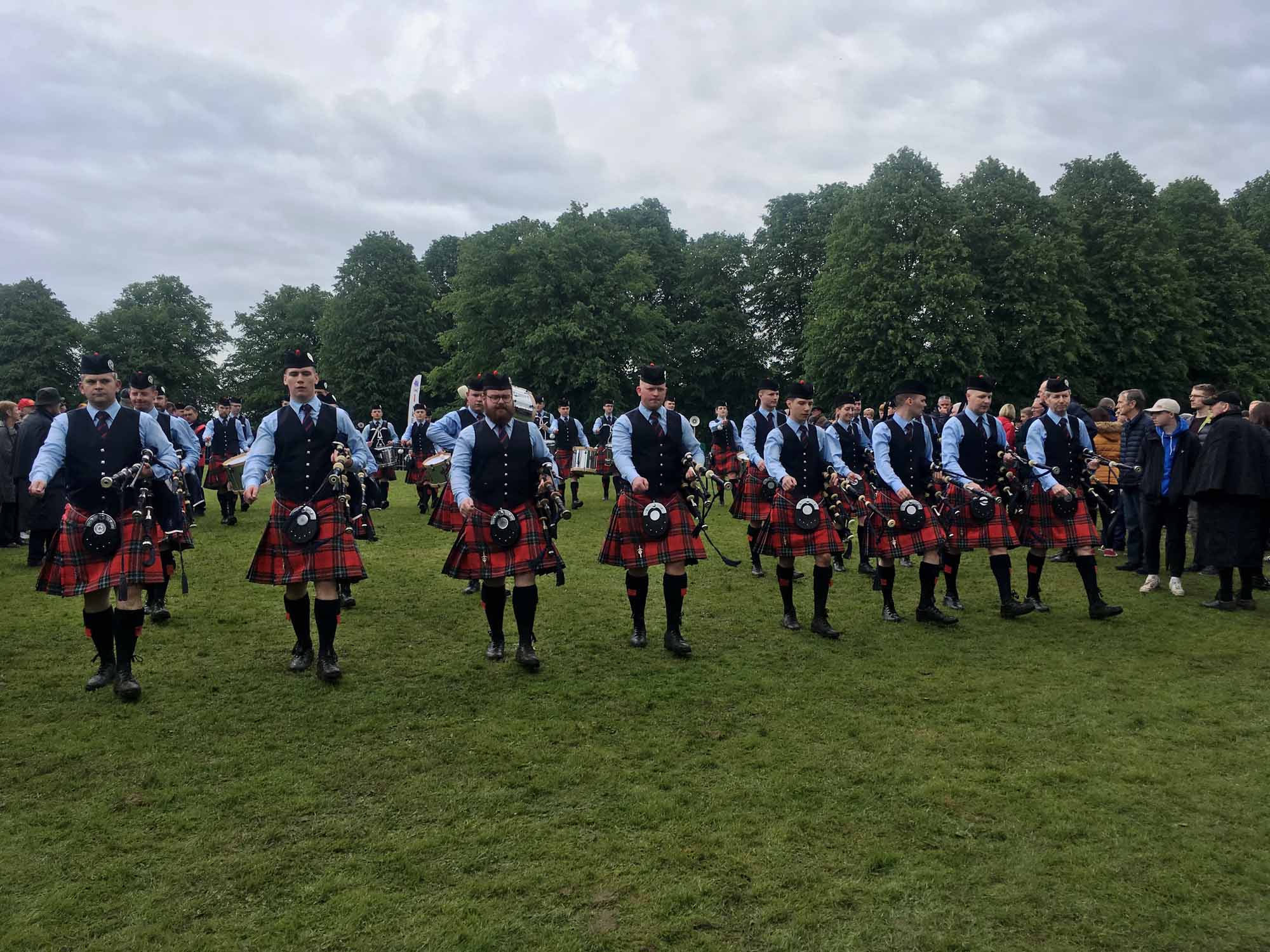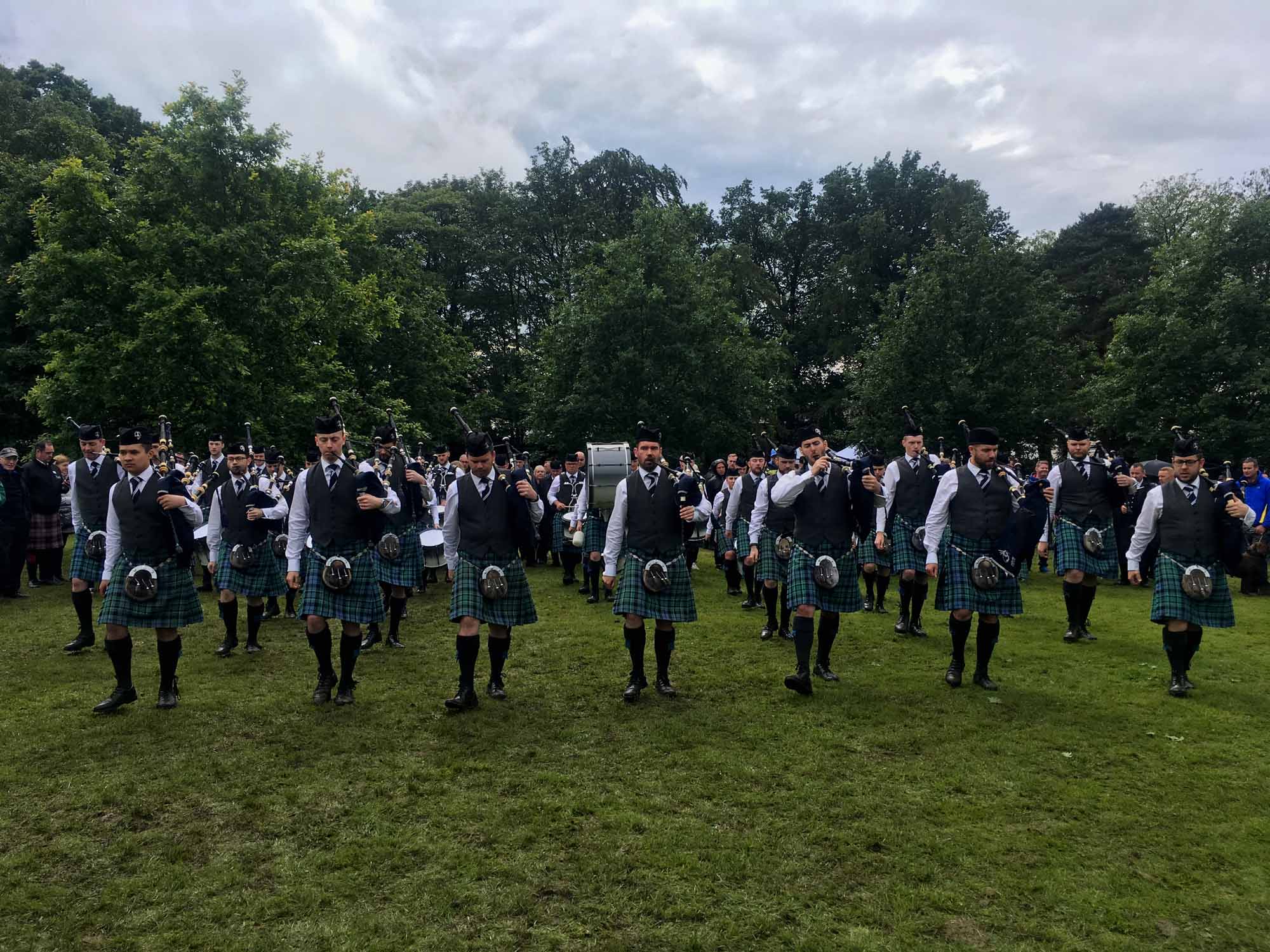 Inveraray & District walking off the park at Lurgan.
Grade 2 (MSR, 15 competed)
1st Closkelt (1,1,3,1)
2nd Ravara (3,4,2,2)
3rd Manorcunningham (4,3,5,4)
4th MacKenzie Caledonian (2,2,11,3)
5th Royal Burgh of Annan (8,6,7,5)
6th Buchan Peterson (5,5,9,7)
Judges: Jim Semple, Mark Faloon (piping); Sandy Russell (drumming); Gordon Lawrie (ensemble)
Grade 3A
1st St. Mary's Derrytrasna (2,2,1,2)
2nd St Joseph's (1,1,7,3)
3rd Battlehill (9,4,3,1)
4th The Highlanders (4 Scots) (3,3,10,8)
5th Matt Boyd Memorial (4,7,11,5)
6th Concord (ens.pref.) (10,10,4,4)
Judges: Bill Garrett, Maurice Rhodes (piping); Mark Wilson (drumming; John Moles (ensemble)
Grade 3B
1st McNeillstown (1, 1, 5, 3)
2nd Tullylagan (2, 6, 1, 2)
3rd Major Sinclair Memorial (4, 2, 2, 4)
4th Milngavie (3, 4, 6, 1)
5th Oban High School (6, 5, 8, 6)
6th Ayr Society (7, 7, 3, 9)
Judges: Colin Moffett, Ross Walker (piping); Sandy Steele (drumming); Jennifer Hutcheon (ensemble)
Juvenile
1st Dollar Academy (1, 1, 2, 1)
2nd George Watson's College (2, 2, 1, 2)
3rd George Heriot's School (3, 3, 3, 3)
4th Preston Lodge High School (4, 4, 5, 4)
5th Peoples Ford Boghall & Bathgate Caledonia (5, 5, 4, 5)
Judges: Harry Stevenson, Thomas Brown (piping); Ciaran Mordaunt (drumming); Jim Baxter (ensemble)
Grade 4A
1st Augharan (3,3,2,1)
2nd Cullybackey (1,1,6,2)
3rd Glenrothes & District (2,2,4,4)
4th Arklow (5,8,3,3)
5th Gransha (4,11,5,8)
6th Cloughfin (6,5,12,6)
Judges: Bill Garrett, Maurice Rhodes (piping); Mark Wilson (drumming; John Moles (ensemble)
Grade 4B
1st Carlow (2,6,1,1)
2nd Strathendrick (1,1,7,2)
3rd Broughshane & District (3,4,2,5)
4th Mountjoy (4,2,9,4)
5th Syerla & District (7,10,3,3)
6th Camelon & District (8,5,6,8)
Judges: George Wilson, Donald MacPhee (piping); Gordon Parkes (drumming); Alan Ronaldson (ensemble)
Novice Juvenile A
1st Dollar Academy (1,1,4,1)
2nd West Lothian Schools (2,2,2,3)
3rd Peoples Ford Boghall & Bathgate Caledonia (3,5,3,2)
4th George Watson's College (4,4,1,5)
5th Stirling & District Schools (5,3,6,4)
6th George Heriot's School (6,6,5,6)
Judges: George Wilson, Donald MacPhee (piping); Gordon Parkes (drumming); Alan Ronaldson (ensemble)
Novice Juvenile B
1st Lochgelly High School (1,1,2,1)
2nd Preston Lodge High School (2,2,1,3)
3rd Scottish Fire & Rescue Service (3,3,3,2)
Judges: George Wilson, Donald MacPhee (piping); Gordon Parkes (drumming); Alan Ronaldson (ensemble)
---
Related articles

St. Laurence O'Toole out with a bang at British Championships
May 18, 2019
---

2018 UK Champions: St. Laurence O'Toole
June 16, 2018