Stapleton, Morris dance to Balmoral Classic success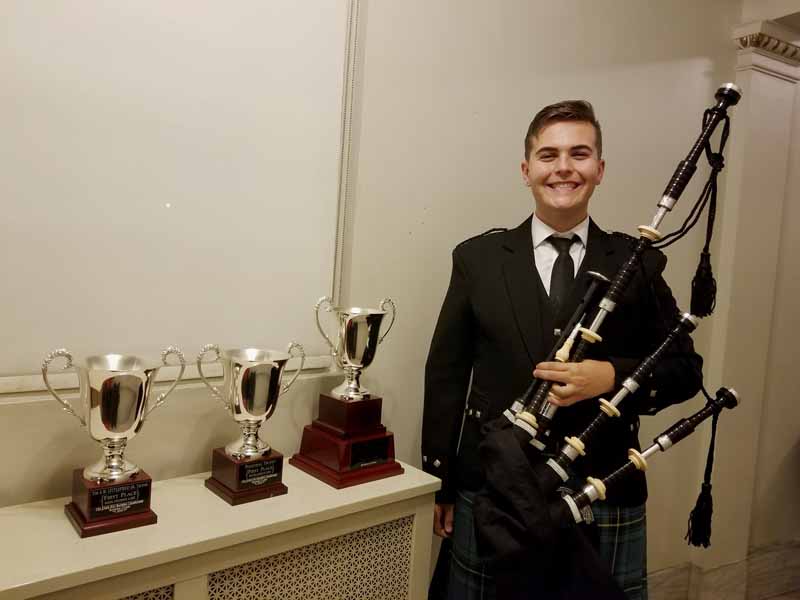 Pittsburgh – November 16-18, 2018 – The twelfth annual Balmoral Classic, part of the Balmoral School of Piping and Drumming, was held in three venues around campus of the University of Pittsburgh, and included the Junior Solo Junior Bagpiping and Solo Snare Drumming Championships. Charlie Morris of Agoura Hills, California, won the piping and Shane Stapleton of Deer Park, New York, took the snare drumming, each winning both events in their domains.
Morris received a set of blackwood MacRae bagpipes from MacCallum Bagpipes, and Stapleton was awarded the Henry Matthews Scholarship for two weeks at the 2018 Balmoral Summer session of his choice and a Premier HTS800 Premier snare drum.
Piobaireachd
1st Charlie Morris, "The Old Men of the Shells"
2nd Tyler Destremps, Pittsburgh, "Grain in Hides and Corn in Sacks"
3rd Kayleigh Johnstone, Aurora, Ontario, "Lament for the Little Supper"
4th Kate Runciman, Guelph, Ontario, "Lament for Captain MacDougall"
5th Sebastian Benedetto, Cape Neddick, Maine, "The Bicker"
Judges: Donald Lindsay, Dr. Angus MacDonald, Matt MacIsaac
MSR
1st Charlie Morris, "Craig-N-Darroch," "Susan MacLeod," "The Grey Bob"
2nd Duncan Winters, Grand Junction, Colorado, "The Conundrum," "John Roy Stewart," "Alick C. MacGregor"
3rd Elizabeth Knox, Woodbine, Maryland, "Mrs. John MacColl," "MacBeth's," "Kalabakan"
4th Steven MacDonald, Dundee, Scotland, "Colin Thomson," "The Islay Ball," "The Sheepwife"
5th Tyler Destremps, "Inveran," "Loch Loskin," "Amish Light"
Judges: Donald Lindsay, Dr. Angus MacDonald, Matt MacIsaac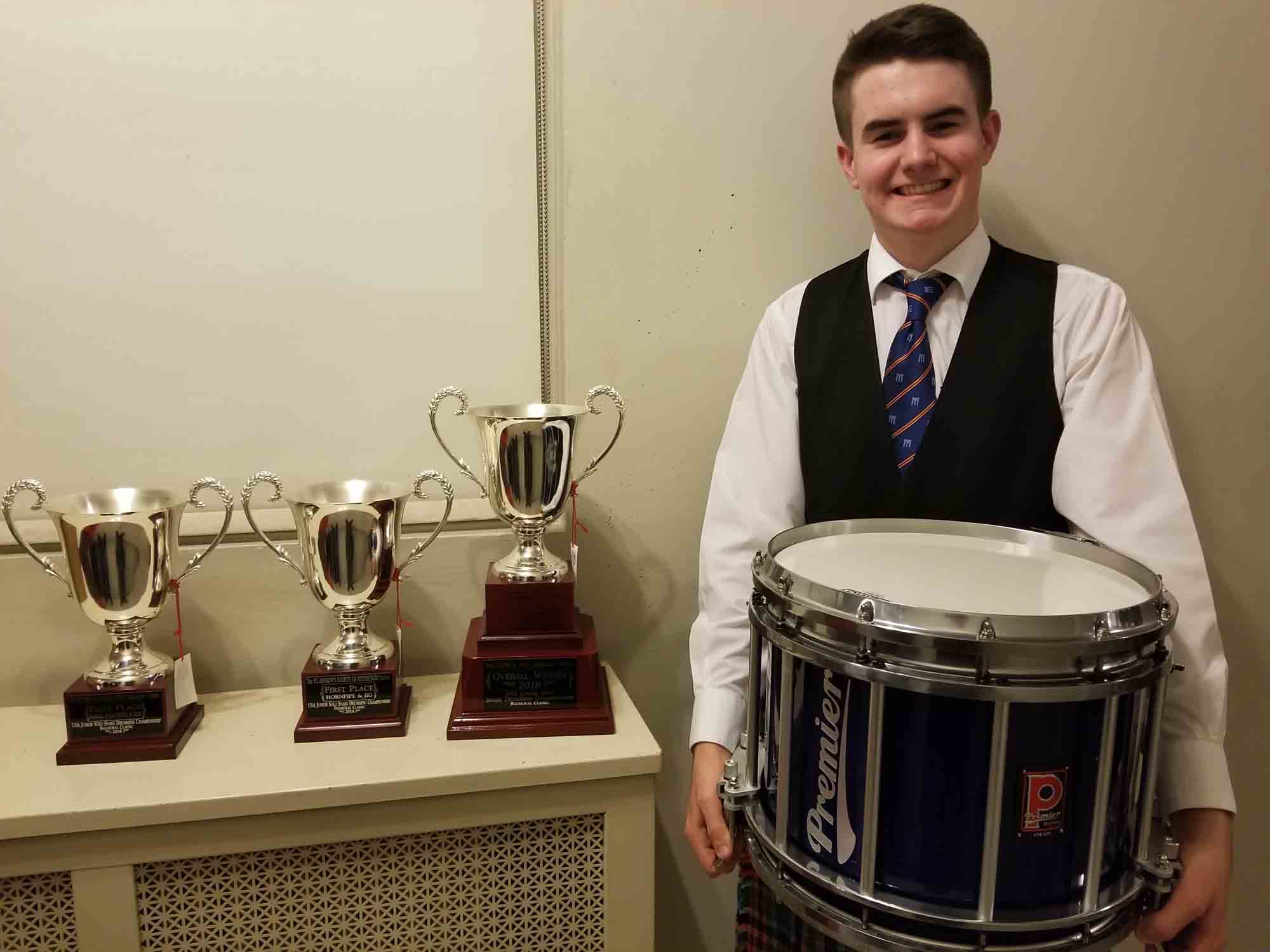 Snare Drumming
MSR
1st Shane Stapleton, "The Conundrum," "Maggie Cameron," "McAllister's Dirk"
2nd Nicholas Moore, "Lord Alexander Kennedy," "Caledonian Society of London," "Mrs. MacPherson of Inveran"
3rd Connor Williams, "The Clan MacRae Society," "Maggie Cameron," "Thompson's Dirk"
Judge: Gordon Bell
Hornpipe & Jig
1st Shane Stapleton, "ScotsAire," "Donald Cameron's Powder-horn"
2nd Connor Williams, "NS Nightcrawler," "The Curlew"
3rd Nicholas Moore, "Rhonda Blair," "Morning Blossom"
Judge: Gordon Bell
The weekend included recitals by judges Dr. Angus MacDonald and Matt MacIsaac, and a contra dance with fiddling from MacDonald, Donald Lindsay on border pipes and smalllpipes, and drumming judge Gordon Bell on various percussion instruments. The Balmoral Guide to Playing the Bagpipes for Community Dances, was released at the event.
The competitions were followed by a concert by Nuallan from Cape Breton, Nova Scotia, to an audience of approximately 500, which also featured dancers from the Thompson School of Highland Dance and Burke-Conroy School of Irish Dance.
The weekend concluded on Sunday with a free presentation to about 20 attendees by Dr. Angus MacDonald on 2019 Silver Medal tunes "The MacGregors' Salute," "The Battle of Strome," and "Salute to Donald."