Strutting with flair and aplomb
The Pipe Band Concert
Inveraray & District
Bagad Kemper
Glasgow Royal Concert Hall
Glasgow, January 28, 2017, £15
Reviewed by Euan Anderson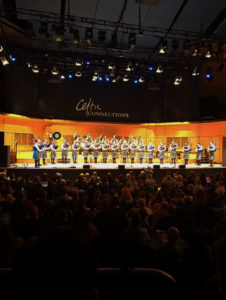 The traditional Celtic Connections pipe band concert is always high on the agenda of must-see events, and this year did not disappoint. With Bagad Kemper of Brittany and Inveraray & District from Scotland on the bill it promised to be an excellent blend of music and cultures.
The Glasgow Royal Concert Hall was set out with tables on the ground floor and this added to the relaxed ambience in the auditorium. A large audience (about two-thirds capacity) were clearly in the mood to be entertained.
Bagad Kemper were up first presenting their new "Melezour" concert (the mirror in Breton-French). The new creation, under the musical direction of Steven Bodénès, was to offer a new perspective on Breton music.
While there was everything you would expect to hear from a bagad with the usual mix of pipe, drum and bombard, the main feature was the vocal accompaniment provided by guest artists Marthe Vassallo and Sylvain Girault. This was a pleasant and unexpected addition and with the blend of Bernard Le Dreau on saxophone, Erwan Volant on bass and Thibault Niobe on guitar the audience were royally entertained to some classic Breton music.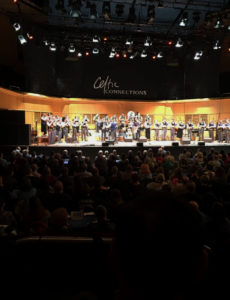 The group filled the stage and there must have been some 50 musicians performing, all of whom were clearly enjoying their task. This was a hugely entertaining spot that left the audience wanting more as they headed for refreshments at the interval.
In the second half the 2016 RSPBA Champion of Champions took to the stage under Pipe-Major Stuart Liddell and Lead-Drummer Steven McWhirter. One of the most accomplished and musical pipe bands in the world, they started off with some high-calibre stuff and maintained that for their entire performance. It was a real treat to see this band on stage in top form. They appeared very relaxed and that came across in the delivery. Not a drone tuner in sight and in all honestly it didn't sound like they needed one.
Interestingly, during some sets McWhirter dropped down from 10 to five snares and this, from where I was sitting, produced the best musical blend.
I am not a fan of the Royal Concert Hall's acoustics but, then again, I only go there to listen to pipe bands. The word from the performers is that it is very good acoustically when playing on stage, but the audience sometimes misses the subtleties of musical arrangement due to heavy percussion accompaniment.
That aside this was a first class musical program from both bands who strutted their stuff with flair and aplomb.
If this is the quality they are producing now, 2017 will surely be a very successful year for both groups.
Euan Anderson has been a member of several top-flight pipe bands in his career, including as pipe-sergeant with the Grade 1 Lothian & Borders Police and the Grade 2 Drambuie-Kirkliston. Now retired as a detective in the Lothian & Borders Police Force, he is a solo piping judge with the Scottish Piping Judges Association. He lives in Edinburgh.