#TBT: Lodgings on a Cold Ground: MacPhersons of Laggan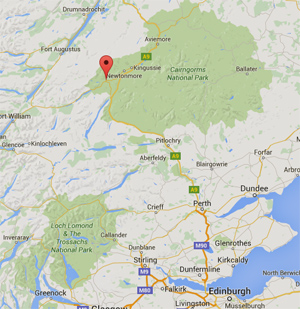 It's a Throwback Thursday, so we look back to February 2002 when we visited probably the most famous graveyard in piping, to Laggan, Scotland, and we republish the original print article now.

Off the main road north to Inverness is the village of Laggan – tiny in size but huge in piping history. We were in search of the graves of Malcolm "Calum Pìobaire" and Malcolm Ross MacPherson, and with the help of the groundskeeper at the church at Laggan Bridge, located their stones. Sadly, Calum Pìobaire's 103 year-old monument is in severe disrepair, while Malcolm Ross's stone remains intact.
We asked Dr. William Donaldson of Aberdeen, Scotland, if he would put together a short piece on the MacPhersons' role in the history of piping, and he kindly returned the following.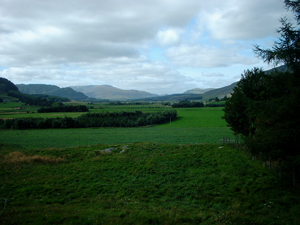 Malcolm MacPherson, "Calum Pìobaire," was buried in the kirkyard at Laggan Bridge on 13 July 1898 as John MacDonald of Inverness played "The Lament for the Children." Beside him now lies the last member of this eminent family of players and teachers, his grandson Malcolm Ross MacPherson (1906-1966).
Calum MacPherson was born on 5th December 1833 at Snizort, Skye, the son of a professional piper, Angus MacPherson (1800-1887), and grandson of Peter MacPherson who is said to have married a sister of the Bruce pipers after moving to Skye from Badenoch. Angus, it is believed, studied with John and Peter Bruce, Iain Dubh MacCrimmon and John MacKay of Raasay.
Calum was taught by his father, Angus MacKay, and Archibald Munro. In the 1850s he moved to Greenock and learned much piobaireachd from Donald Cameron's brother Sandy (1821-1871) who ran the town's Museum Hotel. Sandy Cameron was Pipe Major of the Greenock Rifle Volunteers and Calum played with him in one of the world's earliest pipe bands. Calum succeeded his father as piper to Macpherson of Cluny in about 1866, winning the Inverness prize pipe that year, the Gold Medal in 1871, the Oban medal in 1876 and many prizes on the games circuit. At the 1886 Edinburgh Exhibition one of his two gold medals included the "championship of the world" for piobaireachd. Three of Calum's six sons, John or "Jockan" (1863-1933), Norman (1869-1947) and Angus (1877-1976) also won the Inverness medal.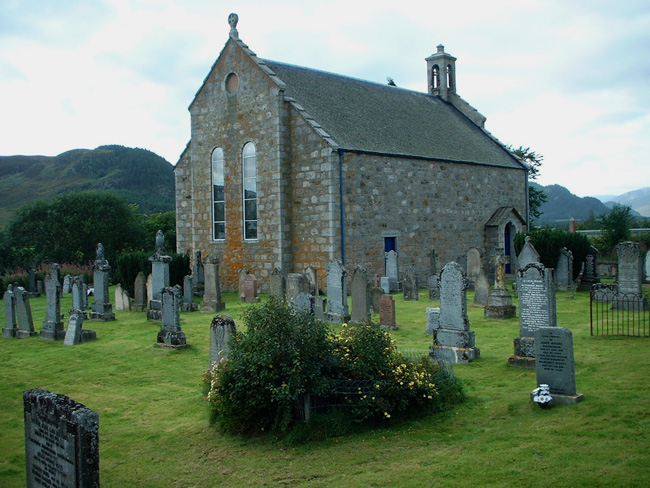 Calum Pìobaire was an outstanding technician, with a huge repertoire, excelling at heavy bottom-handed tunes like "My King has landed in Moidart." Pipers from all over Scotland travelled to his cottage at Catlodge, near Kingussie, where he taught such leading players as Robert Meldrum, William MacLean of Kilcreggan, Angus MacRae and John MacDonald of Inverness, who described the teaching regime:
"He would . . . take away all books and pipe music, then sing in his own canntaireachd the ground and different variations of the particular piobaireachd he wished me to learn."
On 8th July 1898 Calum fell into Loch Coultree near his home, trying to retrieve an oar during a fishing expedition He died the following evening owing to "shock from immersion acting on weak heart."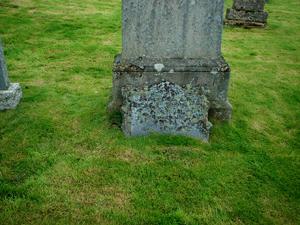 Calum's most famous son, Angus, was piper to the millionaire philanthropist Andrew Carnegie and for many years ran the Inveran Hotel near Bonar Bridge, a favourite haunt of pipers. Along with "Jockan," Willie Ross and John MacDonald he taught his own son, Malcolm, who was giving public performances before he was into his teens. Malcolm won the Inverness medal in 1927 (four years after his father) and the Clasp in 1930 and 1937. Young Malcolm's lasting contribution was his recordings of piobaireachd that accompanied Dr. Roderick Ross's pioneering collection, Binneas is Boreraig, (5 vols., Edinburgh, 1959-67), although these were made when his playing was long past its best. He died in tragic circumstances at his home in Edinburgh in 1966.
A memorial to Calum Pìobaire was unveiled at Catlodge in 1960.