Temp players in Ontario well within rules
Three pipers from the Grade 2 Closkelt Pipe Band of Northern Ireland competed with the Grade 1 Peel Regional Police in Ontario at the Kincardine Scottish Festival on July 8th and the Cambridge Highland Games on July 15th and, despite the RSPBA's recent clampdown on temporary players, the bands were well within the rules.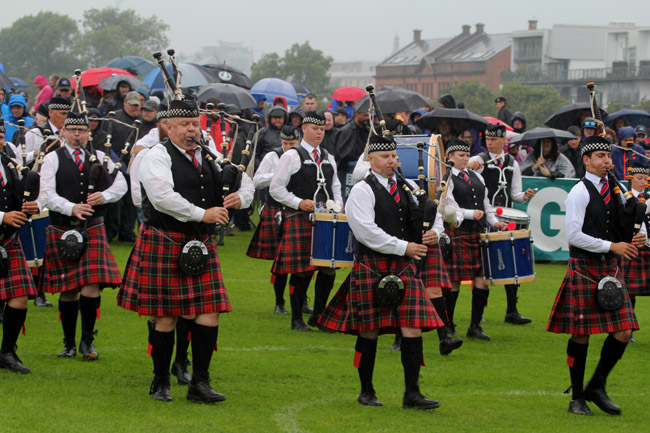 According to Peel Police Pipe-Major John Cairns, his band checked with the Pipers & Pipe Band Society of Ontario and the Royal Scottish Pipe Band Association as to whether the guest Closkelt players required a release from their band, and were told that they did not.
"When submitting the names of the players from Northern Ireland to the PPBSO, I specifically asked if we had to do anything administratively so they could play here in Ontario," Cairns said. "The PPBSO responded by telling me that everything was in order and all the players were eligible to compete."
pipes|drums received several messages from readers wondering about the rules, or lack of them, around temporary players.
When asked by pipes|drums, PPBSO President Chris Buchanan confirmed that this is correct under his association's rules, or lack of one regarding competing guest players.
"Regarding [this] type of scenario . . . there would have been no violation of PPBSO rules," Buchanan said. "The PPBSO doesn't require releases from players joining bands in Ontario when they're coming from another jurisdiction, nor do we require players in Ontario to be released from their band here when playing abroad. Some organizations have a similar policy to ours and some require a release to occur before a member can join an out of jurisdiction band or an out-of-jurisdiction player can join one of their bands."
Closkelt Pipe-Major David Chesney said that his band also went through the due diligence of confirming with the RSPBA that there was no issue.
"The contest . . . was run under the rules of PPBSO and I am not aware of their position regarding guest players," said RSPBA Chief Executive Ian Embelton, responding to questions from pipes|drums. "The RSPBA constitution and rules only apply to contests run by ourselves. Therefore, provided the Closkelt players have not broken the PPBSO rules, we believe no further action is required by ourselves."
With July traditionally being a vacation month for UK pipe bands, spending time in warm Canada and enjoying playing with friends . . .