Tidewater grieves at death of Chris Rapp in Virginia Beach massacre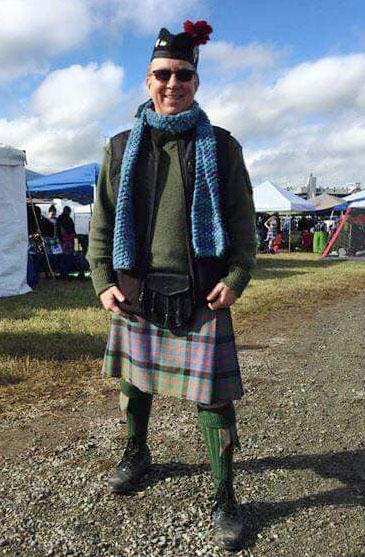 The Grade 5 Tidewater Pipes & Drums of Virginia and the piping and drumming world are grieving the death of piper Chris Rapp, who was one of the 12 innocent people murdered in the shooting rampage in Virginia Beach, Virginia, on May 30.
Rapp had only recently moved to Virginia Beach from Richmond, Virginia, keen to continue his piping career.
In a statement, Band Manager Jim Roberts said, "The members of Tidewater Pipes & Drums are grieving the loss of our friend and bandmate, Chris Rapp, who was one of the victims of Friday's senseless shooting in Virginia Beach. Chris came to Tidewater last fall but already had experience playing the bagpipes, so he jumped right into the band circle and started contributing immediately. He played with us at the Central Virginia Celtic Festival & Highland Games last October and marched with us as recently as St. Patrick's Day.
"Chris was reserved but very friendly, quietly engaging members one-on-one after our weekly practices. Even though we didn't have time to get to know him better, we shared a love for music that created an immediate bond. More importantly, he showed up and worked hard, which is all you can ask for in a group of amateur musicians.
"Our thoughts right now are with Chris's parents, Mike and Patty, and with his wife, Bessie. We are planning to play for Chris's funeral service (time and date TBD) and will do whatever else we can to support his family at this difficult time.
"Please note that we have other members of the band family who work in the Virginia Beach municipal center, and we are grateful that they are all OK.
"Peace be with his wife, Bessie, and their loved ones."
Rapp worked as an engineer at the public works department in Virginia Beach.
Sadly, Chris Rapp is the second piper in the last two years to die in a senseless slaughter. On May 22, 2017, Eilidh MacLeod of Barra, Scotland, was a victim of the bombing in Manchester, England, at an Ariana Grande concert, where 22 others died and more than 250 were injured.
On behalf of the piping and drumming world, we extend our sympathies to Chris Rapp's family and many friends, and to the Tidewater Pipes & Drums, at this sad time.