TO KO 2: MacIsaac, McClennan, Huang on top
Toronto – December 2, 2017 – The second round of the PPBSO Toronto Branch Solo Piping Knockout was held at Moss Park Armoury in the city's downtown. Competitors play in a series of three competitions, held from October to February, with different tune requirements for each round. The top six competitors in each round accrue points to determine the cumulative top-six competitors in each division to compete in a final on February 24th, with Dr. Angus MacDonald adjudicating. Amateur A Division comprises Grade 1 and Grade 2 solo light music contestants, and the B Division is made up of those in Grade 3 and Grade 4.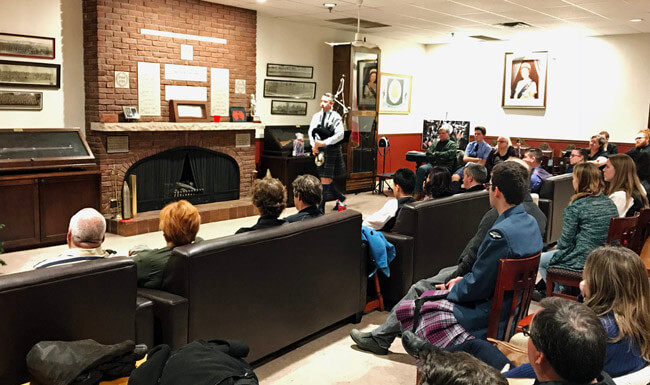 The afternoon competition was preceded by a well attended workshop conducted by Matt MacIsaac, who also concluded the day with a recital where he demonstrated his skills, including transposing a jig into a reel on-the-spot.
The winner of the A Division event, Mark McClennan, was presented with the Geoff Neigh Memorial Trophy, which the late Ontario piper arranged before his death from ALS. He specifically asked that it go to 6/8 march playing in amateur piping. Before the presentation, Jim McGillivray spoke about his late friend to the crowd of about 100 people.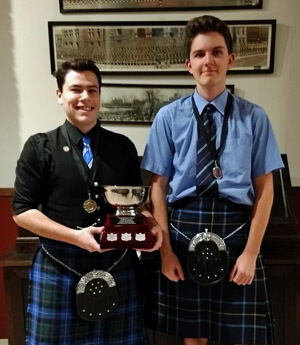 Professional (four competed, air, Hornpipe & Jig)
1st Matt MacIsaac
2nd Dave McDougall
3rd Tyler Bridge
4th Dylan Whittemore
Judge: Andrew Berthoff
A Division (18 competed, two 6/8 marches)
1st Mark McClennan
2nd Alex Klausnitzer
3rd Colin Johnstone
4th Charles David Mitchell
5th Harrison Little
6th Kayleigh Johnstone
Judge: Matt MacIsaac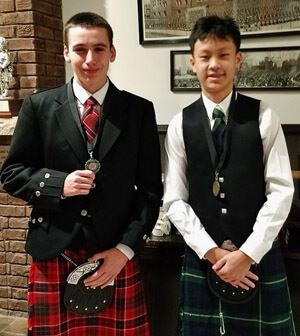 B Division (15 competed, air & 6/8 march)
1st Roy Huang
2nd James Dennison
3rd Caleb John MacPherson
4th Matthew Parsons
5th Cameron Verstegen
6th Rachel Gordon
Judge: Andrew Berthoff
Got competition results to share with the world and for piping and drumming posterity? Please do send them to us by email, along with a decent photo or two.