Tom Brown, 1976-2017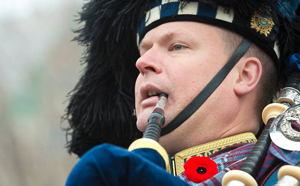 Tom Brown came into my life around 25 years ago. He was a fresh-faced and somewhat mischievous young man, still in high school, when he pitched up out of the blue at the Glengarry Pipe Band. Over the years he never changed – full of curiosity, fun, and talent. He fitted in straight away with all of the others in the band, mostly around his own age. Most of them were about 15 years younger than me, and almost all of them are now in their 40s and have become special and lifelong friends. Tom of course was one of the most special.
On leaving school he studied sound engineering for which he was extremely well suited. He was creative, and he loved music; not just bagpipe music either, his interests were wide and diverse and his open mind enjoyed all kinds of compositions. Years later it was no surprise to me that he was immediately attracted to and played with the Toronto Police, who were experimenting with some really radical and diverse music about 10 years ago.
When studying he often came down to the Seaway Valley to help me when I was renovating a property there, he enjoyed the chat and he wanted to learn, and so when the work was finished we would have a tune and go over new stuff; his favourite was "Lament for Ronald MacDonald of Morar." He wanted to help, and he wanted to learn. I remember though that at the time his somewhat rebellious, inquisitive nature had him sporting Bob Marley-esque dreadlocks, and I would have thought that then he would have made the most unlikely of military men. Thus it was a total surprise to me when I heard that he had done military basic training and had been appointed pipe-major of Air Force Command Pipes and Drums in Ottawa in 2007.
He really made his mark here, becoming an inspirational figure, quickly gaining the respect and admiration of all who had the good fortune to work with him. Just as I had been able to help him on his way previously, he taught my daughter Emily Kate and my son Iain, who became good pipers, both being about 15 years younger than Tom, the same difference in ages between Tom and myself. Iain worked with Tom for a year at Air Command, and so became close to him, and both Iain and Emily feel his passing greatly.
The last time I was able to spend significant time with Tom was a couple of years ago when I was visiting Ottawa. Iain, Tom, Chris Reasbeck (who is the pipe-major of the Cameron Highlanders of Ottawa) and myself golfed in Eastern Ontario and we had a lovely day. The attention to detail was amazing – at every tee there was a discussion about yardages, clubs, wind and club speed, but the reality was that the ball inevitably would end up in a bunker, a forest of trees, or a lake. It was great fun.
I'm glad that we had that game because last year Tom had mentioned that he had done something strange to himself which made playing difficult, assuming it was an injury brought on from playing. It was of course the first signs of his terrible disease. He was one of those rare people who you never, ever heard anyone say a bad thing; a guy who made the very utmost of his talents and personality.
He is greatly missed already by all in the Ottawa and Glengarry piping communities and he was greatly loved by all. He leaves the loves of his life, Michéle and young daughter Abi, to whom pipers and drummers everywhere will want to extend their condolences.
May angels sing thee to thy rest, Tom Brown.
ꟷ Contributed by Colin MacLellan