Top 10 gearing up for 33rd Nicol-Brown Invitational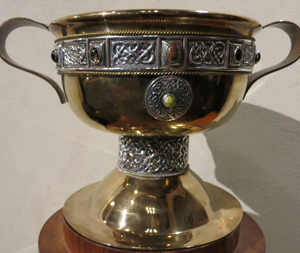 The 33rd Nicol Brown Amateur Invitational Solo Piping Competition is less than two weeks away as 10 of North America's top not-yet-Professionals go at it hammer and tongs on October 10th at St. Paul's Episcopal Church in Albany, New York, before judge Callum Beaumont.
The contest comprises players from across the continent, put forward by their home association as informed by their competition success over the year.
Competitors at this year's Nicol-Brown:
Maeghan Bielski, Middleboro, Massachusetts, EUSPBA)
Tyler Bridge, Guelph, Ontario (PPBSO)
Allyson Crowley-Duncan, Latham, New York (EUSPBA)
James Dyson, Dartmouth, Nova Scotia (ACPBA)
Andrew Hutton, Brantford, Ontario (PPBSO)
Kevin McLean, Maple Ridge, British Columbia (BCPA)
Christian Rhoads, St. Louis (MWPBA)
Blaise Theriault, Halifax, Nova Scotia (ACPBA)
Laureano Thomas-Sanchez, Cleveland (EUSPBA)
Jack Toohey, Newberg, Oregon (BCPA)
Dylan Chrismer, Alta Loma, California (WUSPBA) and Sean Regan, Woodstock, Virginia (EUSPBA) were invited but are not able to attend.
The weekend will feature various other events, including a free recital by the 25-year-old Callum Beaumont on Friday, October 9th, and a Celebration Dinner on October 10th, and concluding with a master class with Beaumont on Sunday, October 11th.
"The Nicol-Brown committee is thrilled to be hosting this year's Clasp winner, Callum Beaumont, as the judge for our contest," said organizer Paula Glendinning. "The contest will be a challenging day for our competitors, with outstanding prizes at stake, thanks to a host of generous people. Our 10 competitors from across the continent, and everyone in the piping community who is able to make the trip to Albany will also have the privilege of hearing Callum in concert on the Friday night, and the rare chance to attend a Master Class led by Callum on the Sunday morning. The Master Class format involves advanced students learning specifics of improving their musical performances from a premier teacher, with pipers of every level invited to listen and learn."
The competition is named in honour of Robert Nicol and Robert Brown of Scotland, whose teaching heavily influenced much of the piping in the eastern United States primarily via two of their pupils, Donald Lindsay and James McIntosh.
As with the George Sherriff Memorial Amateur Invitational on November 21st in Hamilton, Ontario, the event is made up of three events, with significant donated prizes for each: a 6/8 March; Piobaireachd; and March, Strathspey & Reel. The champion is determined from the aggregate results, and the winner receives airfare to compete at the Scottish Piping Society of London's competitions in 2016 and a McC2 pipe chanter with a custom-designed sole from McCallum Bagpipes. Second-prize-winner is awarded a Peter Henderson Blackwood Pipe Chanter donated by Henderson's Ltd.
Liam Hilder of Coquitlam, British Columbia, was the winner of the 2014 competition. For a complete list of Nicol-Brown Invitational first-prize winners, check out pipes|drums' Big Prizes database.
The non-profit pipes|drums Magazine has made a financial contribution to the 2015 Nicol-Brown.