Toronto Police hope to make merry at concert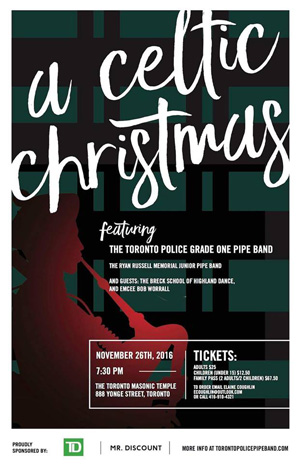 The Grade 1 Toronto Police Pipe Band, along with the associated Grade 4 Ryan Russell Memorial Junior Pipe Band, will be staging a Christmas-themed concert on November 26th in Toronto at the Masonic Temple venue on the city's famous Yonge Street. The show is the first time that the band has performed in its home city since it played and recorded a live album at the el Mocambo nightclub in 2010.
According to Pipe-Major Sean McKeown the band will deliver "something for everyone," including "traditional sets, some modern compositions as well as some new arrangements of Christmas music arranged for the pipes," with non-pipe band instruments played by members of the band occasionally accompanying. Legendary piper Bill Livingstone, still a competing member of the band at age 74, will put down the pipes at times to play keyboards.
"We're having a ton of fun putting this together, and rehearsing the music, and I really think it will turn out to be a great show," McKeown said.
The band has secured sponsorship from TD Canada Trust and Mr. Discount, helping to enable the band to secure the venue, which is one of the city's more popular smaller halls for concerts. Tickets are priced at $25, $12.50 children younger than 15, or $67.50 for a family pass of two adults and two children.
The band is also performing on November 19th at the Balmoral Classic in Pittsburgh.
The Toronto Police Grade 1 band opted not to compete at the 2016 World Pipe Band Championship, but is planning to return in 2017. The organization's Grade 3 band did get to the World's, competing in Grade 3B.
McKeown said that the Grade 1 bands has attracted several players to all sections, including a two professional-grade solo pipers, Brendan Culver, Tyler Harris and Alastair Murray.
"We are planning a World's trip, and testing a few different approaches to find the best path to make the most of the band we currently have," he added.
Three of the band's pipers enjoyed considerable solo success this summer in Scotland, with Pipe-Sergeant Ian K. MacDonald winning both Highland Society of London Gold Medals, McKeown scooping major prizes at the Argyllshire Gathering and Northern Meeting, and Nick Hudson winning the Silver Medal at Oban.