Toronto's Yonge St. lined with pipers on Remembrance Day
Toronto's famous Yonge Street, perhaps the most well-known thoroughfare in Canada, was lined with pipers, stationed at nine intersections throughout the city's downtown core, to help mark Remembrance Day.
After traffic stopped and Torontonians took a two minutes at 11 am to pay silent respect to those who served and sacrificed their lives for their country, the pipers each played "The Flowers of the Forest."
"On Remembrance Day, we believe it is important to stop, take a minute and reflect on the sacrifices made by Canada's war heroes throughout history to protect our freedom and way of life," said Downtown Yonge Business Improvement Area executive director Mark Garner, who organized the tribute.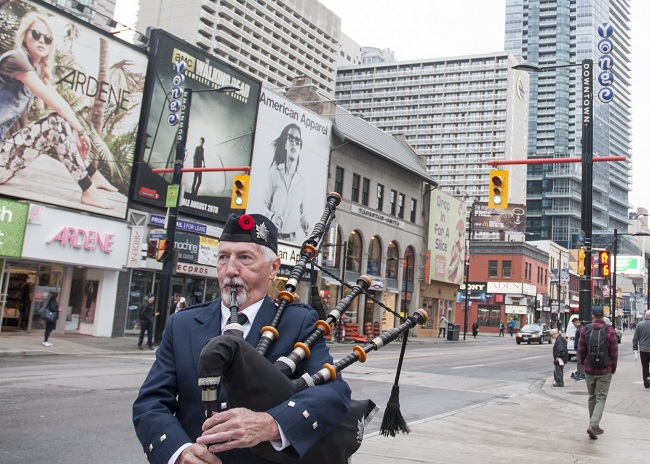 Pipers played together at the city's Yonge-Dundas Square and then played at the intersections of Yonge Street and Shuter Street, Dundas Street, Gould Street, Elm Street, Gerrard Street, College Street, Wood Street and Grosvenor Street – a distance of one kilometre.
The foundation for Canada's strong piping and drumming community was helped significantly by the military, with Scottish regiments in the country ensuring that the pipes and drums were well taught. Many prominent figures in Canadian came up through the Canadian military, which continues today to support piping and drumming, though in a limited capacity.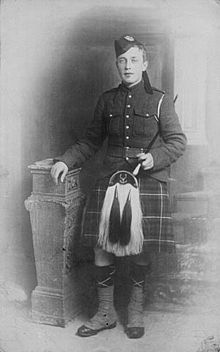 The Victoria Cross, the Commonwealth's highest and most prestigious award for gallantry in the face of the enemy, has been awarded to three soldiers for playing the pipes.
George Findlater, Gordon Highlanders, for piping while wounded at the Battle of the Dargai Heights during the Bohr War, on October 20, 1897; Daniel Laidlaw, King's Own Scottish Borderers, for his gallantry at the Battle of Loos on September 25, 1915; and, the only Canadian-piper recipient, James Richardson, 72nd Seaforth Highlanders of Canada. At the Battle of the Battle of the Somme in France on October 8, 1916, the Bellshill, Scotland-born Richardson played his company "over the top" of the trench and continually played his pipes through enemy fire, inspiring fellow soldiers to rush through barbed wire to take an important position.
In Remembrance Day ceremonies in Commonwealth countries throughout the world, the pipes are a prominent aspect of almost every formal tribute, but the Yonge Street tribute is a rarity in that the pipes themselves are the centrepiece of the event. Toronto is the fourth-largest city in North America.