Trading notes: G.S. makes music with his father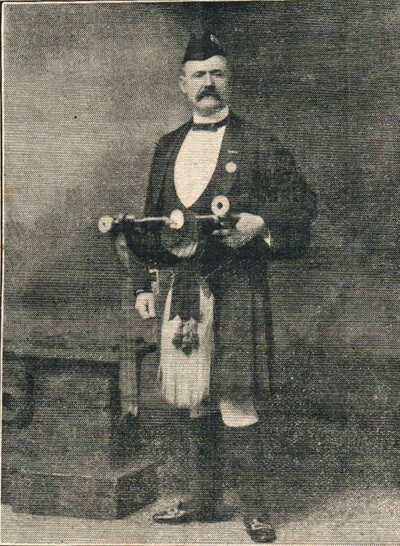 A recent Blogpipe post about composing and collaboration elicited interest from readers, including members of the family of the great George Stewart "G.S." McLennan, perhaps the greatest composer of light music for the Highland bagpipe in history.
+ Blogpipe: "Solitary confinement"
Author of such works of genius as "The Little Cascade," "Mrs. MacPherson of Inveran," "Kilworth Hills," and "Alick C. MacGregor," G.S. McLennan's tunes are heard almost every time a piper or pipe band plays in public.
In the blog, the question as to how G.S. went about composing and completing his tunes was raised. Did he write completely independently? Did he bounce his ideas off of trusted ears? Did he take on board suggestions from others about a note here, a phrase there?
The McLennan family forwarded a letter from their archives written by G.S. McLennan's father, Edinburgh City Police Lieutenant John McLennan, his trusted advisor and confident in all things piping. The letter shows gives a flavour of the interaction between the two. John McLennan was in general much more interested in piobaireachd light music, and the letter pertains to G.S.'s work in ceol mor.
John McLennan was a leading light in piobaireachd until his death on December 25, 1923, at the age of 80. In fact, according to Dr. William Donaldson in his book The Highland Pipe & Scottish Society, the elder McLenann was all but pushed out by the Piobaireachd Society when the organization was formed in 1904. Donaldson contends, among other things, that piobaireachd was a thriving and evolving creative art-form until the Piobaireachd Society came along, and Archibald Campbell of Kilberry and others systematically worked to standardize the music so that it could be better understood and judged by aristocratic "society" pipers who were unqualified even to carry G.S. McLennan's sporran, let alone judge his or his peers' playing in competition.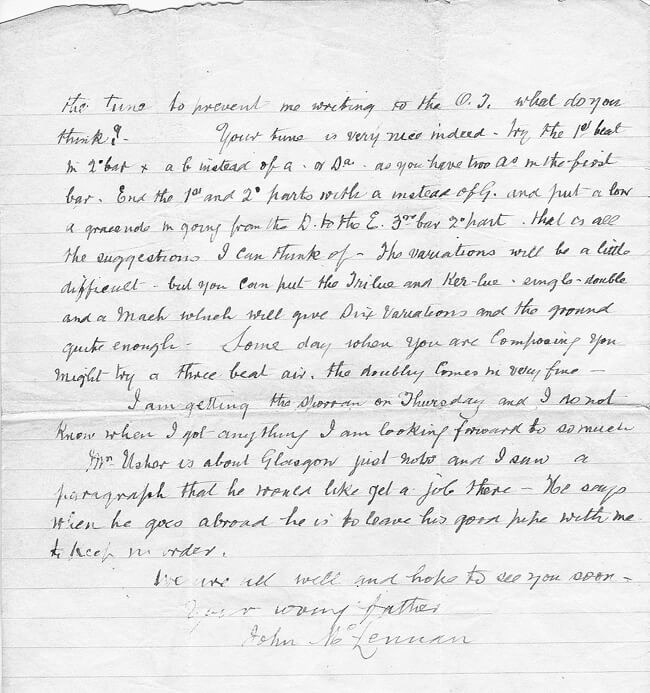 Here's the transcribed text of the letter:
. . . Your tune is very nice indeed. For the 1st beat in the 2nd bar a B instead of A or Da as you have too as in the first bar. End the 1st and 2nd parts with A instead of G and put a low A gracenote in going from the D to the E 3rd bar 2nd part. That is all the suggestion I can think of. The variations will be a little difficult but you can put the Trilue and the Ker-lue [presumably Taorulath and Crunluath variations] single-double and a Mach which will give six variations and the ground quite enough. Some day when you are composing you might a three beat air. The doubling comes in very fine.
I am getting the sporran on Thursday and I do not know when I got anything I am looking forward to so much.
Mr. Usher is about Glasgow and I saw a paragraph that he would like [to] get a job there. He says that when he goes abroad he is to leave his good pipe with me to keep in order.
We're all well and hope to see you soon.
Your loving father,
John McLennan
It's not known at this point who "Mr. Usher" is, but he was evidently a piper with famous friends. We also learn that the elder McLennan liked fine Highland dress, an appreciation that he passed along to his always resplendently turned-out Gordon Highlanders son.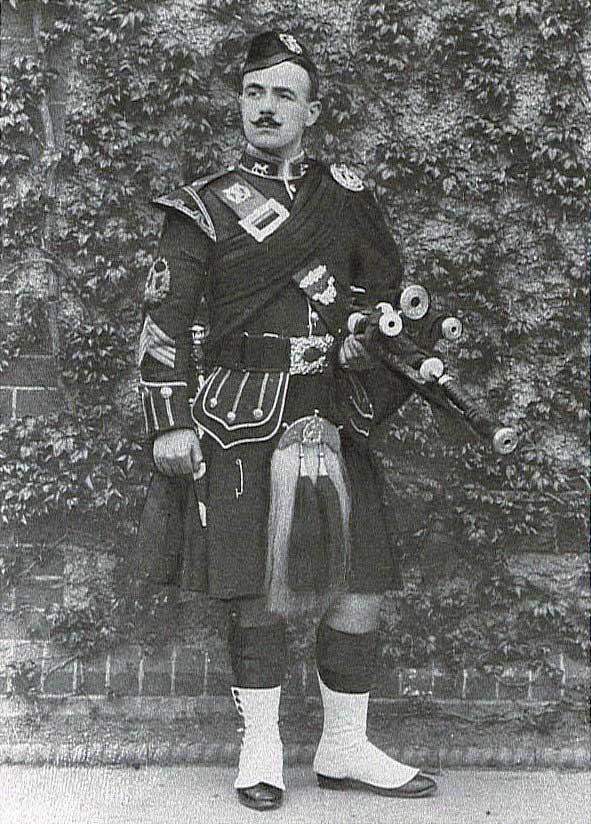 A July 20, 1906, article about Lieutenant John McLennan written when he retired from the police said, "Amongst his valued possessions is nothing he prizes more than the manuscripts of over 7,000 pibrochs, marches, strathspeys, reels, jigs and psalm tunes written for the bag-pipes. It is, perhaps, the finest collection in existence."
Sadly, George Stewart McLennan did not live much longer than his father. He died in 1929 at the age of 45 of lung disease that he was diagnosed with on May 14, 1918, in the last months of the Great War. Despite his sickness, he played the Gordon Highlanders' A Company "over the top" of the trench and collapsed soon after.
After the war, G.S. McLennan set up a bagpipe and reed-making business in Aberdeen, and was discharged from the Gordons in 1922. He was still able to compete, and in 1926 won the Former Winners March, Strathspey & Reel at the Northern Meeting for the third time, the final competition of his life.
This correspondence between G.S. McLennan and his father is an indication that the greatness of the tunes that are the son's legacy is at least partially due to input from his trusted advisor and father, Lieutenant John McLennan.
Our thanks to the McLennan family for sharing this invaluable information with pipes|drums.