Tryst kick-starting musical evolution
The Big Music Society, started by leading Scottish solo pipers Calum MacCrimmon and John Mulhearn in 2010, is continuing to push the boundaries of Highland pipe music and the most likely the buttons of not a few guarded traditionalists with the formation of Tryst, a 10-member "band of pipers, not a pipe band," which will take the stage at the Celtic Connections folk festival in Glasgow on January 21st at the Glasgow Royal Concert Hall at 7:30 pm.
Tryst is made up of Ross Ainslie, Steven Blake, Rory Campbell, Mairearad Green, Ali Hutton, MacCrimmon, Finlay MacDonald, James MacKenzie, Lorne MacDougall, and Mulhearn – all pipers with backgrounds as composers and arrangers, most without any serious focus on competing.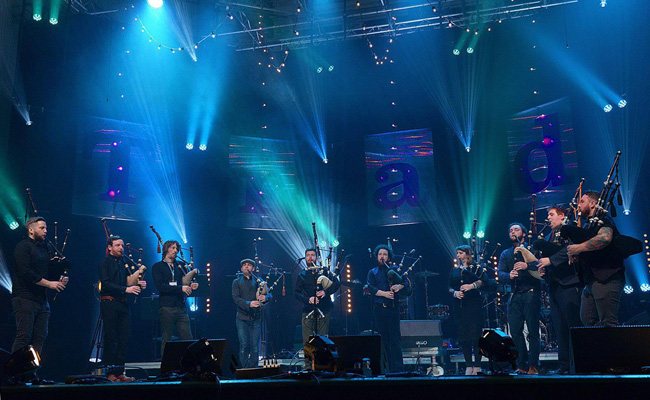 The Big Music Society received funding Creative Scotland – an organization that supports the arts in Scotland – to commission the group to create the new work. Each member of Tryst was commissioned to compose a new piece of "big music."
"The brief was deliberately ambiguous: Compose a new piece of big music," Mulhearn said. "We left each member to interpret 'big music' for themselves, but encouraged everyone to reflect on the themes and genres of piobaireachd (lament, salutes, gatherings, etc.) but not be restricted by the compositional parameters of the classical repertoire. Each composer was free to use the additional instruments played by each member, further opening the scope of what was possible."
The 2017 show is the second Celtic Connections effort for The Big Music Society. Mulhearn first staged several creative orchestral arrangements of piobaireachd in 2010 and, with MacCrimmon in 2015, mounted a similar show with solo piping legend Murray Henderson and music producer Duncan Grant.
+ Mulhearn brings the Big Music to Celtic Connections
+ Big Music Society plans to create new opportunities for ceol mor
+ Pipes only in isolation? Think again.
While thriving as a more or less standardized competitive test, piobaireachd has been accused by some as remaining largely static since the formation of the Piobaireachd Society at the turn of the 19th century. William Donaldson in his seminal work, The Scottish Pipe & Scottish Society, contended that . . .