Uist & Barra ends UK solo piping season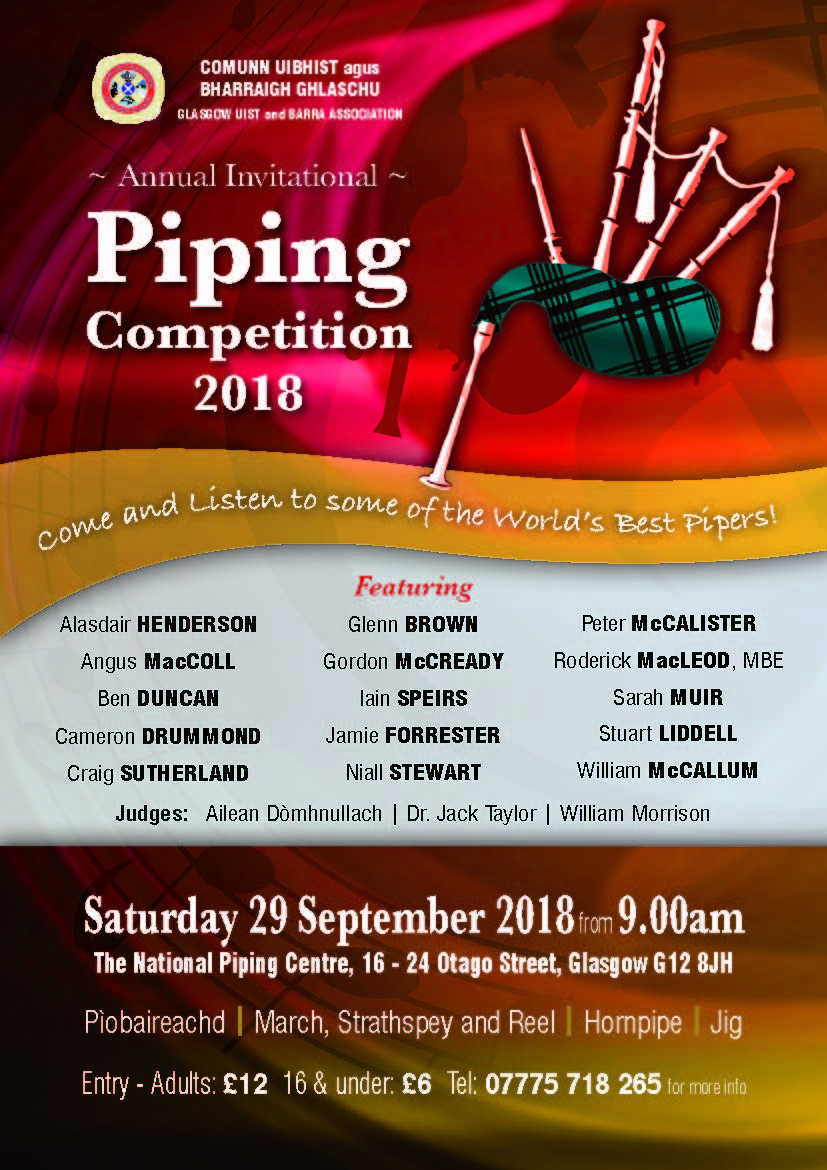 Thanks to unusual winter weather that hit Glasgow last March, the annual Uist & Barra Piping Competition went from being the first big event on the UK solo piping calendar to being the last, after the contest was rescheduled to this Saturday, September 29.
+ From first to last: Uist & Barra will be on September 29th
During that time, the venue itself also changed dramatically, with the College of Piping being acquired by the National Piping Centre, which subsequently renamed the premises, the National Piping Centre – Otago Street.
+ There is now only one College of Piping . . . and it's in Canada
There have also been a few amendments to the lineup of players, with Callum Beaumont, Faye Henderson and Finlay Johnston having to drop out. The good news for listeners is that Stuart Liddell, Gordon McCready and Niall Stewart have each come on board.
The cast of competitors is a who's-who of world-class solo pipers:
Glenn Brown, Glasgow, "Lament for the Laird of Anapool"
Cameron Drummond, Edinburgh, "Lord Lovat's Lament"
Ben Duncan, Edinburgh (light music only)
Jamie Forrester, London, "The MacLeans' March"
Alasdair Henderson, Dunoon, Scotland, "My King Has Landed in Moidart"
Stuart Liddell, Inveraray, Scotland, "The Unjust Incarceration"
Angus MacColl, Benderloch, Scotland, "The Battle of the Pass of Crieff"
Roddy MacLeod, Glasgow, "The Earl of Ross's March"
Peter McCalister, Dunblane, Scotland, "War or Peace" (piobaireachd only)
Willie McCallum, Beardesn, Scotland, "The Old Men of the Shells"
Gordon McCready, Renfrew, Scotland, "Lament for Captain MacDougall"
Sarah Muir, Campbeltown, Scotland (light music only)
Iain Speirs, Edinburgh, "Nameless (Cherede Daireva)"
Niall Stewart, Kyle of Lochalsh, Scotland, "The Blind Piper's Obstinacy"
Craig Sutherland, Perth, Scotland, "The End of the Great Bridge"
Organizer John-Angus Smith said that the event "unfortunately won't be streamed this year. Preparations are going well and the National Piping Centre staff have been very helpful ensuring everything will be ready. We will be back to the first Saturday in March next year, and as usual the invitees will be drawn from prize winners at this year's major piping competitions."
All events will be judged by Alan MacDonald, Jack Taylor and Willie Morrison.
With the Scottish Piping Society of London's November competitions serving as the first qualifying contest for the following year's Glenfiddich Championship, "London" is generally considered to be the first major solo event of the season.
Stay tuned to pipes|drums for results from the 2018 Uist & Barra Annual Invitational Solo Piping Competition as they are made available.