Uist & Barra moved over UK Snowmagedon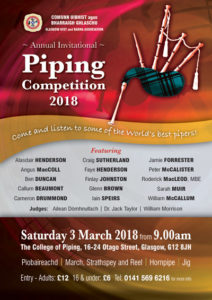 The organizers of the annual Uist & Barra Invitational Solo Piping Competition have elected to postpone the event due to adverse weather conditions forecasted for the Glasgow area over the next few days.
With temperatures hovering around freezing and as much as 5 centimetres of snow possible, the event, originally scheduled for Saturday, March 3rd, at the College of Piping in Glasgow, is being pushed to a later date still to be announced.
"We would like to thank everyone for their interest and support in this year's event and apologize for any inconvenience that this has caused," piping convener John-Angus Smith said in a statement. "We hope to reschedule the event to a date later in the year."
The Uist & Barra contest invites the more successful solo pipers graded A or better by the Competing Pipers Association, and is traditionally seen as the kick-off for the new solo year in the UK. This year's lineup features a strong mix of new and familiar faces.
+ Newbies meet veterans at Uist & Barra
While Canadian and northern United States pipers and drummers might consider the situation commonplace, Scotland and other temperate climate countries are simply not equipped to handle relatively rare cold weather events. The Scottish public transit system has been in turmoil for several days.