Ulster Scottish prevails at Fair Hill; Hudson, Cooper win the Open solo aggregates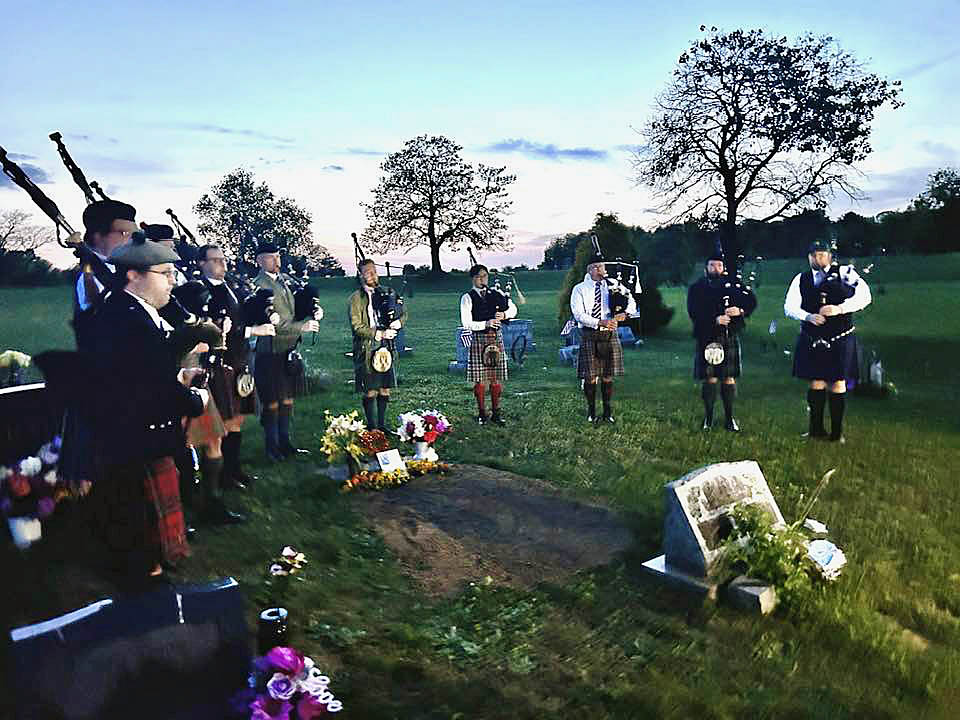 Elkton, Maryland – May 19-20, 2023 – Some 124 solo pipers and drummers and 17 bands entered the annual Fair Hill Scottish Games, or the "Colonial Highland Gathering," nearly doubling last year's entry. In the top band competition, the Ulster Scottish and MacMillian won the medley and the MSR, respectively, and Ulster Scottish won the overall by merit of the Medley event breaking the tie.
Nick Hudson of Houston was the Open Piper of the Day, winning the David M. Bailiff Memorial Trophy, presented in honour of the long-time Piping & Drumming Director of the games who passed away in September 2022. Bailiff was an accomplished piper, a judge with the Eastern United States Pipe Band Association, a member of the EUSPBA's Music Board, and a loyal fan of the Baltimore Orioles.
David Bailiff's family, in cooperation with the Fair Hill Scottish Games, set up a memorial fund for the Fair Hill Scottish Games Professional Piper of the Day trophy, and an annual US$200 scholarship for the Fair Hill Scottish Games Grade 4 Junior Piper of the Day, which went to William Thompson.
Taking over as Piping & Drumming Director, Fair Hill Scottish Games is Linda Hall, who said, "David and my husband, Dave Hall, EUSPBA piping judge and former pipe-major of the Ulster Scottish, used to compete against each other in the solo professional piping in the 1980s and '90s. Over the years we all worked our way to becoming judges and have spent a great deal of time together at the games. I was honored to be asked to fill David's shoes and organize the piping and drumming at Fair Hill, and I am excited to continue David's legacy and help the Fair Hill Scottish Games continue to grow and thrive."
The Open Piobaireachd and MSR contests were held on the Friday night, and at the conclusion of the events, the 11 competitors played a lament at Bailiff's graveside.
Bands
Grade 2
Medley
1st Ulster Scottish
2nd MacMillan
Judges: Scot Walker, Lorne Cousin (piping); Michael Grey (ensemble); Tom Kee (drumming)
MSR
1st MacMillan
2nd Ulster Scottish
Judges: Scot Walker, Lorne Cousin (piping); Michael Grey (ensemble); Tom Kee (drumming)
Grade 3
MSR
1st MacMillan-Birtles
2nd Siren City (Gr4)
Judges: Judges: Calum MacDonald, Peter Kent (piping); Dave Hall (ensemble); Tom Kee (drumming)
Grade 4
Medley
1st Ceol Neamh
2nd Sean McGonigal Memorial
3rd Philadelphia & District
4th Siren City
5th Jersey Devil
Judges: John Wassman, Peter Kent (piping); Dave Hall (ensemble); Tom Kee (drumming)
Grade 5
March Set
1st Roisin Dubh Irish
2nd Tidewater
3rd MacMillan-Dunn
4th St. Anthony's High School Celtic Friars
5th Maryland Youth
6th Baltimore City
7th City of Norfolk
Judges: Scot Walker, Lorne Cousin (piping); Michael Grey (ensemble); Tom Kee (drumming)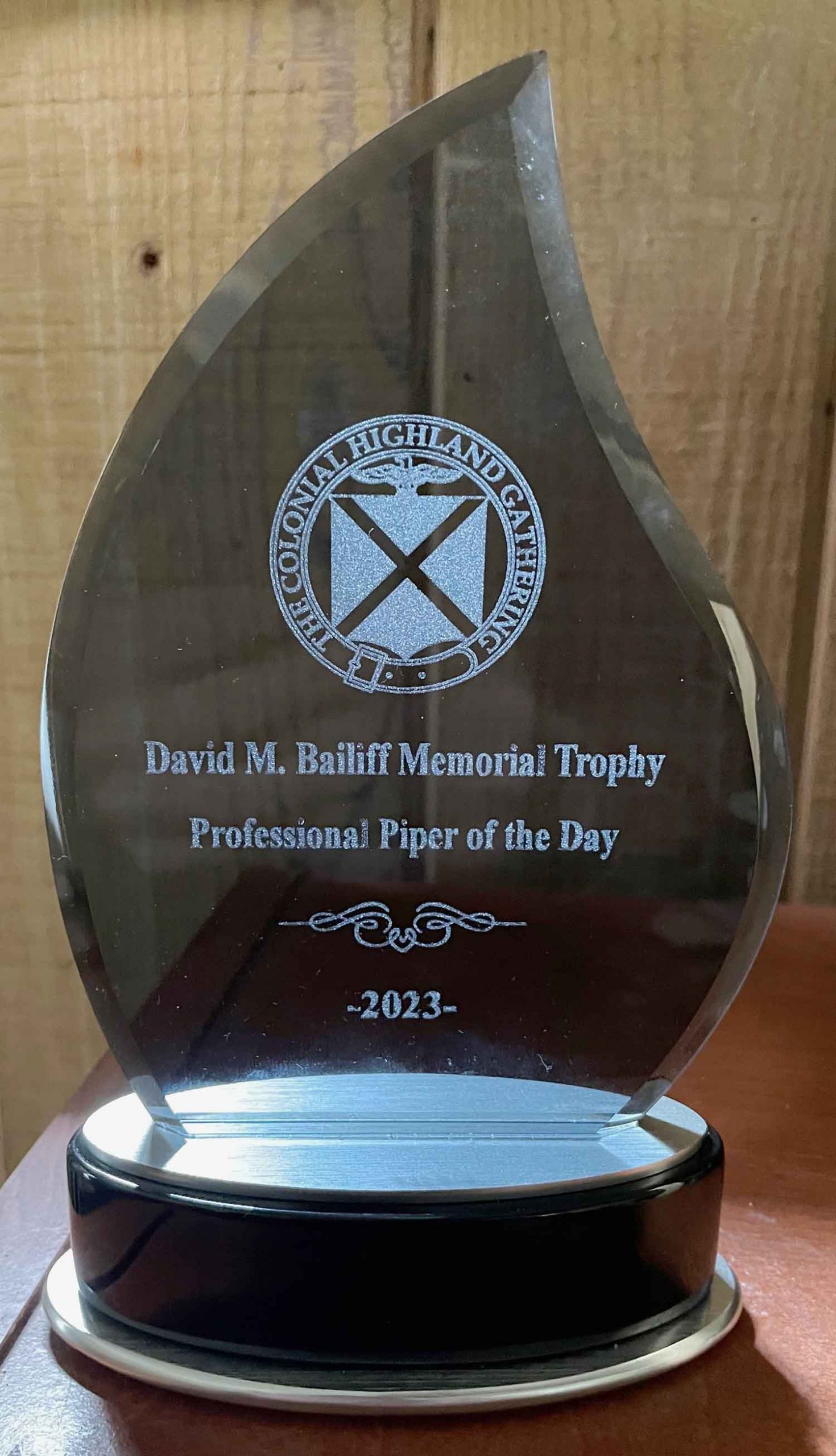 Solo Piping
Open
Piobaireachd
1st Nick Hudson
2nd Ben McClamrock, Washington, DC
3rd Derek Midgley, Tinton Falls, New Jersey
4th Dan Lyden, Timonium, Maryland
5th Andrew Donlon, Washington, DC
6th John Bottomley, Bethlehem, Pennsylvania
Judge: Michael Grey
MSR
1st Derek Midgley
2nd Eric Ouellette, Philadelphia
3rd Nick Hudson
4th Andrew Donlon
5th Dan Pisowloski, Danielson, Connecticut
6th Dan Lyden
Judge: Doug MacRae
Hornpipe & Jig
1st Andrew Donlon
2nd Ben McClamrock
3rd Nick Hudson
4th Dan Lyden
5th Eric Ouellette
6th Derek Midgley
Judge: Scot Walker
Grade 1
Piobaireachd
1st Thomas Cangelosi
2nd Magnus Stone
3rd Evan Burlew
4th Michael Trenor
5th Daniel Koch
6th Thompson McConnell
Judge: Michael Grey
MSR
1st Michael Trenor
2nd Thomas Cangelosi
3rd Elizabeth Knox
4th William Shropshire
5th Daniel Koch
6th Alexandra Knox
Judge: Dave Hall
Grade 1 Piper of the Day: Thomas Cangelosi
Grade 2
Piobaireachd
1st Olivia Corcoran
2nd Colin Swett
3rd Thomas DeBuchananne
4th John Bertino
5th Aiken Madan
6th Luke Ashton
Judge: Peter Kent
March
1st Olivia Corcoran
2nd Aiken Madan
3rd Thomas Debuchananne
4th Alex Allendorph
5th John Bertino
6th Joseph Thompson
Judge: Lorne Cousin
Strathspey & Reel
1st John Bertino
2nd Thomas DeBuchananne
3rd Christopher Spagnolo
4th Matt Davis
5th Aiken Madan
6th Alex Allendorph
Judge: Calum MacDonald
Grade 2 Piper of the Day: Thomas DeBuchananne
Grade 3
Piobaireachd
1st Logan Kaern McGregor
2nd Jennifer Weingarten
3rd Mathew McAuliffe
4th Joseph Murphy
5th Michael Saxer
6th Joseph Vattilana
Judge: John Wassman
March
1st Jayne Bennett
2nd Logan Kaern McGregor
3rd Jennifer Weingarten
4th Michael Saxer
5th Joseph Murphy
6th Chuck Connors
Judge: Scot Walker
Strathspey & Reel
1st Christopher Baum
2nd Michael Saxer
3rd Devin Abbott
4th Jayne Bennett
5th Bruce Lazaroff
6th Sean Smith
Judge: Lorne Cousin
Grade 3 Piper of the Day: Logan Kaern McGregor
Grade 4
Senior
Piobaireachd
1st Laura Sherrod
2nd Pete Evans
3rd Jesse Walker
4th Matthew Lopez
5th Lindsay Bloom
6th Shawn Woll
Judge: June Hanley
March A
1st Adam Lazaroff
2nd Lindsay Bloom
3rd Jesse Walker
4th Katrina Tracy
5th Joseph Sprowl
6th John Paul Howell
Judge: Scot Walker
March B
1st Pete Evans
2nd Laura Sherrod
3rd Shawn Woll
4th Matthew Lopez
5th Mary Colleen Ryan
6th David Madock
Judge: Calum MacDonald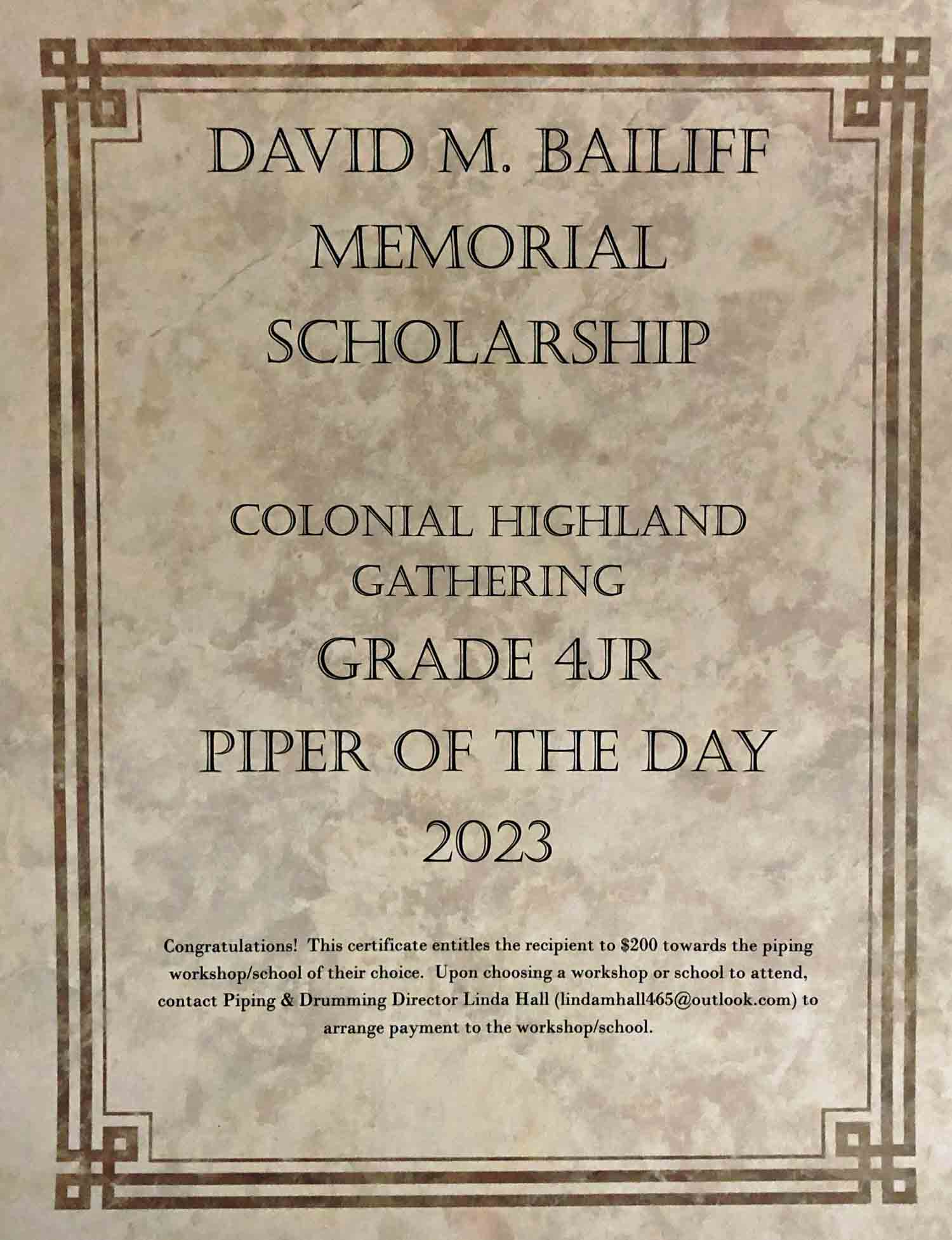 Junior
Piobaireachd
1st William Thompson
2nd Liam McGuire
Judge: Calum MacDonald
March
1st Aidan Chapman
2nd William Thompson
3rd Ryan Manley
4th Liam McGuire
Judge: Dave Hall
Grade 5
Piobaireachd
1st Siobhan Williams
2nd Frederick L. Meagher
3rd Joseph Garrett
Judge: Michael Grey
March
1st Siobhan Williams
2nd Nathaniel Campion
3rd Frederick L. Meagher
4th Joseph Garrett
Judge: Dave Hall
Practice Chanter
1st Susan Rzeminski
Judge: Dave Hall
Solo Drumming
Snare
Open
MSR
1st Derek Cooper
2nd Alex Kuldell
3rd William Pastor
Judge: Tom Kee
Hornpipe & Jig
1st Derek Cooper
2nd Alex Kuldell
3rd William Pastor
Judge: Tom Kee
Grade 1
MSR
1st Matt Niblock
2nd Nicholas Moore
3rd Ian McLeod
Judge: Tom Kee
Hornpipe & Jig
1st Matt Niblock
2nd Ian McLeod
3rd Nicholas Moore
Judge: Tom Kee
Grade 2
MSR
1st Paul Davis
Judge: Tom Kee
March
1st Matthew Fuhrman
Judge: Tom Kee
Strathspey & Reel
1st Matthew Fuhrman
Judge: Derek Cooper
Grade 4
Junior
March
1st Christian Hirschey
Judge: Derek Cooper
Senior
March
1st Tate Mauzy
2nd Elisha Jimenez
3rd David Torrance
Judge: Derek Cooper
Grade 5
March
1st Liam Roberts
Judge: Derek Cooper
Practice Pad
1st Bruce Lazaros
Judge: Tom Kee
Bass
Open
MSR
1st Alex Kuldell
Judge: Lisa Frazier
Hornpipe & Jig
1st Alex Kuldell
Judge: Lisa Frazier
Grade 1
MSR
1st Maddison Sprague
Judge: Lisa Frazier
Grade 4
March Set
1st Jason Litz
2nd Laura Hayden
Judge: Lisa Frazier
Tenor
Grade 1
MSR
1st Jensen McConnell
Judge: Lisa Frazier
Grade 2
MSR
1st Leslie Young
Judge: Lisa Frazier
Grade 4
March Set
1st Tate Mauzy
Judge: Lisa Frazier
Open Drum-Major
1st Jason Litz
2nd Scott Chadwick
Judge: Patty Nisco