Donald MacPherson, 1922-2012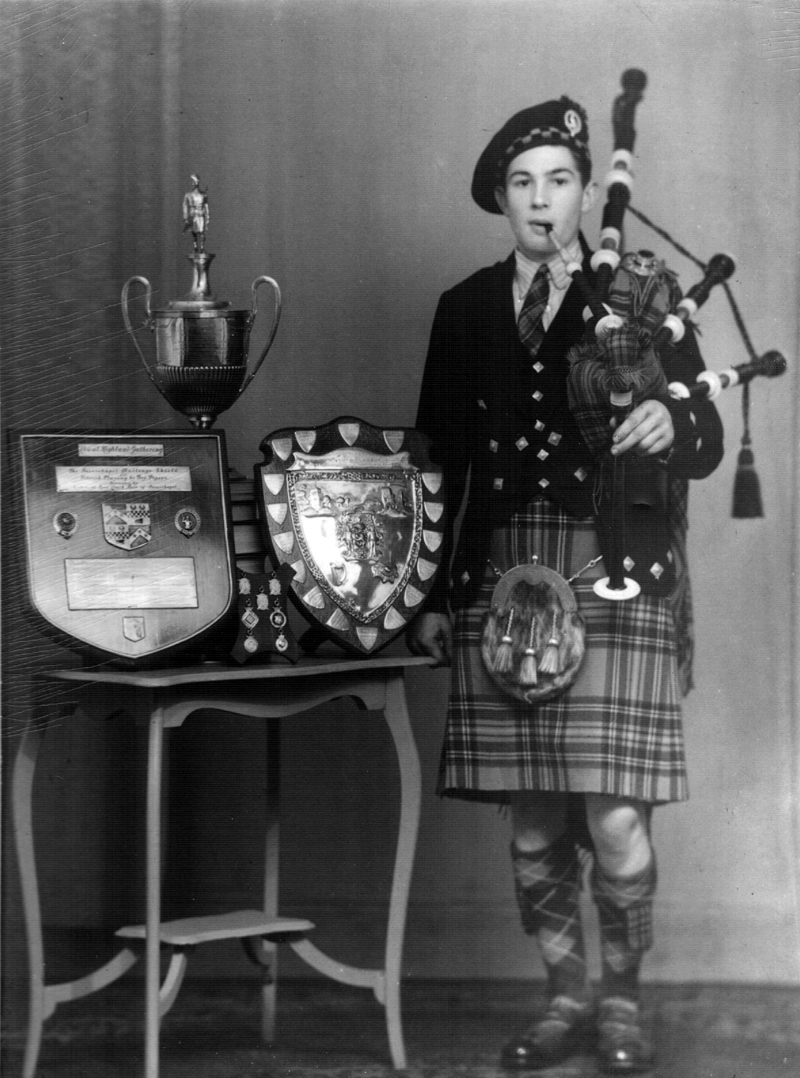 Donald MacPherson, a giant of Highland piping, died at 8:30 am GMT on April 21, 2012.
"Never in the history of piping has there been a man who has won so consistently, so regularly, so devastatingly as the fabulous, legendary Donald MacPherson," was how Seumas MacNeill described Donald MacPherson in 1972. "Superlatives fail . . . Here we have a work which will commemorate a man who is without doubt the most successful piper ever to have lifted a bagpipe."
MacPherson, who only last week decided to sell his 1936 R.G. Lawrie ivory and engraved nickel mounted pipes, was probably the most successful competitive piper of the 20th century, amassing an unprecedented number of prizes, including a record nine Clasps for piobaireachd at the Northern Meeting and 15 Senior Piobaireachd titles at the Argyllshire Gathering, by far the most won by a single piper in history.
MacNeill continued his discourse on MacPherson in the program for the 1972 Toronto Scottish World Festival:
Most pipers would be happy if they were considered good enough to play in a professional piping competition. Many, who play in such contests, would die content if they could win even one good prize – such as the gold medal at Inverness, or the open Piobaireachd (Pibroch) at Oban, or the Clasp at Inverness, or the first for Piobaireachd at the SPA contest, or at the Uist and Barra, or at Cowal, or at Glenfinnan. In 1954, Donald MacPherson won every one of those prizes. "Donald," says one of his contemporaries "is not a piper. He is a prize-winning machine."
His story, in the piping sense, began in a fairly usual way for a lad raised in Glasgow. He appeared on the scene first in the Scottish Pipers Association amateur competitions and other local contests, winning the usual trophies – some more than once. The MacDougall Gillies Trophy for piobaireachd he won three times in succession – a feat which was in some ways appropriate, because Donald was taught entirely by his father, Iain MacPherson, who was a pupil of Gillies.
Donald also played in a pipe band, the famous Glasgow Shepherds, under Archie MacPhedran, and piped alongside many other boys who were destined to make names for themselves in piping.
When the war came, Donald joined the RAF, was wounded (he has a disability of the left arm!) and at one time thought he would not pipe again. While in hospital, unable to move his left arm, he was astounded to hear a radio broadcast of the Shepherds' band. "That's my band!" he shouted, throwing both arms in the air. From then on his recovery was rapid.
In the competitions held immediately after the war, he competed as a professional for the first time. This was, of course, a strange period for piping. No competitions had been held for seven years and so the list of competitors included many of the famous names, plus several players who had crossed the boundary from amateur to professional during this time.
Donald was one of the latter group, one of the half-dozen or so of the new pipers who took prizes – albeit moderate ones – in these open contests. In 1948, however, Donald MacPherson burst alive like a bomb on the piping world. At the Argyllshire Gathering, he won the two Piobaireachd events in one day – a feat achieved only rarely before and never since.
From then on, he was the dominant figure in Piobaireachd competitions. Oban, in particular, became his happy hunting ground, and, with monotonous regularity, he accepted first prize for the open Piobaireachd there. He won the Shirvan Cup outright with three victories. Its successor, the Kenneth Cup, was insured against being won three times, but it, too, went to permanently grace the MacPherson sideboard.
In all, Donald has won the open Piobaireachd at Oban 11 times in 17 attempts, with two seconds, three thirds, and only once was not placed. A succession of memorable performances have gladdened hearts over the years – "Queen Anne's Lament," the big "Nameless" tune, "MacDougall's Gathering," to name but a few.
At Inverness, Donald first appeared in 1949, when he was placed third in each of the Piobaireachd events. It took him until 1954 to win the gold medal there and, in fact, his record in the Clasp event by then was more impressive – two firsts, two seconds and a third. In1954, he repeated the Oban feat by winning the two events in one day. To date he has won seven Clasps.
In 1957, a strange thing happened to piping. Donald MacPherson stopped competing and began to learn to play the piano – with a view to playing classical music in the form favoured by the rest of Europe. For three years the piping contests saw him not. Then, in 1960, back he came as if he had never been away. Third in the open at Oban, first in the Clasp, first at Cowal.
Until 1966 it was business as before, but, by this time he was living in England and practically the only contests he competed in were the two major meetings. Then the difficulties of finding time and place to practice – perhaps allied with the effects of isolation from the mainstream of piping – brought another break in his competitive career.
In 1967, 1968 and 1969, Donald stayed in the deep south and it began to seem as if the saga had ended. But in 1970, the word went out that he was coming back again for the two meetings and, sure enough, there he was. Second at Oban and another Clasp at Inverness indicated that the efficiency was not impaired
Although it is primarily with the great music that we associate Donald MacPherson, he is no slouch at the light stuff either. He has won all the events at both Oban and Inverness, the Masters' march, strathspey and reel twice at Oban and four times at Inverness, the Brymay Trophy for most points at Cowal four times, the trophy for most points at Uist and Barra contest three times, and the most points at Braemar on the only occasion on which he played there.
His other prizes are too numerous to attempt to list fully. They include three wins of the Bratach Gorm in London out of five attempts, five firsts for Piobaireachd out of eight at Cowal and three out of five at Glenfinnan.
In August of last year [1971], he accepted a full-time post with the College of Piping, in charge of all testing of goods and responsible for day-time courses and general development. There is no doubt that this is one of the greatest things which has happened to the College, and to piping, in recent years..
In August of last year [1971], he accepted a full-time post with the College of Piping, in charge of all testing of goods and responsible for day-time courses and general development. There is no doubt that this is one of the greatest things which has happened to the College, and to piping, in recent years.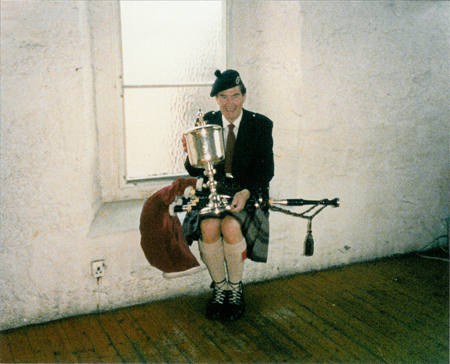 MacPherson would continue to play a dominant role in competitive piping throughout the 1970s and '80s, retiring from the boards in 1990 at the age of 68. He would commit the rest of his piping years to adjudicating and teaching, and among his foremost pupils is the Gold Medallist and 2011 winner of the Senior Piobaireachd at the Argyllshire Gathering, Iain Speirs; Gold Medallist Stuart Shedden; and top prizewinners James and Douglas Murray.
Donald MacPherson  was diagnosed with carcinoma in 2011, and passed away at the Western General Hospital in Edinburgh.  The funeral will be at Mortonhall Crematorium, Edinburgh, on Wednesday, May 2, 2012, at 2pm.
On behalf of the piping and drumming world, we extend our sympathies to Donald MacPherson's survivors and his many friends at this sad time.