(Video) MacLellan piobaireachd collection imminent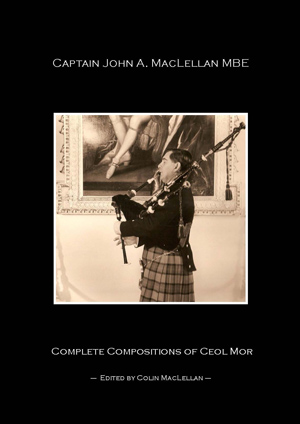 Piobaireachd enthusiasts are looking forward to getting their fingers and their ears on the much-anticipated Captain John A. MacLellan MBE Complete Collection of Ceol Mor, edited by the legendary piper's son, Colin MacLellan, a famous piper in his own right.
The 31-page collection features all 11 of the piobaireachds that John MacLellan composed in his lifetime, and a double CD of each of the tunes performed either at the annual Captain John A. MacLellan MBE Invitational Recital-Competition or especially by Colin MacLellan.
The book also includes written notes on each tune, with Colin MacLellan's remembrances of the inspiration for each piece as well as brief analysis of the compositions themselves.
The collection also includes Colin MacLellan's own "Salute to John A. MacDonald, Canada's First Prime Minister," which was awarded first-prize in a composing competition organized by this publication in 1991, a contest also entered by John MacLellan. The tune that the elder MacLellan composed for the competition was his last, and subsequently named by Colin MacLellan, "For My Lass, Fair, Pretty and Highland."
John MacLellan's best-known piobaireachd is "The Phantom Piper of Corrieyairack," a tune that has been set by the Piobaireachd Society for the solo piping major gatherings in Scotland.
The collection will have a suggested retail price of £20, and will be available directly from MacLellan through his PipeReeds.com reedmaking business, as well as select piping supplies dealers around the world.
(See Part 1 of our five-part 2009 interview with Colin MacLellan.)