Video: Nick Hudson and "The Mad Hornpipe" by Bert Barron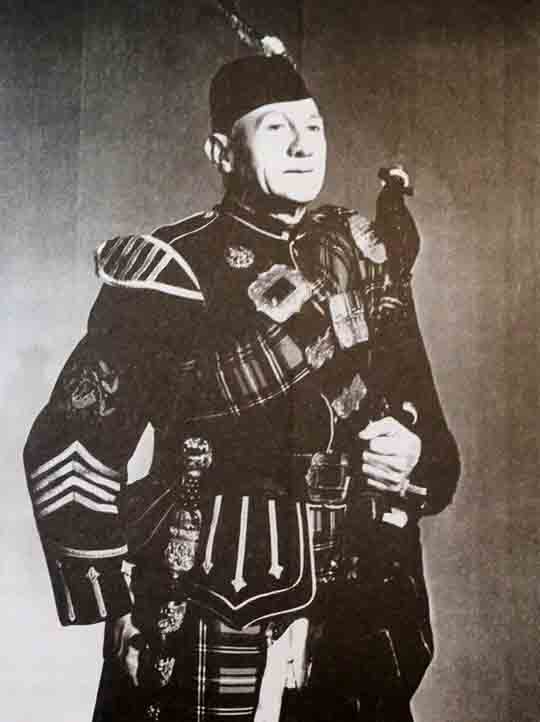 We were pleased to capture Houston-based piper Nick Hudson's Hornpipe & Jig performance in St. Louis on September 28 at the annual St. Louis Scottish Games' Friday night professional competition, held at Dressell's pub in the city's popular Central West End.
+ Hudson, Carlisle winners in St. Louis
Nick Hudson winning set comprises the well-kent "John MacDonald's Exercise" as his jig, and his first tune is the far less-frequently heard "Mad Hornpipe" by the late Bert Barron. It's an interesting and clever tune by an interesting and clever man.
Bert Barron was one the great characters of piping. He served with the Black Watch in World War II and continued his service in the territorial army. He was a native of the north part of Dundee, but lived in St. Andrews, Scotland, for most of his life.
Barron was a prodigious and giving teacher. A few of his most successful pupils were Ian G. Duncan, James Murray, Anne Spalding, Jack Taylor and Bill Wotherspoon. He imparted his piping knowledge throughout his life as an instructor with the St. Andrews University Officer Training Corps Pipe Band and at the private Strathallan School in Perth. Though he never achieved any of the greatest awards in solo piping, he did win, among many prizes, the Open Piobaireachd at the Cowal Gathering and the gold medal for piobaireachd at the Braemar Gathering.
Bert Barron was awarded the British Empire Medal for services to piping and his country in 1974.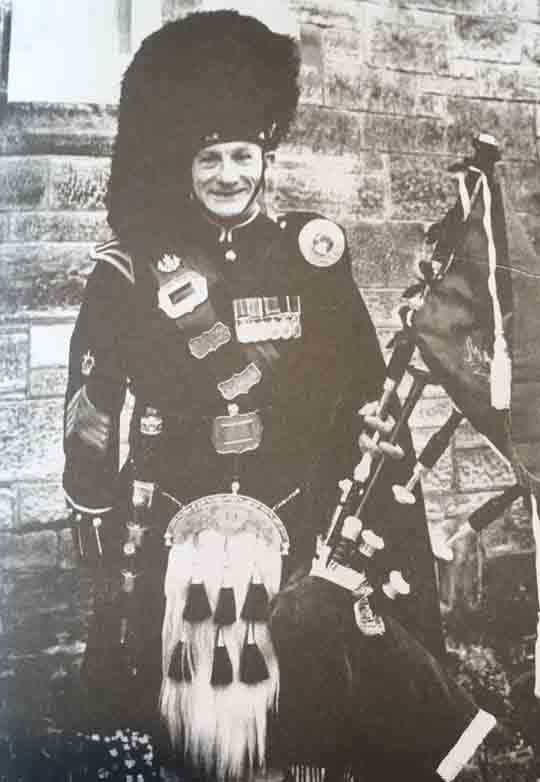 He enthusiastically collected all manner of Highland memorabilia. Dirks, sporran cantles, brooches, sgian-dubhs – if it was glittery and Scottish, chances are he had dozens of them. Barron loved to snap up old piping and pipe band medals and trophies, usually from estate sales, and for many years he donated these as prizes for youth piping competitions, such as the annual events at Carnoustie and St. Andrews.
Bert Barron also collected bagpipes, not to hoard, but to find new homes for them, and he did a solid trade in refurbishing and selling vintage instruments. He would reportedly overcharge non-pipers for the not-so-good sets, but balance things by providing the best instruments to young, deserving players for a lot less than their true value.
He was eccentric, and there are stories about him. He reportedly liked to run up the hill at the Braemar Gathering before playing his piobaireachd, "to get his fingers warm."
His compositions were generally about people, some with mischievous reasons. His jig, "The Miserable Piper of Dundee," has a possibly apocryphal back-story. Invereray & District played "The Mad Hornpipe" at their 2013 Ascension concert and subsequent double-CD, and reviewer Colin MacLellan gives the tune some context.
"I remember when he composed 'The Mad Hornpipe' and him saying the third part especially was trying to capture what he called the 'strit-strat' of the sailor's hornpipe," said Jack Taylor. "His penchant for cheeky tunes was brisk. There was 'The Yapping of the Judges,' and one called 'John MacFadyen's Flat F.' I can't remember how that went, but the third part of 'The Yapping of the Judges' is the scale ABCD CBAE AEED CBAE, all crotchets, all doublings the first time, and no doublings the second time, indicating I suppose the gap that Bert saw in the playing ability of judges and players at the time.
"And he composed many tunes that weren't tongue-in-cheek. Another one that has fairly wide currency is the slow air, 'Lonely Loch nan Euan,' a favourite fishing loch above Glenshee, where he would lead his family, and sometimes me, on memorable camping expeditions."
In 1998, shortly after Bert Barron's death, Roderick Barron published a collection of his father's music. A Piper's Legacy, Stirring Melodies for the Highland Bagpipe comprises Bert Barron's works, including "The Mad Hornpipe."
"The Mad Hornpipe," by all accounts, was simply a fun tune for the time, and it still holds up today as one of the more unusual pieces in the repertory. There remains nothing else like it, and perhaps there never will be, just as the piping world will never again see the likes of the singular Bert Barron.