Angus D. MacColl, Ben Duncan, Steven Leask on top at Inveraray Games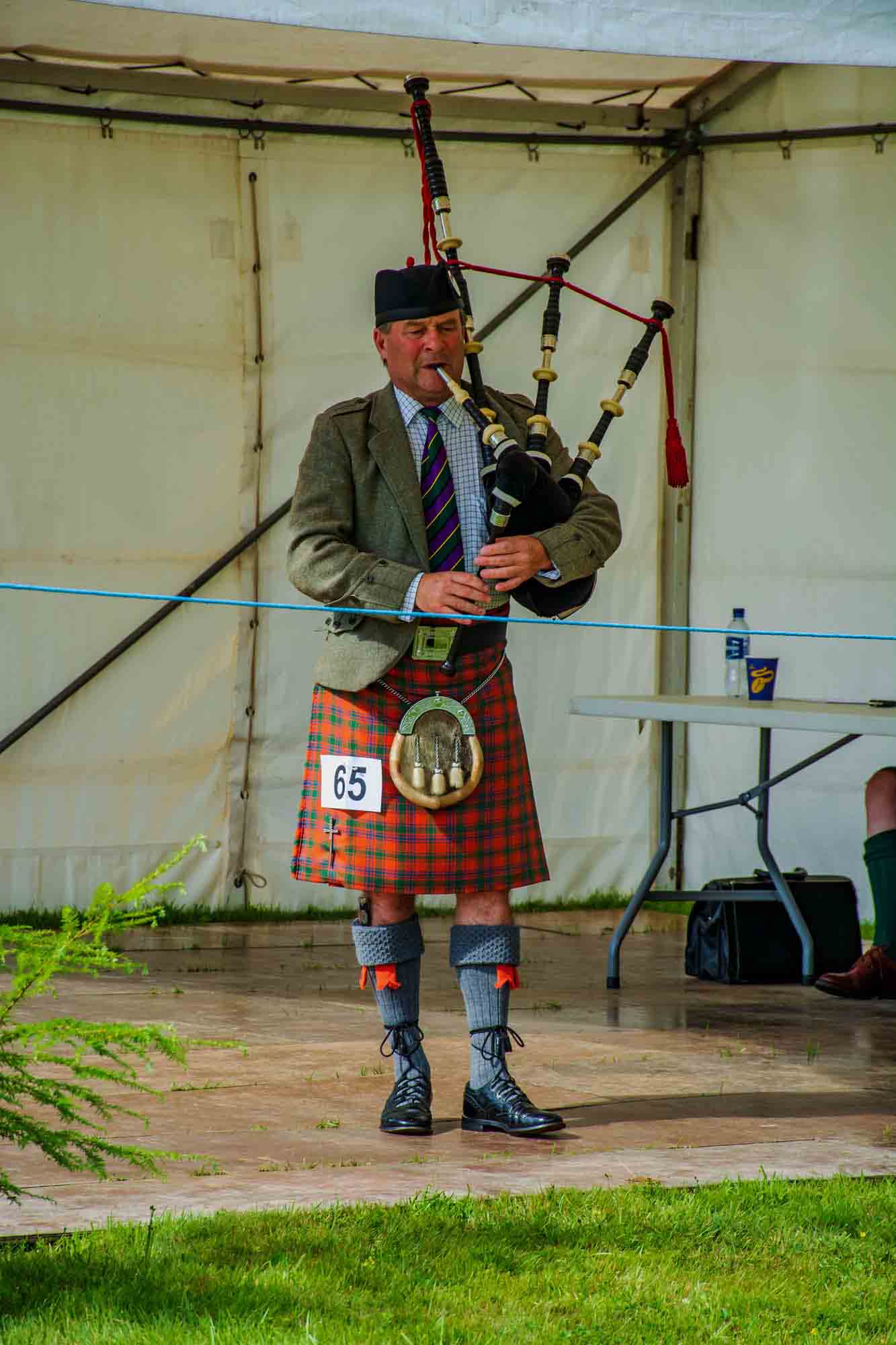 Inveraray, Scotland – July 18, 2023 – The popular Inveraray Highland Games on the grounds of Inveraray Castle saw Argyllshire native Angus D. MacColl win the Premier- and A-Grade Piobaireachd contest, while Edinburgh's Ben Duncan won the 2/4 March and Steven Leask, Glasgow, took the Strathspey & Reel event. The weather was sunny and warm.
Premier- & A-Grade
Piobaireachd
1st Angus D. MacColl, Benderloch, Scotland
2nd Jamie Forrester, Haddington, Scotland
3rd Cameron MacDougall, Nigg, Scotland
4th Steven, Leask, Glasgow
5th Sarah Muir, Glasgow
6th Sandy Cameron, Glasgow
Judges: Murray Henderson, Bill Wotherspoon
2/4 March
1st Ben Duncan, Edinburgh
2nd Fred Morrison, Bishopton, Scotland
3rd Callum Beaumont, St. Andrew's, Scotland
4th Sarah Muir
5th Angus D. MacColl
6th Cameron MacDougall
Judges: Tom Johnston, Iain MacLellan
Strathspey & Reel
1st Steven Leask
2nd Cameron MacDougall
3rd Steven Gray, Lockerbie, Scotland
4th Sarah Muir
5th Callum Beaumont
6th Angus D. MacColl
Judges: Jimmy Banks, Barry Donaldson
B-Grade
Piobaireachd
1st Angus MacPhee, Inverness, Scotland
2nd John Dew, Edinburgh
3rd John MacDonald
4th Fraser Allison, Balfron, Scotland
5th James McPetrie, Aberdeen, Scotland
6th Steven Gray
Judges: Euan Anderson, Ronnie McShannon
2/4 March
1st Sandy Cameron
2nd Keith Bowes, Glasgow
3rd Ross Miller, Linlithgow, Scotland
4th John Dew, Edinburgh
5th Brodie Watson-Massey, Edinburgh
6th Callum Wynd, Stirling, Scotland

Strathspey & Reel
1st John Dew
2nd Sandy Cameron
3rd Jonathon Simpson
4th Kris Coyle
5th Fraser Allison
6th Chris McLeish
C-Grade
Piobaireachd
1st Keith Bowes
2nd Josh Chandler, Victoria, Australia
3rd Rory Robson, Glasgow
4th Kyle Cameron, Ullapool, Scotland
5th Piers Dover, Christchurch, New Zealand
6th Andrew Smith
2/4 March
1st Daniel Johnstone, Glasgow
2nd Piers Dover
3rd Josh Chandler
4th Andrew Smith
5th Kyle Cameron
6th Kyle Shead, Hemingbrough, England
Strathspey & Reel
1st Finlay Frame
2nd Piers Dover
3rd David Stulpner
4th Kyle Cameron
5th Kyle Shead
6th Josh Chandler
Next to the Northern Meeting, Argyllshire Gathering and Piping Society of London's events, Inveraray is generally considered the most important non-invitational solo competition in the UK.
Stay tuned to pipes|drums for more results from Inveraray as they become available.