$2.7-million funding going to PEI College of Piping
The Canadian government has recognized the cultural and community contributions and importance of the College of Piping & Celtic Performing Arts in Summerside, Prince Edward Island, with a combined contribution of $2.7-million in funding mainly to go towards the redevelopment of the institution's performance facilities.
The 20-year-old theatre has reached the end of its life and was essentially condemned due to its unsafe condition of disrepair. After a study, the College decided that a high-quality fixed-roof theatre made the most sense, allowing the organization to hold shows throughout the year, including during the notoriously harsh Maritimes winters. The old theatre was only operable for about two months of the year.
The Canadian Liberal federal government agreed with the plan submitted and today announced $2.7-million in funding, with the Canadian Heritage Ministry kicking in $1.5-million through its Canada Cultural Spaces Fund, and the Atlantic Canada Opportunities Agency (ACOA) contributing $1.2-million through its Innovative Communities Fund.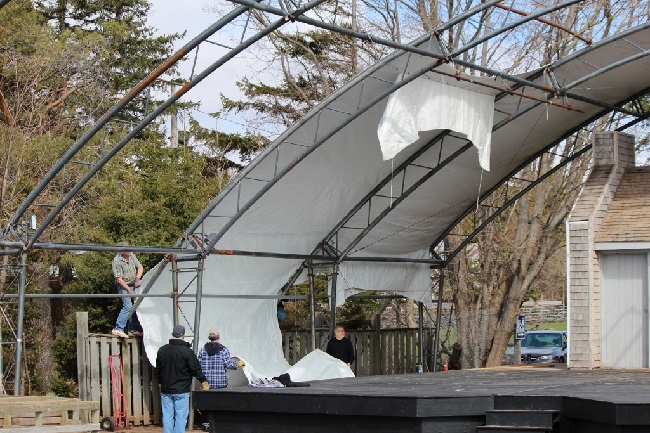 Some $805,000 is remaining to complete the project, and the College's board, staff and volunteers will begin a capital fundraising campaign.
"The College of Piping is in the midst of another great transitional period, and changed its mission statement to better reflect its educational mandate: 'Empowering students to realize their full potential through Celtic Performing Arts,'" said James MacHattie, Director of the Music Program at the College. "This new multi-purpose facility will give us greater possibilities and flexibility in realizing that. The capital campaign will be carried out under the tagline 'Building on the past, growing the future,' paying respect to the foundation of the institution and the late Scott MacAulay, the stabilization brought back by Karen Hatcher after the shaky years following Scott's death, and looking forward to future developments."
The new 300-seat facility is expected to be completed in 2017, and the theatre will be designed acoustically specifically for pipes and drums, with every audience member able to hear both sections clearly from every part of the stage.
The organization in 2014 held a fundraising campaign to cover costs of repairs to the theatre's roof, which enabled performances to continue for another two seasons.