2017 Sherriff Champion: Alistair Bevan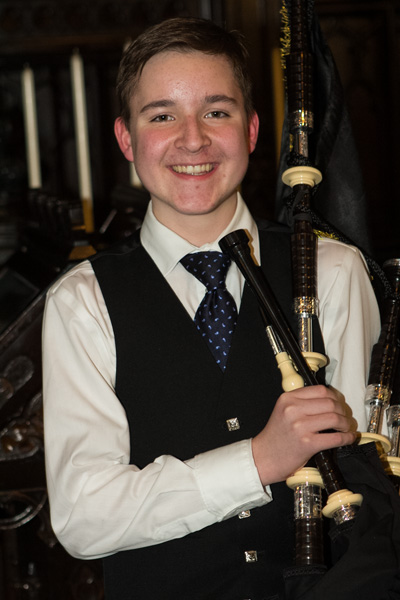 Hamilton, Ontario – November 18, 2017 – The twenty-second annual George Sherriff Amateur Invitational Solo Piping Competition was won by Alistair Bevan of Abbotsford, British Columbia, earning the most overall points over three events held at St. Paul's Church in downtown Hamilton, Ontario.
Bevan was a rare winner of both the Sherriff and the Nicol-Brown Amateur Invitational in New York in October.
+ 2017 Nicol-Brown Champion: Alistair Bevan
The competition is organized by a special group within the Pipers & Pipe Band Society of Ontario. Prizes are donated by various organizations, and funding comes from a long list of sponsors, including pipes|drums. The contest is named for George Sherriff, a Scottish immigrant who taught dozens of pipers in the Hamilton-Niagara area.
Piobaireachd
1st Ben Montross, Vermont, "Lament for Captain MacDougall"
2nd Caleb Thibodeau, Windsor, Ontario
3rd Alistair Bevan
4th Gavin Mackay, Kitchener, Ontario
5th Alasdair Martin, Arizona
MSR
1st Tori Killoran, Pitt Meadows, British Columbia, "P-M Sam Scott," "The Trees of South Uist" "The Pap of Gencoe," "Caber Feidh," "Alick C. MacGregor"
2nd Laureano Thomas-Sanchez, Cleveland
3rd Alistair Bevan
4th Caleb Thibodeau
5th Christian Rhoads, St. Louis
6/8 Marches
1st Laureano Thomas-Sanchez, "George Sherriff," "P-M Scott Ruscoe"
2nd Alistair Bevan
3rd Tori Kiloran
4th Christian Rhoads
5th Caleb Thibodeau
Also playing but not in the prizes: Mark McClennan, Ontario, and Charlie Morris, California.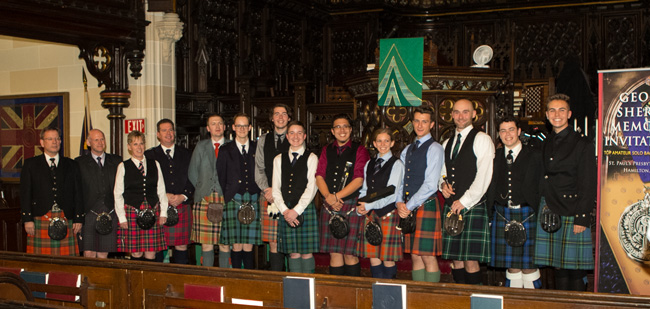 All of the events were judged by Ann Gray, Calgary; Ian K. MacDonald, Whitby, Ontario; and Brian Switalla, Dunedin, New Zealand, and Peter Aumonier was the emcee for the day.
Stay tuned to pipes|drums for videos from the MSR event.