All 16 World's Grade 1 judges are British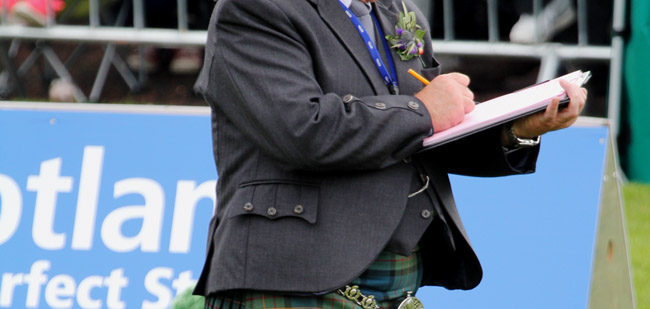 The Royal Scottish Pipe Band Association has announced judging assignments for its five championships, and every one of the 16 adjudicators allocated to the multi-country Grade 1 events at the World Pipe Band Championships is from Great Britain.
Bands from Canada, Ireland and likely New Zealand will compete against their counterparts from Scotland, and the event itself will be populated with enthusiasts from all over the world. The interest and influx of international contestants over the last 30 years especially have catapulted the World's from being similar to other RSPBA championships, to becoming one of Scotland's major attractions.
BBC Scotland invests large amounts every year to broadcast the Grade 1 championship live on the internet, and then subsequently producing several shows for radio and television. The success of the Piping Live! festival is largely dependent on a captive audience of international visitors attending the World Championships.
The panel of Grade 1 judges for the 2019 World's comprises 11 from Scotland and five from Northern Ireland.
Qualifier Group 1: James Wark, Scotland, and Alvis Kerr, Scotland (piping); Brian Martin, Scotland (drumming); John Moles, Northern Ireland (ensemble).
Qualifier Group 2: Barry Donaldson, Scotland, and Ronnie McShannon, Scotland (piping); Gordon Craig, Scotland (drumming); Jim Campbell, Scotland (ensemble).
Final Medley: Colin Moffett, Northern Ireland, and Peter Snaddon, Scotland (piping); Bill Black, Scotland (drumming); Paul Turner, Northern Ireland (ensemble).
Final MSR: William Garrett, Northern Ireland, and Gordon Lawrie, Scotland (piping); Mark Wilson, Northern Ireland (drumming); David Brown, Scotland (ensemble).
Several "international" judges on the RSPBA panel have been assigned to other grades, which also have their share of bands from outside Great Britain and Ireland. RSPBA-approved judges Ken Eller of Canada, Nat Russell of Australia, along with others, were "rotated out" of Grade 1 at the World's due to judging that grade the year before.
But Bill Black and Gordon Lawrie judged Grade 1 events in 2018, and have been returned to the coveted grade this year, albeit moving from the Qualifier to the Final.
Another Canadian RSPBA-approved judge, Robert Worrall, has not been assigned to any grade, and is likely again to choose to provide colour commentary for the livestream of the Grade 1 Final events for BBC Scotland, although it is not known whether the organization will carry the event, and, if it does, who the commentators will be.
RSPBA-approved judge Terry Lee of Canada has reportedly recused himself from judging Grade 1 when his former band, Simon Fraser University, is competing. His brother, Jack Lee, is the pipe-sergeant of SFU.
"The label 'international' I don't think should apply," said one judge who spoke on condition of anonymity. "On the negative side, this implies 'international' or 'national' bias, and for years we have struggled to forget the 1960s, '70s, etc. where [it was] felt that [overseas bands] had to overcome the 'colonial' tag."
Most major international competitions that are judged or refereed, including the FIFA World Cup, the Olympics and the World Skating Championships, make an effort or have stringent rules to ensure that judging panels, umpires and referees have a fair representation from a variety of countries. These events are generally put on by international organizations, whereas the RSPBA governs pipe bands and pipe band competitions only in Great Britain. Former World Champions St. Laurence O'Toole of Dublin is officially considered an "overseas" band by the RSPBA because it is not from Great Britain.
Some of the other four RSPBA championships feature non-UK judges on Grade 1 circles, but, apart from St. Laurence O'Toole and others from the Republic of Ireland, these events do not typically attract international bands.
The Grade 1 judges at the 2018 World's had a similar optics issue , with only two adjudicators not from Great Britain or the Republic of Ireland.
+ One non-UK/Ireland judge on Grade 1 Qualifier
The RSPBA's Judging Allocation Group is made up of Chief Executive Ian Embelton, two representatives from the association's Board of Directors, and a handful of adjudicators. RSPBA-approved judges have to submit their availability in the autumn of the previous year. International judges are not provided with any additional compensation for travel and accommodation, but do receive a slightly higher fee for their services.
With the RSPBA relegating several bands to Grade 2, and a number of Grade 1 bands around the world suspending operations or folding altogether, the number of Grade 1 entrants to the World's is expected to be around 20, possibly the smallest number in at least three decades.