All that glitters . . .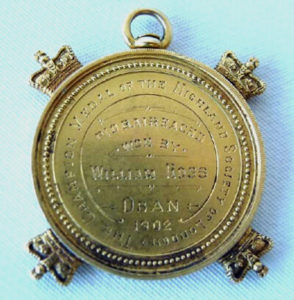 The recent online auction of the Highland Society of London Gold Medal from the 1902 Argyllshire Gathering raised a few eyebrows (our own included) with those in the piping community concerned about the preservation of a historical artifact.
Engraved with "William Ross," the medal was immediately assumed to have been won by the great Pipe-Major of the Scots Guards.
The medal was listed as 20 karat solid gold and purportedly sold to a Russian gold dealer for US$1,300. But when the auction house was contacted by pipers around the world concerned with its preservation, the buyer reportedly offered to resell it to the highest bidder, starting at US$3,000.
While it is the authentic Gold Medal from 1902, it was actually won by a different William Ross, not the Willie Ross who actually achieved the prize in 1907, after winning the equivalent medal at the Northern Meeting in 1904.
pipes|drums reader and piping scholar Jeannie Campbell said, "Concerning your item on the 1902 Medal, the winner was William Ross, born 1865 in Urquhart, Ross-shire, parents John Ross, Annie Davidson, died 1930 in Edinburgh. (Brother of P-M George Ross, Black Watch.) William enlisted 1889 Black Watch. Served in Crete during the insurrection, April 1894 Pipe-Corporal 2nd Black Watch at Maryhill Barracks. October 1894, P-M 1st Seaforth. 1896-98 Sudan campaign. Wounded Atbara April 1898. June 1900 P-M on permanent staff 4th Militia Batt HLI. 1900 HLI South African War. Awarded long service and good conduct medals 1909. Discharged on pension 1912. 1914-16 P-M Royal Scots (Queens Edinburgh Rifles) at home Edinburgh. Won Oban Gold Medal 1902. Composer of "Olive Groves of Candia." He accompanied the Scottish Curlers to Canada 1911-12. When asked how he enjoyed himself he replied, 'My, it was cold out there, but they kept some grand whisky.' He married Hughina Cameron 1894 in Hillhead Glasgow when he was a Lance-Corporal in the Black Watch stationed at Maryhill Barracks. Children: Johanna 1894, Williamina 1897, John 1900."
Despite the claims of the auction house, the medal is by all accounts only plated. If so, the value of the gold itself would be nowhere near the price paid. But, to a collector of piping artifacts, the value might still be high, as the lustre and allure of one of piping's biggest prizes rises with every year.
While we wipe the egg from our collective faces, we remain pleased that, by all accounts, there is no indication to believe that the more significantly historical Gold Medal won by Pipe-Major Willie Ross has been lost, even though its whereabouts are not known.