Associations to convene for ANAPBA Summit in KC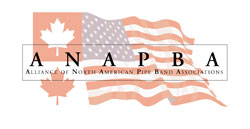 The Alliance of North American Pipe Band Associations, comprising the continent's nine major piping and drumming organizations, will convene this weekend during Winter Storm in Kansas City. With at least four of the world's five largest associations represented, ANAPBA has proven to be a powerful collective for pipers and drummers.
+ With another record entry, Winter Storm considering adding fourth day to 2020
As usual, a representative from the Royal Scottish Pipe Band Association will attend to provide input and monitor what transpires, with Chairman John Hughes making the journey to America's heartland and home to the most famous barbeque cuisine on the planet.
"We will be looking at ANAPBA [to make] things more uniform across North America," said ANAPBA Chair Jim Sim, who is also president of the Midwest Pipe Band Association. "This would be for bands, soloists, and adjudicators. We always bounce good ideas off each other in regards to how we organize and handle things."
Sim said that representatives from almost all of the nine ANAPA member organizations will attend in-person, and the rest will connect via a conference line. He added that representatives from South America and New Zealand will also attend the summit in-person.
Since its formation in 1999, one of ANAPBA's core mandates is to create commonality and reciprocity across North America, mainly so that competition and grading formats and requirements are in sync with various jurisdictions.
"I think we all need to understand that when we make a change in our own areas, it also effects bands and soloists from other areas who would want to play at one of our contests," Sim continued. "We also need to stay consistent with the RSPBA, since so many bands now travel to the World's.
The Eastern United States Pipe Band Association, the world's largest non-collective piping and drumming organization by territory and membership, will be represented by President Jim Dillahey, who said, "Summits like this are vitally important for progress among the North American Pipe Band Associations. With so many members living on the border of other associations, it becomes imperative that we all work together to maintain grade requirements and standards that are roughly the same. I think this has largely been achieved through the hard work accomplished at prior summits.
Over the years, some have questioned the cost of sending association executives to the biannual ANAPBA summits, especially when competitions, events and teaching programs often run on threadbare budgets.
Chris Buchanan, president of the Pipers & Pipe Band Society of Ontario, stressed the importance of and return on investment in getting together in-person: "The big benefit of the ANAPBA summit is that we have so many different representatives from across North America and the world all in the same room. Even in the modern age with all of our remote communication options, the productivity and free-form conversation that can occur in person is unparalleled."
Sim did not provide a specific agenda for the day-and-half of meetings.
The nine members of the Alliance of North American Pipe Band Associations:
Alberta Society of Pipers & Drummers
Atlantic Canada Pipe Band Association
British Columbia Pipers Association
Eastern United States Pipe Band Association
Midwest Pipe Band Association
Pipers & Pipe Band Society of Ontario
Prairie Pipe Band Association of Manitoba
Saskatchewan Pipe Band Association
Western United States Pipe Band Association
"It is always a learning and informative couple of days," Sim concluded.