Aug. 26th Capt. John Memorial line-up announced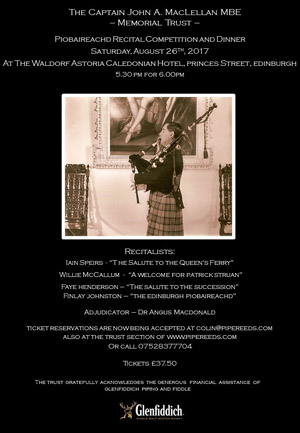 In a relatively short time, the Captain John A. MacLellan MBE Piobaireachd Recital Competition and Dinner has emerged as one of the world's premier solo piping events, rivalled only by a handful of other elite contests, and this year's gala once again features four of the planet's highest-shelf players, each performing piobaireachds composed by the late, great piper.
Iain Speirs of Edinburgh, winner of the last three Captain John Memorial Recital Competitions, returns to the stage at the Waldorf Astoria Caledonian Hotel on Princes Street, Edinburgh, to deliver "The Salute to the Queen's Ferry."
+ Speirs wins third straight Capt. John Memorial
Willie McCallum, Bearden, Scotland, will play "A Welcome to Patrick Struan."
Former winner Faye Henderson of Kirriemuir, Scotland, will perform "The Salute to the Succession." Henderson, the first female piper in history to win a Highland Society of London Gold Medal, earned an invitation to the event by winning the overall title at the army-run Captain John MacLellan Memorial competition, also held each year in Edinburgh, but as a more straightforward event open to all qualified solo pipers.
+ Henderson wins first John MacLellan Medal (scores included)
+ Faye Henderson wins overall at Capt. John Memorial
+ Faye Henderson wins Oban Gold Medal – first ever female winner
Finlay Johnston of Glasgow has been given "The Edinburgh Piobaireachd" to play. It will be his first appearance at the event.
"We are gratified to once again welcome four of the world's greatest pipers," said Colin MacLellan, visionary and organizer of the recital-competition. "Feedback from guests and competitors has been overwhelmingly positive, and every year we work to make the event even better. We're grateful to Glenfiddich Piping & Fiddle for their ongoing support of our recital-competition and to piping in general. We hope to see many familiar and new faces on August 26th."
The unique event, which comprises a sumptuous black-tie-recommended, dinner was started in 2012 to honour the memory and legacy of Captain John A. MacLellan, one of the greatest exponents of and contributors to the art of the Highland pipe. The recital-competition is put on by the Captain John A. MacLellan Memorial Trust, with contributing sponsorship from Glenfiddich Piping & Fiddle.
Captain John MacLellan was named to the pipes|drums list of the 20 Greatest Pipers in History, as selected by a panel of experts in 2014.
+ The Greatest 20 Pipers in History
Tickets to the sixth annual Captain John A. MacLellan MBE Piobaireachd Recital Competition are priced at £37.50 each and are available by email.