Boney Memorial Invitational: Alastair Lee
Burnaby, British Columbia – February 24, 2018 – Alastair Lee of Surrey, British Columbia gained his first Boney Music Memorial Invitational Solo Piping Competition, held at the Halpern Centre at Simon Fraser University.
1st Alastair Lee
2nd Jori Chisholm, Seattle
3rd Andrew Lee, Surrey, British Columbia
4th Kevin McLean, Maple Ridge, British Columbia
James P. Troy of Victoria, British Columbia, had to miss the event due to illness.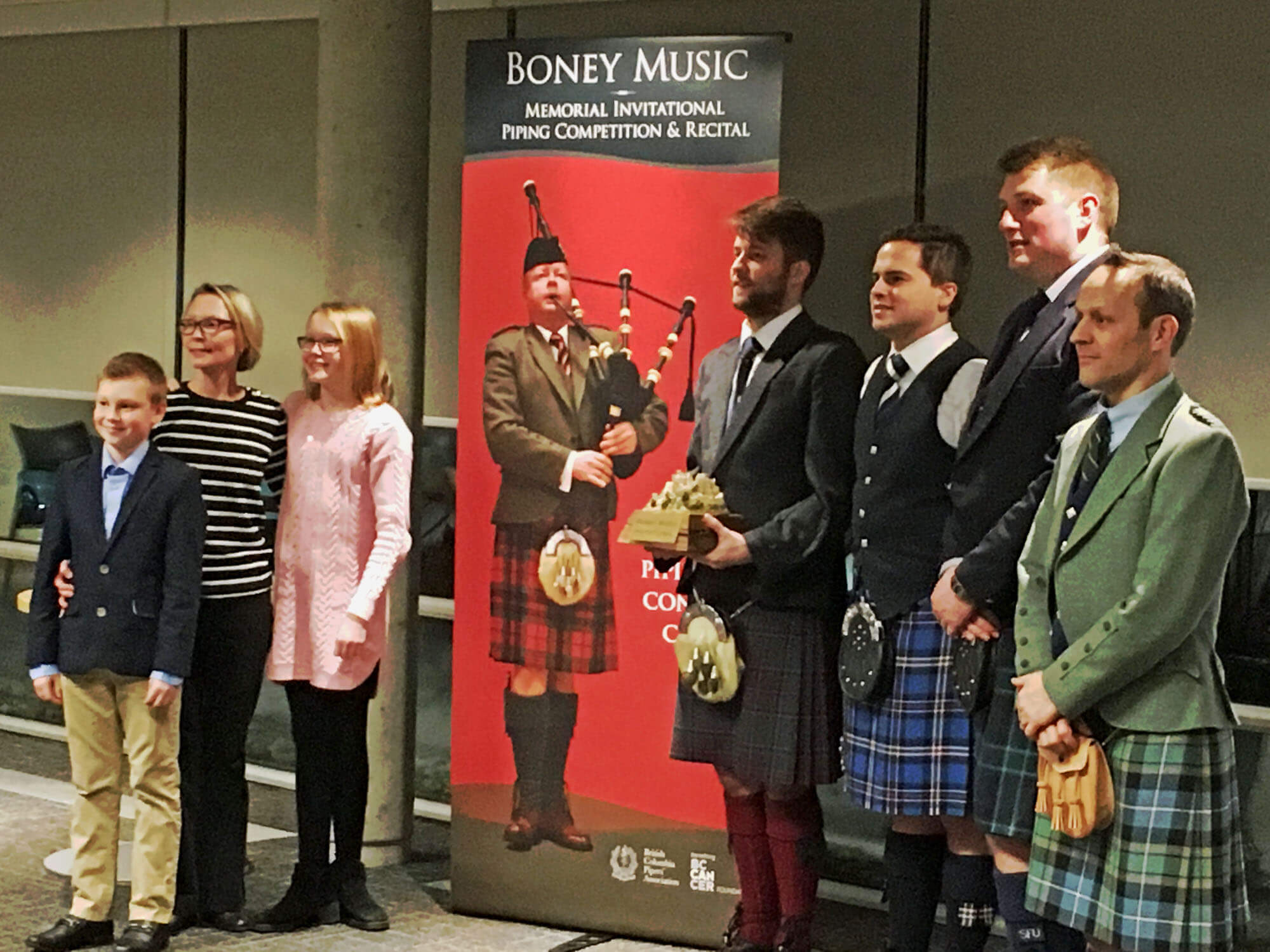 Competitors at the Boney Music Memorial Invitational Piping Competition & Recital played a medley with at least one tune composed by Bonar at the start of their performance, the ground of a piobaireachd, at least two two-part strathspeys, at least one four-part 4/4 march, and at least one tune in 9/8 time. Performances, including tuning, can be no longer than 20 minutes.
During the last three years of his life, Andrew Bonar committed his time while battling aggressive gleoblastoma cancer to build money for and awareness of the disease. The competition raised a total of $2,173 for brain cancer research at the BC Cancer Foundation, $828 from online contributions from viewers of the livestream and $1,345 in donations from those attending the event.
The contest was attended by Andrew Bonar's family, who helped to present the awards.
Last year's winner of the Boney Invitational was Andrew Lee.
+ Boney Invitational goes to Lee
The archived video of the event will be available until March 12th. Viewers are encouraged to make a donation the BC Cancer Foundation.