Boney Invitational goes to Andrew Lee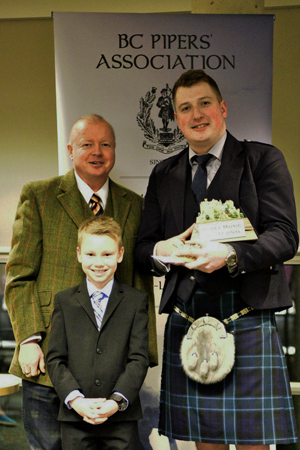 Burnaby, British Columbia – February 11, 2017 – Andrew Lee of Surrey, British Columbia, was the winner of the second annual Boney Music Invitational, held at the Halpern Centre, Simon Fraser University, Burnaby Campus, with profits going to the BC Cancer Foundation. The decision was unanimous by the panel of five unidentified judges in an audience that was full of qualified piping adjudicators. Alastair Lee was second, also by unanimous decision.
The contest called for each contestant to perform a variety of own-choice material in a 20-minute (including tuning time) recital format: a ground of a piobaireachd; at least two two-parted strathspeys; at least one four-parted 4/4 march; at least one tune in 9/8 time; and at least one tune written by Andrew Bonar or a tune from Boney Music Book 1, a collection compiled and published by event organizer Andrew Bonar, a BC Pipers Association Life Member and four-time BCPA Open Piping Grand Aggregate winner.
Invitations to the competition were given to the top five finishers in the previous year's BC Pipers' Association grand aggregate standings as well as the winner from the previous year's Boney Music Invitational: Jori Chisholm, Zephan Knichel, John Lee, and James P. Troy.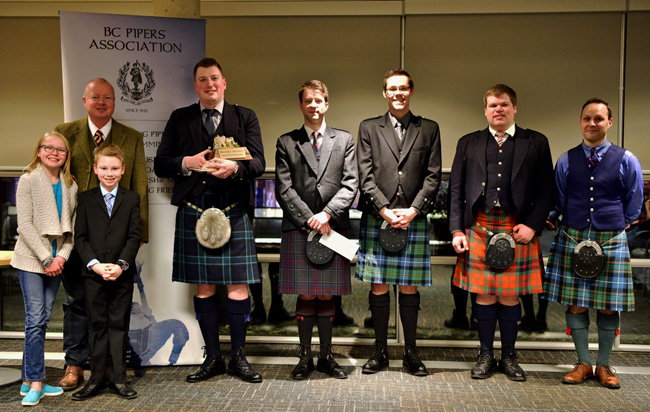 + First Boney Invitational goes to Troy
Andrew Bonar is one of the best pipers to emerge from North America. He was diagnosed in 2014 with malignant cancer and has been undergoing treatment since. Through efforts by him, the BC Pipers Association, and the Simon Fraser University Pipe Band, more than $100,000 have been raised for cancer research charities.
+ Andrew Bonar, in his own words
To make a donation to the BC Cancer Foundation, go to the fundraising page and enter "Boney Music Invitational" in the comments field.