Chicago games attracting more Grade 2's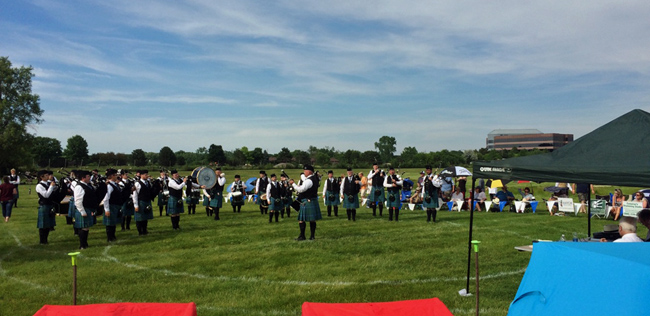 The Chicago Scottish Festival & Highland Games on June 15-16 promises to benefit from a larger entry of Grade 2 bands, making it one of the more significant pipe band contests in North America.
Already entered in Grade 2 are Atlanta, City of Regina, Great Lakes, Greater Midwest, Midlothian Scottish, New York Metro and Rocky Mountain – a major leap ahead from a lone band in Grade 2 that played in the competition three years ago, and sustaining its trend from 2017 when eight bands were in the grade.
+ Concert formation popular at Chicago; back in the future
With a deadline of May 27th, the number of bands competing at the Chicago games is likely to increase further. The contest this year will continue to have bands use a concert formation in the medley, a format that has proved popular with competitors and spectators.
The growth of the event continues the upward trajectory that the penultimate grade is experiencing in North America, which currently boasts 26 actively competing bands, more than the total number based in the UK. Only 14 bands are entered in Grade 2 at the British Championships at Paisley, Scotland, on May 19th.
Thanks in part to innovations like the concert formation, proximity to O'Hare International Airport, and relatively large prize money, the Chicago games have rapidly emerged as one of the premier events in North America.
The traditionally well attended Alma Highland Festival in Michigan, held over the US Memorial Day weekend (this year May 25-27), have declined in popularity over the years, despite still carrying the "United States Pipe Band Championship" moniker. Three Grade 2 bands are entered for the event. The Kingston Scottish Festival in Kingston, Ontario, has reportedly dropped its Grade 1 and Grade 2 band competitions this year due to lack of entries.
Active North American Grade 2 bands
400 Squadron (Canada)
Atlanta (USA)
Cameron Highlanders of San Diego (USA)
City of Dunedin (USA)
City of Regina (Canada)
College of Piping Summerside (Canada)
Dartmouth & District (Canada)
Great Lakes (USA)
Greater Midwest (USA)
Hamilton Police (Canada)
Los Angeles Scots (USA)
MacMillan (USA)
Midlothian Scottish (USA)
New York Metro (USA)
North Stratton (Canada)
Peel Regional Police (Canada)
Portland Metro (USA)
Prince Charles (USA)
Queen City (USA)
Robert Malcolm Memorial (Canada)
Rocky Mountain (Canada)
Thomas Alumni (USA)
Stuart Highlanders (USA)
Wasatch & District (USA)
Winnipeg Police (Canada)
Worcester Kiltie (USA)