Claiming exemption, BBC refuses Freedom of Information request to help clarify World's judging controversy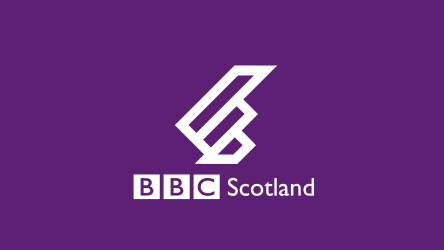 With the Royal Scottish Pipe Band Association not publishing or responding to requests to provide further information on its decision to nullify Friday MSR judge Nat Russell's 2023 Grade 1 World Pipe Band Championship results, a source who requested their name not be divulged provided us with the outcome of a "Freedom of Information" request as to whether there was any communication between the RSPBA and the BBC regarding the judge's alleged "administrative error."
The UK's Freedom of Information Act was passed by parliament in 2000 to create a public "right of access" to information held by public authorities. The public broadcaster that covered the World's, and which is held to strict policies of public clarity and conflict of interest, covered the exciting Saturday competition by live stream and, later, via an edited television program on the event. In both, there was no mention of the Friday controversy.
Like many democratic countries, the UK has stringent guidelines that require state-run organizations to provide information to any citizen upon request.
The BBC has a policy of impartiality in its news and current affairs programming. According to the BBC's editorial guidelines, "Impartiality lies at the heart of public service and is the core of the BBC's commitment to its audiences," and "the BBC must not allow its output to be influenced by the fact that one side or another might benefit."
With only the details of the recipient removed, here is the BBC's verbatim response in the document linked to this image: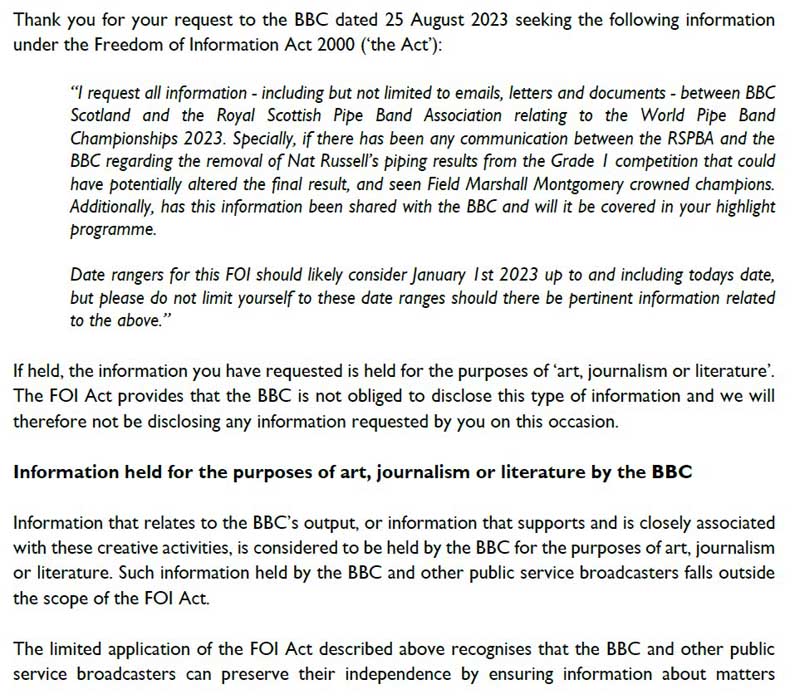 In view of the BBC's legal team, matters of "art, journalism or literature" are exempt from the BBC being bound by the Freedom of Information Act to provide any communication between the BBC and the RSPBA.
Perhaps the rationale for such an exemption is that art is inherently subjective and thus subject to personal opinion, and that the World's does not qualify as "news and current affairs." As has been discussed often, piping, drumming and pipe band competitions – as they are today – are at least as much sport as they are about art.
As evidenced here and in mainstream media coverage of the event, the World Pipe Band Championships are considered newsworthy.
Since August 19th, there have been repeated calls for clarity. A fundamental tenet of public relations is that silence on either side is considered acceptance.
Whether BBC employees and contractors were informed of the situation continues to be unknown. It is understandable that the RSPBA would not want the BBC to know about the decision to nullify one judge's Friday result, let alone the nullified results themselves, so as to ensure that a compelling broadcast could be preserved.
In the immediate aftermath of the 2023 World's, there were repeated demands for clarity, but with nothing forthcoming from the RSPBA. A fundamental tenet of public relations is that silence on either side is considered acceptance.
Following a flurry of online discussion and the suggestion on Facebook by vocal RSPBA critic Scott Currie of a potential GoFundMe campaign "to crowdfund a Judicial Review of the conduct and actions of the Board of Directors and members of the APMB of the RSPBA at the 2023 World Pipe Band Championships," the last few weeks have been relatively quiet.
Many member-based associations and clubs, rather than addressing matters with transparency and clarity, still choose to stay quiet and hope that controversies will blow over. For many organizations facing controversies, clamming up is often upon the advice of legal advice, overriding sound communications counsel that caution that the court of public opinion can be more important than an actual court of law.
As with every pipes|drums story, we encourage readers to express their reasonable and respectful opinions or views by using our Comments feature below. For liability reasons, these are reviewed before they are published. Comments on social media cannot be reviewed before they are posted automatically on those publishing sites, so we often turn them off for that reason. Thank you for reading.