Opinion: the World's Grade 1 debacle and the need for utmost clarity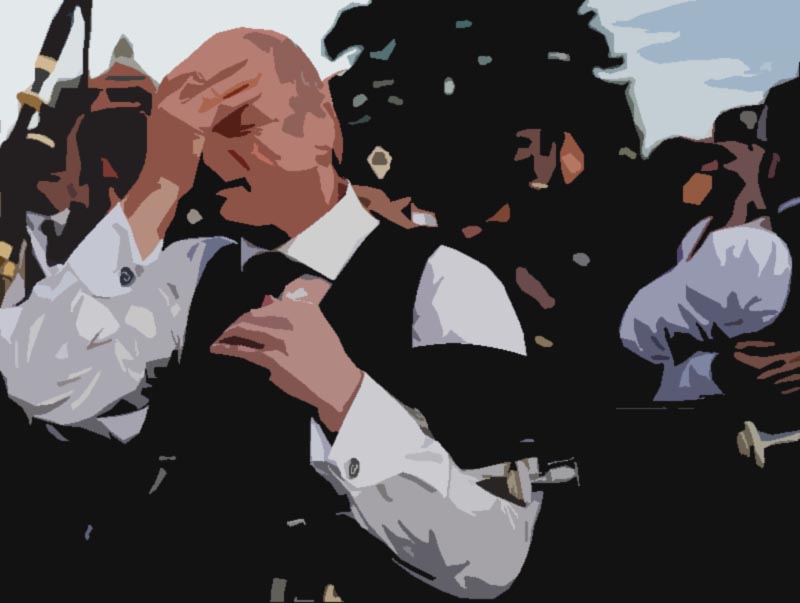 The debacle – and that is indeed what it must be called – that occurred at the 2023 World Championships is unprecedented, history-making, and altogether unfortunate.
For piping and drumming enthusiasts who might have been underground waiting out Hurricane Hilary or some other reason to be disconnected, here's the gist of what appears to have happened and what we believe to be true:
The RSPBA staged two days of the Grade 1 World Pipe Band Championships on Friday, August 18th, and Saturday, August 19th, at Glasgow Green. All other grades of contests were run on the Saturday.
The prizes were announced accordingly between 7 pm and 8 pm on Saturday with no apparent hiccups and definitely no verbal statements from the RSPBA.
Peoples Ford Boghall & Bathgate Caledonia were announced the overall winners of the World Championship – a popular and heart-warming award that had eluded the band for 52 years.
Shortly after the result was announced, all 16 Grade 1 bands were provided with a pre-prepared letter saying, "the overall placing of the Adjudicator concerned will not be included in this year's computation of results."
Given the association's record of taking ages to craft statements, we can safely assume that the wording of the letter was started on Friday and finalized on Saturday.
Summary sheets issued to the same bands clearly showed that the results in question were those of Friday Grade 1 MSR adjudicator Nat Russell.
While many reacted positively to the news, lauding the RSPBA for "taking action," serious questions and concerns come to mind:
If the judge's decisions on Friday were nullified, then why was he allowed to adjudicate the Grade 4A Heat 1 on Saturday?
There are no known "rules" as to how a judge is to assess a competition. There are accepted norms like tuning, unison, note mistakes, dropped sticks, chanters falling out . . . whatever, but there is nothing – to our knowledge – that says a judge must do this or that to make their decision. A judge could simply say, "I just didn't like it," or dislike the colour of their flashes, and place them however they wanted. It's been known to happen.
Further, there is no known procedure for accepting or rejecting a judge's results. There might well be one, but we can't find it, and we'd be willing to wager that the large majority of RSPBA member bands do not know what it is.
The RSPBA described the issue as "administrative shortcomings." What exactly does that mean? Forget to sign his sheets? Hand in only some of them? Didn't complete the exact paperwork?
Did the RSPBA try to work with Russell to correct or clarify these administrative shortcomings?
And, if "administrative shortcomings" were present, are we really to believe that every one of the thousands of competitions and tens of thousands of judges' results from the last 75 years were completed perfectly according to procedure? Why did the RSPBA choose to start demanding perfect adherence to exact "administrative" procedures at the Grade 1 competition at the World Championships?
The RSPBA and all associations are there to safeguard the rules and the standards to provide as much judging continuity, equity and quality for their members as possible.
If a judge appears to deliver consistent outlier results that are outside of accepted norms, an association can then take action, but would normally do so well after the competition that was the last straw, not before that last-straw contest was completed.
There have been innumerable instances of judges being far apart, including in other grades at the 2023 World's. Association members can be outraged, but we know of no instance in which a judge was reprimanded, suspended or put off a panel for their decision.
At this point, we do not know Russell's rankings in the Friday MSR. The RSPBA did not include his scoresheets in the envelope of sheets and summaries provided to them.
Unless it emerges that there was some other extraordinary circumstance to make this decision obviously and irrefutably correct, it's yet another bad move by the RSPBA – not necessarily to reject Russell's scores, but not to be completely detailed and transparent and open about the exact reasons for their decision.
We might assume that had Russell's results counted (if they were indeed complete), as have every other judge's until now, no matter how surprising or divergent they might be, there's a chance that the 2023 World Champion could be different.
This element of uncertainty is perhaps most unfortunate for Peoples Ford Boghall & Bathgate Caledonia. There's perhaps not a more nothing-not-to-like pipe band anywhere. For 52 years, they've aspired to win the World's, and even their most ardent competition liked seeing them win. There's no band on earth that works harder than these folks.
Now this matter hangs over their head and over the heads of bands like Field Marshal Montgomery, Inveraray & District, Simon Fraser University, and everyone else. They wonder, What if? You can look at results and easily come up with scenarios in which the final result could have changed.
Bands that weren't first wonder What if? pretty much after every contest. What if ___ was judging and not ___? What if the chanter didn't fall out? What if we didn't blow the attack? But never before when a judge's results were nullified.
Unless it emerges that there was some other extraordinary circumstance to make the RSPBA's decision to nullify the results obviously and irrefutably correct, it's yet another bad move by the RSPBA – not necessarily to reject Russell's scores, but to not be completely detailed and transparent and open about the exact reasons for their decision.
As with just about everything, the absolute facts and truth need to come out with total clarity.
We have asked the RSPBA Executive Officer for more clarity, and at publication time, had not received a response. That's normal, unfortunately. They have not responded to us for well nigh 20 years, which only makes their innumerable crises worse because they refuse to provide their perspective.
Given the 75 years of consistent obfuscation and stonewalling, we're not holding our breath that the truth will come out.
But until it does, there will be a cloud over this World's result, which is absolutely unfair to RSPBA member bands.
pipes|drums is always on the side of whatever is good for piping and drumming.
And this lack of clarity is most assuredly not that.
As with every pipes|drums story, we encourage readers to express their reasonable and respectful opinions or views by using our Comments feature below. For liability reasons, these are reviewed before they are published. Comments on social media cannot be reviewed before they are posted automatically on those publishing sites, so we generally turn them off for that reason. Thank you for reading.