Despite no Grade 1 at 2018 Australian Championships, success is strong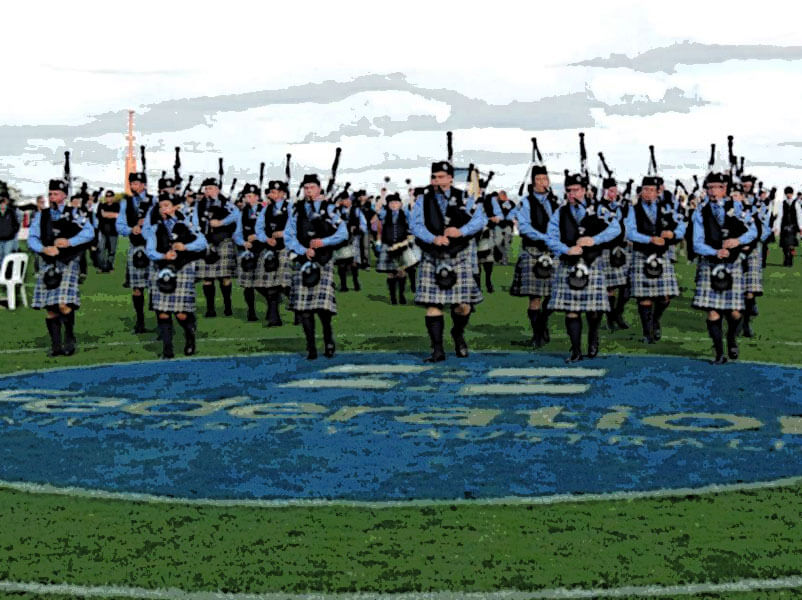 For the first time since the sanctioned event started in 1961, there will be no Grade 1 contest at the Australian Pipe Band Championships, but that's not preventing what appears will be a first-class event.
Close to 40 bands are entered to compete in the bi-annual competition on April 7th, this year to be held at the Brisbane Boys' College in Toowong, Brisbane, on the country's east coast.
The event moves locations every two years, with state pipe band associations submitting bids to stage the contest, which is run overall by Pipe Bands Australia, the national associations collective. The contest was last held in the state of Queensland in 2010.
With the Western Australia Police being the only top-grade band in the country, and no New Zealand bands travelling to the event, WAPOL chose not to make the 4,300 kilometre trip and $40,000-plus investment from Perth on Australia's west coast.
"Australian pipe bands are building a strong foundation for a new era in performance and engagement for our home-grown pipers and drummers and our 2018 Australian Championships in Brisbane will celebrate the strides being taken," said Pipe Bands Australia President Chris Earl. "World-accomplished pipers and drummers living in Australia are at the forefront of developing an exciting new generation of players across school and community bands and this is evident in high entries again for the juvenile band championship that has risen in standard over recent years."
The organization of the contest has had its ups and downs with judges. Ensemble adjudicator Nat Russell reportedly withdrew from the event with late notice, and Emlyn Brown from far-away Western Australia is being flown in.
The 2016 championship went to the Western Australia Police by acclaim, after the now-defunct City of Whitehorse Pipe Band was disqualified under contentious circumstances. Several members of the band had been suspended from the association several months before the competition, and were alleged to have broken conditions of their suspensions resulting in the band's disqualification.
+ WAPOL OZ Champs; Whitehorse DQed, security involved
+ You can't fire us; we quit! Whitehorse story continues
Despite the relative decline in Grade 1 bands in Australia, the outlook for the country looks promising, with a strong and growing Grade 2 category.
"I don't think anyone in Australia is panicking about a contest sans Grade 1," one Australian insider said, speaking on condition of anonymity. "It's just a phase, not some catastrophic indicator. There are a number of Grade 2 bands rapidly trending the right way, and led by really good people who all have a mutual respect and friendship with one another. The scene has been very collegial and is in very good health in that regard. It's only a matter of time before we see Grade 1 bands again."
Several, if not the majority of today's Grade 1 bands, are sustained by bringing in members from far away, after from the other side of the globe. Australia has largely resisted such efforts.
"The 'shake and bake' model is unsustainable in Australia," the source continued. "There are many examples of failure. Only the high-graded bands that have teaching programs and/or a feeder system have longevity in the game. 'Destination bands' can't survive here. They're underwritten by hype, which leads to desperate measures."
Earl emphasized the positive outlook for the Australia's piping and drumming future: "Young players are now also joining the ranks of our graded bands with firm foundations being laid, taking a shape that is growing our movement through increasingly consistent local participation and performance standard. This was demonstrated at the World Pipe Band Championships last year when we had four bands competing. Pipeband Club made the Grade 2 final and finished second in drumming to Lomond & Clyde. Scots School Albury was second in Grade 4A at the Scottish Championships. This year's Australian Pipe Band Championships have a number of bands in preparation for their trip to Scotland this coming August when six Australian bands are expected to go into the circle. We are eagerly looking forward to our 2018 championships in Brisbane to celebrate the new levels of vitality and enthusiasm that are driving home-grown player advancement and preparing our players for the next steps in their musical journey."
The 2018 Australian Championships are also the last event before the 2020 Diamond Jubilee contest, reportedly to be held in the town of Maryborough, Victoria, the site of the 1961 event.
Earl added that Pipe Bands Australia will announce inductees into a new Australian Piping & Drumming Hall of Fame, "legends of the movement in Australia who have had national and international influence throughout history, giving us today a sense of our past and direction for the future."
The 2018 competition will be followed by a large organized after-party.
Stay tuned to pipes|drums for results from the Australian Championships when they become available.
Hey, just a friendly reminder that free articles like this take time and money to create for your enjoyment. If you're not already a subscriber to pipes|drums, please consider subscribing to become an even stronger part of our community. Thanks!