Dundee gets £58k from Schools P&D Trust

The already thriving piping and drumming city of Dundee, Scotland, has received a £58,000 grant the from Scottish Schools Pipes & Drums Trust for a new tuition program for as many as 120 pipers and drummers in the area.
The money will go to the Dundee City Council Instrumental Music Service to combine with contributions from the Common Good Fund, the Community Regeneration and Creative Scotland to offer free lessons beginning this month for students at Braeview Academy and Fintry, Longhaugh and Mill O'Mains primary schools. A "DD4 Pipes & Drums Youth Band" is expected to form out of students who come through the program, ready to compete in 2020.
The program will start this weekend for pupils to try the pipes or drum, and chanter and drumming clubs will begin later in the year. The initiative follows leadership by Derek Potter to create range of piping and drumming learning opportunities in Dundee.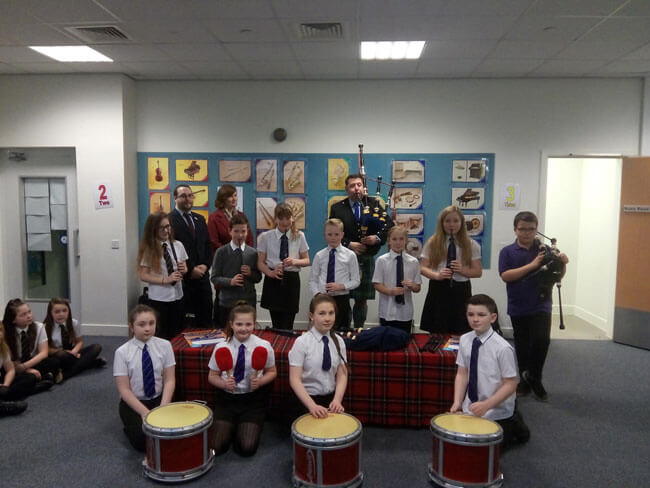 Over the last few years, piping and drumming in Dundee has grown to support two successful Grade 2 bands, City of Discovery and MacKenzie Caledonian, the latter with a productive feeder band system. Early last year, Lomond & Clyde Pipe-Major David Wilton and his wife Claire Lynas took full- and part-time positions teaching piping at the High School of Dundee.
+ Dundee / Angus scene continues to surge
"Learning the pipes and drums and being part of a pipe band provides young people with a fantastic set of skills that stay with them for life," Alexandra Duncan, Chief Executive of the Scottish Schools Pipes & Drums Trust, said in a statement. "Pipe bands encourage teamwork, confidence, camaraderie and a sense of discipline and dress, as well as musical skills."
The Scottish Schools Pipes & Drums Trust is a national charity that works to introduce piping and drumming tuition to state schools in Scotland, and encourages the formation of school pipe bands, currently with more than 2,000 students learning piping drumming in more than 160 schools in Scotland. The trust organizes the annual Scottish Schools Pipe Band Championships in March.
Due in large part to new teaching initiatives in schools, it has been recognized that the rest of the piping and drumming world could find it increasingly more difficult to keep up with rising standards because of the volume of excellent young players emerging in Scotland.