Dunedin takes two at Norfolk
Norfolk, Virginia – April 29, 2017 – The second annual Virginia International Tattoo American Pipe Band Championship was held at Scope Plaza in warm, sunny weather. The contest this year was for Grade 2 and Grade 3 bands, departing from the Grade 1 and Grade 2 format of 2016. Judges were from all over the world: Greg Bassani (Australia), Andrew Carlisle (Pittsburgh), Ken Eller (Ontario), Terry Lee (British Columbia), Alex MacIntyre (Alberta), Donald MacPhee (Scotland), Ross McCrindle (Scotland) and Harry Russell (Northern Ireland). The Grade 2 event had double the number of judges than the usual format, with four piping, two ensemble and two drumming adjudicators for both the medley and MSR events; Grade 3 had the more familiar 2,1,1 set-up.
+ Virginia Tattoo returns without Grade 1
Bands also performed over the week at several military tattoos at the 10,000-seat Scope Arena.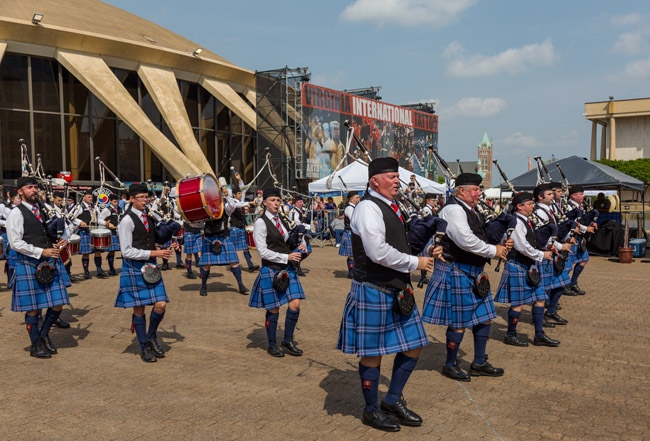 Grade 2 (overall)
1st City of Dunedin (US$2,500)
2nd Worcester Kiltie ($1,000)
3rd MacMillan ($500)
Drumming: City of Dunedin
Best MSR: City of Dunedin
Best Medley: City of Dunedin
Grade 3 (overall)
1st St. Thomas Episcopal School ($2,000)
2nd Carnegie Mellon University ($1,000)
3rd Wake & District Public Safety ($500)
4th Ulster Scottish
Drumming: St. Thomas Episcopal School
Best MSR: St. Thomas Episcopal School
Best Medley: St. Thomas Episcopal School