Enjoying the pleasures of pipes past
Care
Proper care of these relics once you have acquired one is crucial. The usual bagpipe rules apply: never leave them in direct sunlight (even in the case) or in a freezing car. Do not put them away with moisture in the bores. Dry them with drone brushes, take them apart to dry overnight, install a reliable moisture control system, or all of the above.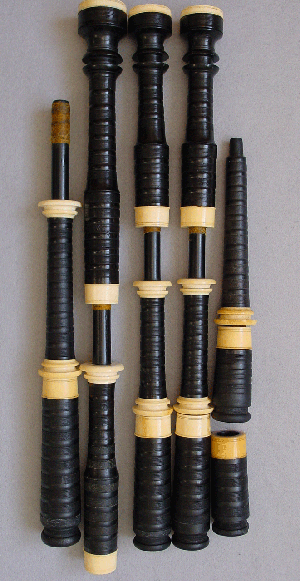 'New' (to you) vintage pipes should be played in slowly to control how much moisture is coming into contact with wood that may not have been played for decades. There is disagreement about how much good comes from oiling the wood, but it can't hurt and it could help. Swabbing the bores with virgin almond oil several times a year will, if nothing else, make the owner of a vintage set feel he or she is doing everything possible to maintain the pipes. A case humidifier (Google "Oasis Humidifiers") is a must.
Stories abound about old pipes cracking shortly after they have been brought into use. This certainly happens, but in many cases the cracks were already there and have just opened up again with moisture. Existing cracks in drone pieces will be virtually invisible if the wood has dried out completely. They can be difficult to detect when you're buying a set of old pipes, but what appears to be a slight scratch in the wood can be a telltale sign. Also: be wary of pipes that are heavily varnished. Sometimes this has been done to seal surface cracks and hide flaws from buyers.
If you have an old set of pipes and you don't know what they are, you're part of a larger community than you might think. Don't rush to name them. Enjoy their tone, steadiness and appearance, care for them, and take great pains to ensure they outlast you. Bring them to life, keep them alive, and some day pass them on to a future piper.
In short, revere the names of the great pipe-makers of the past as we revere the great artists. These men were highly skilled artisans, and their instruments should be looked on as a prized part of piping history. Learn about them, seek them out, and, if you find a set, care for it like the work of musical art it is.
. . . and try not to be fooled by pretenders!
Thanks to:
Jeannie Campbell's book Highland Bagpipe Makers, Magnus Orr Publishing, 2001. Dave Atherton, www.dmatherton.com. Ron Bowen, www.thebagpipeplace.com. Andreas Hartmann-Virnich.
Jim McGillivray contributes frequently to pipes|drums, and his regular "Tune of the Month" series is a popular feature of the magazine. A winner of both Highland Society of London Gold Medals and the Clasp, among many other prizes, he runs the piping and drumming program at St. Andrew's College in Aurora, Ontario, and operates McGillivray Piping, specializing in vintage and new pipes and accessories, and PipeTunes.ca, an iTunes-like resource of original pipe music and drums scores. He lives in Aurora, Ontario.