Enjoying the pleasures of pipes past
R.G. Lawrie
The R. G. Lawrie company enjoyed its prime years around the same time as Henderson, beginning business in 1881. Like Henderson, Lawrie in its prime employed one of the great players of the day as its manager of pipemaking in the form of the legendary player, composer and teacher, John MacColl. Both the appearance and the tone of Lawrie pipes of this age are similar to those of Henderson, and pipes from the two firms can be hard to tell apart. The lower bead on the projecting mounts can be slightly larger on Lawrie drones, and their metal mounts (nickel and silver) are often tapered. Many of the great competitive pipers who didn't or don't play Henderson pipes have played big, steady Lawrie drones, often made of ebony.
Of all vintage pipes in demand today, low-end ebony Lawries with ivory (or celluloid) projecting mounts and caps, and tapered nickel ferrules are the most common. The company produced a huge number of affordable pipes during its prime, and most are tonally superb.
There can be some variations in the tonal quality of vintage Henderson and Lawrie pipes of this golden era. Whether this is due to the identity of the actual turner, or to the fact that the pipes have been misidentified is hard to say. We shouldn't underestimate the effect of a particular turner on the tonal quality of a instrument.
The MacDougalls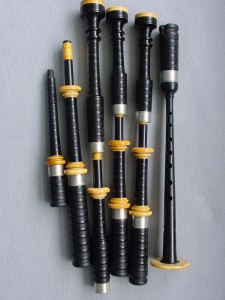 Perhaps no other pipemaking name invokes more myth and magic than MacDougall. The first maker was said to be Allan, who began making pipes in 1792. However, there has been some debate about whether Allan actually made pipes or was just a woodworker. His son John took over the business in 1834 and made pipes until the late 1850s, though confirmed sets of his pipes are rare. John's son Duncan became one of the greatest players of his generation, and his pipes were the pinnacle of the family business. Duncan began making pipes in Perth in 1857. He subsequently moved to Edinburgh, then Breadalbane and finally to Aberfeldy, where he died in 1898. His son Gavin joined the business with his father in the 1890s, and it was during this period when father and son worked together that MacDougall pipes achieved a consistent visual standard. When working on his own, it seems that Duncan varied every bagpipe, some dramatically so. Duncan made instruments exclusively in ebony or cocuswood. Blackwood was just coming into wide use at the end of his career, but it appears he wasn't interested.
Duncan MacDougall owners treasure their instruments as musical heirlooms. The pipes are usually meticulously made, though some more so than others. The tone is full, though slightly less so than Henderson/Lawrie drones. Their steadiness is legendary and the power and blend of the bass drone on a top-notch Duncan MacDougall set is unequalled.
Duncan's son Gavin carried on the tradition of quality for some years, but he wrestled with personal demons and his quality deteriorated slightly as time passed. He moved mostly to blackwood in the years prior to his early death in 1911 at age 35. Yet even his 'poorer' sets are superb, and it might be argued that some of the greatest sets of drones ever made were Duncan's and Gavin's. The family even made a silver-mounted set for the Prince of Wales, an enthusiastic piper and composer of the slow air "Mallorca."
Gavin's son John carried on the business after Gavin's death, but, strangely, John wasn't a wood turner and apparently employed Robert Gillanders, Sr. to come to the shop in Aberfeldy to turn the pipes. A few "Gillanders' MacDougalls" are still being played today.
In general, MacDougall pipes, particularly Duncan's, were made in the Edinburgh style with thin sticks, delicately made projecting mounts (usually with a rounded bead, but some parrot's beak as well), simple ferrules and ring caps, and flat bushes.