Enjoying the pleasures of pipes past
Henry Starck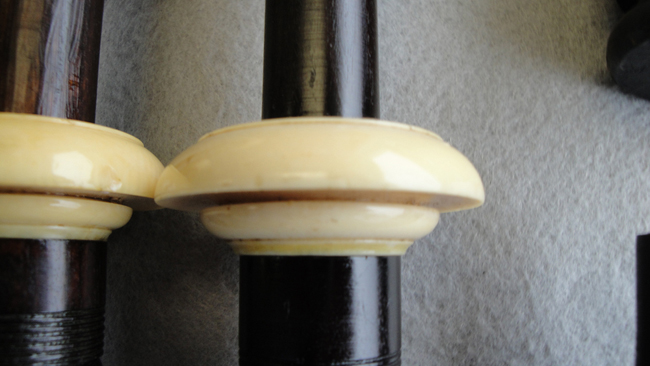 Henry Starck was part of a long-standing family of woodwind makers who moved from Germany to London in the early 1800s. William Ross, who was the Queen's Piper after Angus MacKay, as well as a great music compiler, was a pipe-maker as early as 1859. He convinced Starck to begin making pipes for him around 1880. These were often stamped with "H. Starck/late W. Ross" and a place name, the latter of which can be used in dating, since it changed over time. Despite Ross's death in 1898, that stamp continued to be used well into the 1950s. The firm continued to make pipes until 1962. All are good, but it is the instruments made by the first Henry, who died in 1924, that are exceptional. Modern pipe-makers still speak reverently of Henry Starck's remarkable craftsmanship. The pipes are characterized by deeply cut and very rounded beads between the combing sections, as well as rounded projecting mounts that were likely turned from ivory billiard balls. Starck pipes are generally a full-sounding and steady set of drones.
Les Cowell, who later founded David Naill & Co., first learned the pipe-making trade with the Starck firm in the years around 1950.
Donald MacDonald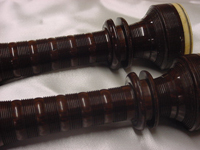 Donald MacDonald's pipemaking career stretched from 1798 until the 1830s, so examples of his work run the gamut from nearly the earliest existing Highland pipes until well into the Alex Glen/John MacDougall era. The early production of Alexander and Thomas Glen owes much to Donald MacDonald's influence. He may even have trained them. Much of his work was in the Edinburgh style established by his great predecessor and possible mentor, Hugh Robertson. But, like Duncan MacDougall, his pipes varied in style and can be difficult to identify with certainty. Only a few confirmed Donald MacDonald sets are in active duty today, though there are a number of suspected sets. The tone of Donald MacDonald's pipes is slightly subdued; not as quiet as David Glen's, but not quite as full as Duncan MacDougall's. His sets in cocuswood are among the most beautiful vintage pipes you will see and earn kudos from modern pipe-makers for their craftsmanship. Some respected pipe-makers think Donald MacDonald was the best ever, so it is unfortunate that so few sets are known. He was also a prolific and innovative compiler of pipe music and remains to this day one of piping's most important figures.
There are other bagpipe makers than these who attract the interest of vintage aficionados, including Thow of Dundee, John Ban MacKenzie, the great players Robert Reid and G. S. McLennan, Duncan MacRae and William Sinclair.