FMM concert headed for sell-out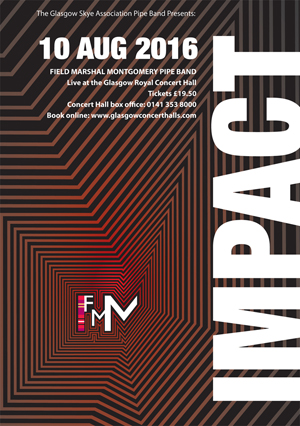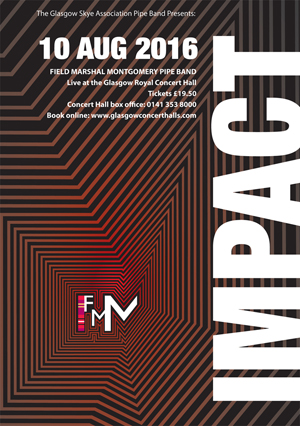 Ten-time World Champions Filed Marshal Montgomery are no strangers to the Pre-World's Concert in Glasgow, with at least four previous appearances on the big stage over the years, and the band's 2016 "IMPACT" show on August 10th at the Glasgow Royal Concert Hall is nearly sold-out according to the Grade 2 Glasgow Skye Association Pipe Band, organizers of the annual event.
Glasgow Skye band treasurer Dougie Orr confirmed that fewer than 200 seated tickets remain for the concert, which has often served as a good set-up for winning the World's itself, with bands generally getting a lift from the event on the following weekend.
If the remaining seated tickets are sold, another 100 standing-room tickets will be added to help satisfy the over-demand.
Field Marshal Montgomery last performed at the Pre-World's Concert in 2007 when the band mounted its "RE:CHARGED" show, which subsequently resulted in a DVD and CD of the event.
Tickets are priced at £19.50 and available online from the Glasgow Royal Concert Hall.
Field Marshal Montgomery has enjoyed another strong competition season so far, winning the UK Championship, finishing second at both the British Championship and the European Championship, and winning its twenty-third All-Ireland Championship.
The Pre-World's Concert is usually a sold-out event, with bands such as Simon Fraser University, Boghall & Bathgate, Inveraray & District and St. Laurence O'Toole taking the stage in recent years.