FMM has one word for fans: IMPACT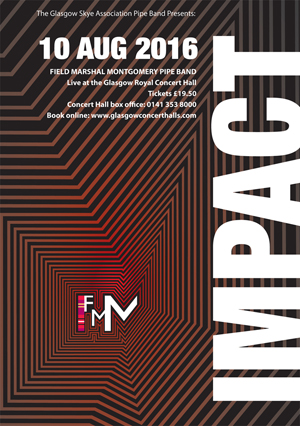 Ten-time World Pipe Band Champions Field Marshal Montgomery of Belfast have unveiled the official poster for the band's August 10, 2016, Pre-World's show at the Glasgow Royal Concert Hall, with another one-word title.
"IMPACT" is the name of the new show, which follows the band's previous one-word-title concerts, including 2002's "Unplugged" and 2007's "RE:Charged."
The Pre-World's Concert, which is organized and promoted by the Grade 2 Glasgow Skye Association Pipe Band, is considered the premier live performance in the pipe band world, and often sells out the 2,700-seat hall.
Previous recent performers at the event are Simon Fraser University 2015 ("Nous Sommes Prêts"); Greater Glasgow Police Scotland 2014 ("Ceolry"); Inveraray & District 2013 ("Ascension"); and Peoples Ford-Boghall & Bathgate Caledonia ("Forte").
A perennial favourite with many to win the World Championship, Field Marshal Montgomery settled for fourth in 2015, but took home the RSPBA Champion of Champions award for most aggregate points over the five major championships, winning the British, UK and European and finishing second at the Scottish.
Tickets to the new Field Marshal Montgomery show are priced at £19.50 and go on sale directly from the online box office of the Glasgow Royal Concert Hall on Friday, December 11th.