Glorious online homage to G.S. McLennan unveiled
During his too-short life, the great George Stewart "G.S." McLennan was an innovator of music and an agent of change for piping, and now a new website that is nothing short of gorgeous pays modern homage to his life, legacy and times.
The site was painstakingly developed by McLennan's estate, including his grandson, Hamish McLennan, and great grandson, Calum McLennan. The project has been in the works for more than two years, and was finally launched on February 9, 2018, the great man's 135th birthday.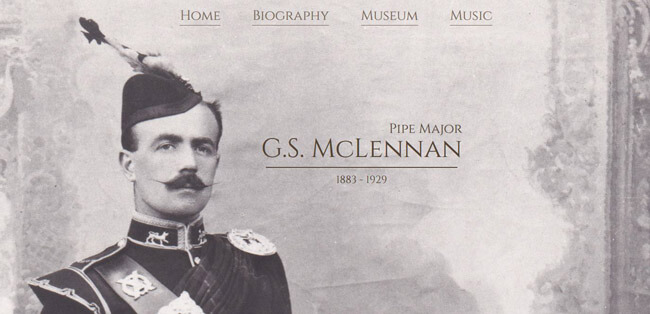 Featuring a detailed biographical history of G.S. McLennan, a "Museum" that includes never-before-published images, documents, artifacts; and a Music section detailing many of the stories and images of every one of the 95 original compositions and arrangements attributed to McLennan, as well as maps to find locations of tunes named after or connected with places.
"The concept of a G.S. McLennan website came about in the wake of the 'Tunes from a Silent Chanter Exhibition' of 2010-'11," Hamish McLennan said. "When the current generations of grandchildren and great-grandchildren inherited the family archive of unorganized boxes, books, folders, scraps of paper, odd photos, pipes and components, it was agreed that continuing to store them away from public gaze was no longer appropriate."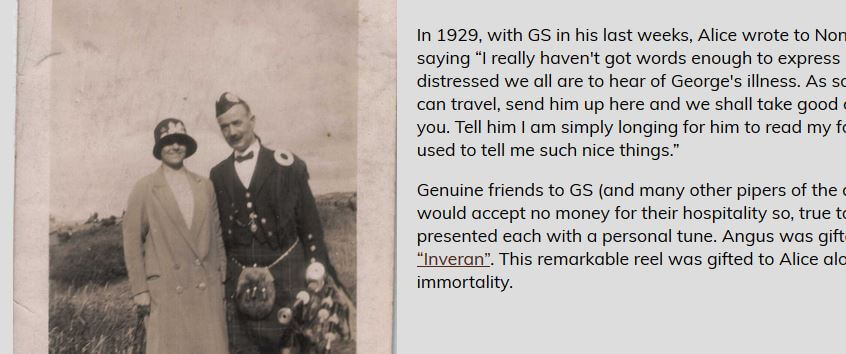 He said that G.S. McLennan's son, George, was "protective and had ensured nothing left the house and that only a few items were ever shown outwith the family and nothing, however trivial, was given outside the immediate family."
McLennan said that G.S.'s published tunes were readily available, but little about the composer himself. "There was a vacuum and we'd seen for ourselves that there was a public appetite for more. And of course there's a worldwide audience which a static exhibition could never reach and which was costly to run."
The richness of information for any one with even a modicum of appreciation for piping history is, in a word, staggering. Even the most informed G.S. enthusiast will learn myriad new details about his life.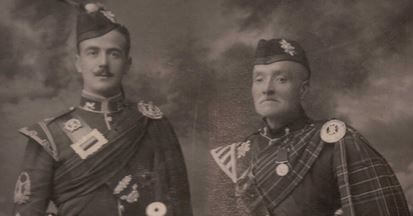 For example, the details accompanying McLennan's curious 2/4 march, "The Skook," reveal an anecdote about McLennan and the equally great Willie Ross, when the two contemporaries faced each other at the Northern Meeting. One is immediately reminded of the late Pipe-Major Alasdair Gillies being sent off stage and thus disqualified by the late Lt-Col David Murray, his superior in rank, in the Gold Medal for taking too long to tune.
A fine example of camaraderie comes from 1927 following an incident at Inverness in which Willie Ross was disqualified from competition due to his failure to appear in time for the grand march. GS duly refused to compete unless Ross was reinstated. Willie Ross later wrote to G.S. saying . . .
"It touched me very much when I heard of the attitude you took up in my favour . . . you were always my best friend and in fact longest acquaintance as a competitor." In this letter he concurs with G.S. that ". . . the people who did the dirty on me at Inverness mean to see us off".
In fact GS was relegated in the judging as a consequence of his protest and Ross admitted that "even my mother knew who should have got the MS & Reel open". As with their arrival on the scene 25 years previously, this heralded their recognition that there was again a changing of the guard at competition.
Stories corroborated by historical letters and other evidence shed terrific light on such G.S. classics as "The Little Cascade," "Mrs. A. MacPherson of Inveran," "Biddy From Sligo," and "Alick C. MacGregor."
G.S.'s troubles with judges are evident again in the story accompanying the history of his great 2/4 march, "The Lochaber Gathering." According to his written account, McLennan considered himself penalized by the judges at the gathering after he sheepishly collected his first prize for the 2/4 march event, admitting that he felt that he did not deserve because he made a slip, which evidently went undetected by the bench. He was left out of the Strathspey & Reel prizes, he thought, for being "candid."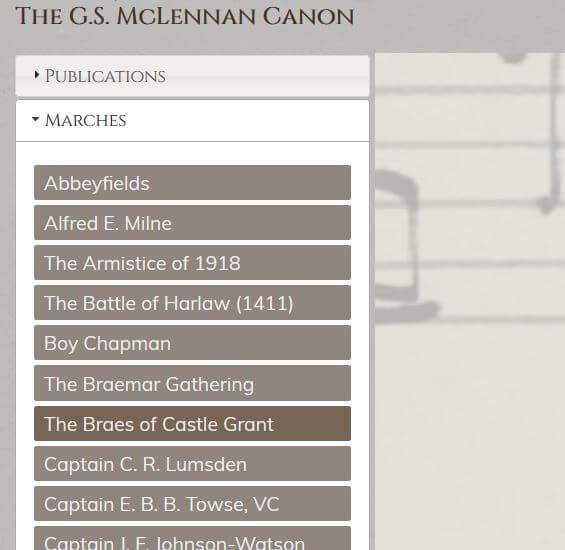 The website will continue to evolve, Hamish McLennan promised. "The site is not yet fully complete – it possibly never will be – with some cabinets in the Museum still to have the covers taken off and items with labels yet to be added. In the future we would like to add sound files to enhance the Music (still to be sourced) and add more original manuscripts and other images. Perhaps the texts of his radio lectures. To allow visitors to be made aware of additions or changes, we will have a Facebook page which will be accessible by anyone (Facebook users or not) where such information will be posted."
When asked what he thought the change-agent G.S. McLennan might have thought of the website, Hamish McLennan said, "He'd certainly have been impressed with the scope to reach a worldwide audience. Remember that in his later years, radio was a novelty and only broadcasting regionally. I guess he'd be quite pleased to be remembered so long after his death, but perhaps bemused by why he should be of particular interest. Perhaps he'd have gone along with the element of 'musicology.' After all, in the end it's the music that matters. Coming from a long line of the piping tradition he would have been well aware that we all come and go but the music lives on. Ars longa, vita brevis [art is long, life is short] remains very true in the case of G.S. McLennan."
G.S. McLennan was named to the pipes|drums list of the 20 Greatest Pipers in History, as selected by a panel of experts.
+ The Greatest 20 Pipers in History
He is the topic of many articles on pipes|drums, including two illuminating pieces mainly about his father, Lieutenant John McLennan, to which the McLennan estate contributed.
+ John McLennan also invented alternative pipe bag
+ Did G.S.'s dad invent moisture control?
+ Trading notes: G.S. makes music with his father
+ Possible new G.S. McLennan photo highlights "The Iron Division" 2/4 march