GoFundMe effort takes a stand to aid RSPBA teaching programs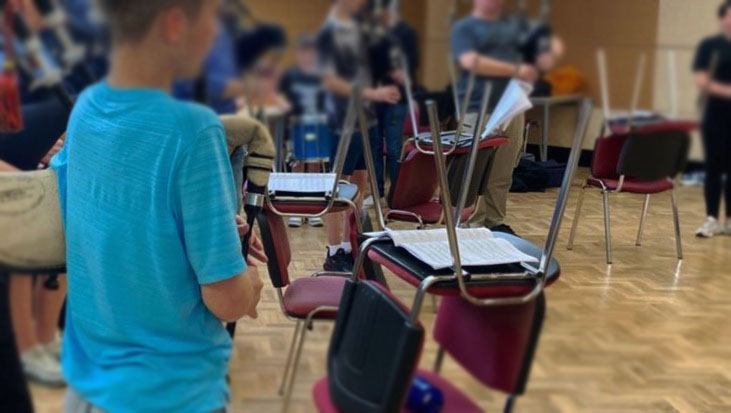 When the Royal Scottish Pipe Band Association invested well more than one-million pounds on an extensive renovation of its Victoria-era Glasgow headquarters, including new facilities to host teaching programs like its five-day "Wake Up Shake Up" summer school, the world's most powerful piping and drumming association apparently forgot to apportion enough money for music stands.
This week, Scott Currie, an outspoken RSPBA critic who has raised grave concerns over the renovation and the association's treatment of its members, organized a grassroots GoFundMe fundraiser appealing to concerned pipers and drummers to raise £420 to purchase 12 music stands.
Within about a day, the fundraising goal had been met and, not only that, Currie was able to expand the initiative to 30 music stands, which will be delivered soon to the RSPBA's building at 45 Washington Street in Glasgow.
Currie got the idea when he saw a photo of young piping students at the association's "Wake Up Shake Up" three-day summer school – which carried a price tag of £180 per student – straining to read sheet music on makeshift stands.
Seeing the students propping up sheet music on stacked-up furniture was, to me, a sad and embarrassing indictment of the years of incompetence and financial mismanagement that we've all been witness to. – Scott Currie
"Seeing the students propping up sheet music on stacked-up furniture was, to me, a sad and embarrassing indictment of the years of incompetence and financial mismanagement that we've all been witness to," Currie said. "How could the self-described 'recognized Centre of Excellence for the promotion and development of Pipe Band Music internationally' that spent £1,000,000 of members' funds on renovations and furnishings possibly fail to provide even the most basic of elementary teaching aids for instructors and students at a £180 per head workshop?"
Currie put together the campaign quickly, writing on the GoFundMe page: "For just £420, 12 budget music stands can be purchased and donated to help students read and learn sheet music without straining their necks or requiring to supply their own binoculars. Remember, it's your headquarters!"
No stranger to teaching, Currie has been a bass drummer or tenor drummer with several Grade 1 bands, including Shotts & Dykehead Caledonia and the 2016 edition of Spirit of Scotland, working with Leading-Drummer Jim Kilpatrick in both groups.
"There was an obvious and inexpensive solution to the problem that I felt I could help solve with the resources available to me. Thanks to contributors to my short GoFundMe campaign, I was able to raise a budget of £420 in 24 hours to buy new music stands for the instructors and students. The target was to buy 12, but by sourcing them at cost and with additional support from EMD Music [a major worldwide distributor of musical instruments] I was able to extend the purchase to 30 music stands from the same budget.
As donations came in from Scotland, the USA, Canada, Australia and other countries, Currie gave each contributor a shout-out on his Facebook page. He mentioned that he did not detect any donations from RSPBA officials.
"The teaching faculty and students deserve praise for improvising to make things work and I hope the donation of these music stands will help to make everyone's participation in future summer schools easier and more enjoyable," Currie added.
Once the £420 goal was achieved, the campaign was closed.
Currie is the owner of Scott Currie Music in North Lanarkshire, Scotland, a dealer in a multitude of instruments and musical genres, with a specialty in piping and pipe band drumming.
Along with Kilpatrick and renowned tenor drummer Tyler Fry, Currie is also a principal with Innovation, an events group that puts on the annual Drumming For Drinks festival-competition, this year being held at Barras Art & Design on the grounds of the Barrowlands Ballroom & Market near Glasgow Green on August 16th.
He has also written several personal opinion pieces published by pipes|drums (see links below).