Grossart joins Glasgow Police as co-pipe-sergeant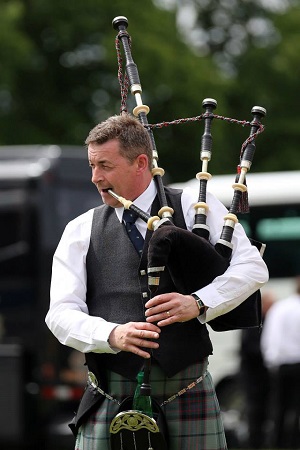 The well-known piper and reedmaker Rory Grossart has left the Grade 1 ScottishPower Pipe Band to join the Greater Glasgow Police Scotland Pipe Band where he will serve as co-pipe-sergeant with Duncan Nicholson, the former pipe-major of the band, who previously handed over the reins to Iain MacPherson.
In Grossart's pipe band career he had served as pipe-sergeant with ScottishPower under former P-M Roddy MacLeod, and was also P-S with the now defunct Grade 1 Black Bottle Whisky Pipe Band. By joining Glasgow Police, the band has effectively traded one-time pipe-sergeants with ScottishPower in that former Glasgow Police Pipe-Major Donald Mackay is now pipe-sergeant of ScottishPower.
"It's a great move for the band to have Rory join us," MacPherson said. "I think that his knowledge of sound and reed manipulation will be exciting for us moving forward. Having Duncan and Rory as joint pipe-sergeants gives us a wealth of technical and musical experience that will make us a stronger in the future. I'm really happy that we are steadily building a team of experienced pipers and drummers that will strive to improve the band for the challenge of next season."
Grossart is also a successful competition solo piper and the owner or MG Reeds, making both chanter reeds and cane and synthetic drone reeds, working out of the McCallum Bagpipes facilities in Kilmarnock, Scotland. The band has not said whether it will be using Grossart's products.
ScottishPower Pipe-Major Chris Armstrong also makes a successful line of synthetic drone reeds, but Armstrong said that Grossart's move was not influenced by the use of products within ScottishPower.