How the 2016 Glenfiddich Champion was decided
The overall prize at the 43rd annual Glenfiddich Solo Piping Championship at Blair Castle on October 29th was awarded to Roddy MacLeod – his fifth time in his career winning the most coveted and prestigious prize in solo piping.
As one of the greatest competitors in piping history and with a career of consistent winning lasting 40 years and counting, MacLeod was a popular winner. But it was an unusual aggregate award in that MacLeod's win was based solely on his first-prize in the piobaireachd event.
We confirmed with Glenfiddich organizers that the calculation of the overall prize is based on a simple points system: five points for a first, four for second, three for third, and so on. So MacLeod had five total points.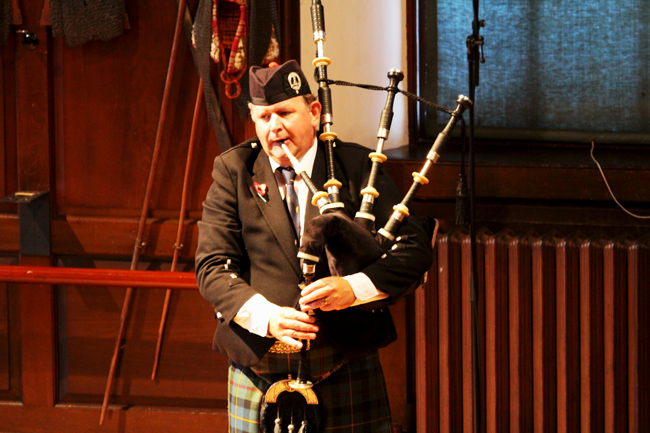 Willie McCallum also had one prize – a first in the March, Strathspey & Reel – and came away with five points as well. But, in the case of ties a higher prize in the piobaireachd event is the deciding factor, so MacLeod got the nod.
Unusual this year was that Bruce Gandy also had five aggregate points, with a fifth in the piobaireachd and a second in the MSR. Gandy and Iain Speirs (four total points; third in the piobaireachd and fifth in the MSR) were the only two of the 10 competitors who featured in both prize lists.
Organizers also confirmed that there is no stipulation for a tie for the overall aggregate championship being broken by a contestant featuring in the prize lists for both disciplines, and that the judges on each bench only come up with five placings, and, if they have personal thoughts or conclusions as to who is placed sixth, seventh and so on, they don't disclose them.
Some pipes|drums readers wondered publicly how the Glenfiddich Championship is decided and remarked on the rare three-way tie, with overall rankings announced as 1st MacLeod, 2nd McCallum and 3rd Gandy. McCallum's first-prize in the MSR was confirmed as the tie-breaker for second place, even though Gandy had a fifth in the piobaireachd when McCallum was not in the piobaireachd prize list.
Multi-event pipe band competition rules for determining overall prizes are generally far more detailed than multi-event solo piping contests, with ensemble breaking the first tie, the MSR discipline considered weightier than the medley, and piping marks looked to in the MSR and then the medley if ties should still remain.
Whether rankings beyond the events prize lists should be determined by the judges is up for debate. Asking benches of adjudicators to agree on an entire list would certainly prolong the tabulation of prizes and complicate their task. In Scotland, the traditional approach to judging solo piping events is not to award points or separate rankings, but to take a consultative approach, collectively coming up with prize lists for events that are amenable to all adjudicators.
Of note, one of the most senior judges at the event said that the 2016 Glenfiddich Championship "was the highest standard he had ever heard at the contest."