Iain Speirs wins his sixth Silver Chanter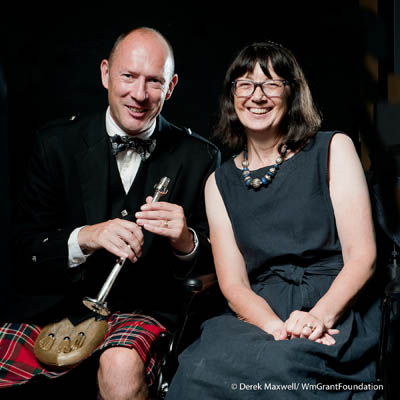 Glasgow – August 4, 2018 – Iain Speirs of Edinburgh won his sixth Silver Chanter, held for the first time at the National Piping Centre after 51 years at Dunvegan Castle on the Isle of Skye.
Speirs performed "I Got a Kiss of the King's Hand."
Other competitors in the invitational event were:
Callum Beaumont, Linlithgow, Scotland, "Lament for the Children"
Glenn Brown, Glasgow, "Lament for the Earl of Antrim"
Cameron Drummond, Edinburgh, "Rory McCoude's Lament"
Alasdair Henderson, Dunoon, Scotland, "The Battle of Waternish"
Angus MacColl, Benderloch, Scotland, "Lament for Patrick Og MacCrimmon"
The contest was judged by Hugh MacCallum.
The competition is sponsored by the William Grant Foundation and the Isle of Skye Piping Society, and pays homage to piobaireachds composed or closely associated with the MacCrimmon dynasty of pipers of Skye.
Maggie Gordon, daughter of Sandy Grant-Gordon, the great benefactor of piping for the last sixty years and head of William Grant & Sons, attended the event and presented the prize Silver Chanter to Iain Speirs.
+ Sandy Grant Gordon: the pipes|drums Interview
The competition was started in 1967 by Seumas MacNeill and John MacFadyen. It elected to move from Dunvegan Castle to make the black-tie competition more accessible.