Inveraray & District: 2018 European Champions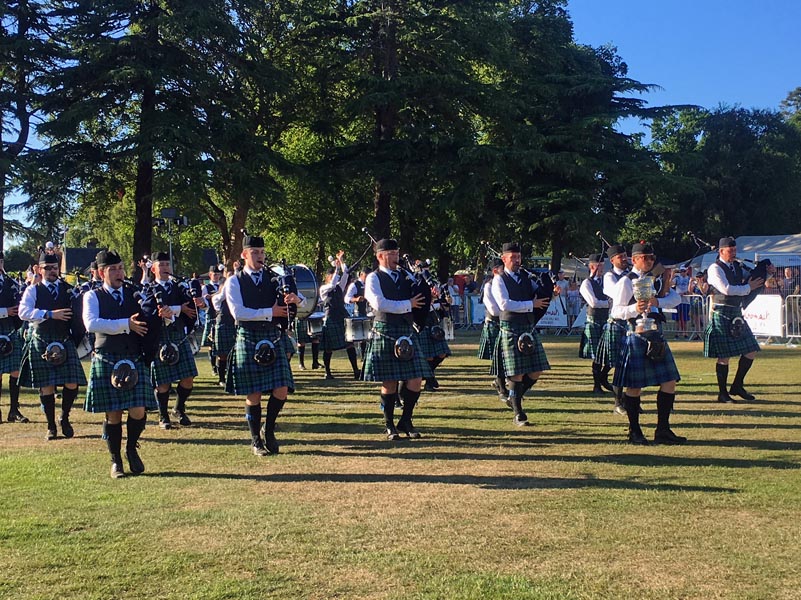 Forres, Scotland – June 30, 2018 – Inveraray & District won the third major competition of the RSPBA season, the European Championships, held again in the north of Scotland at Forres, near Inverness. Weather was sunny and warm, and the multi-beer-tent verdant setting was its usual welcoming and friendly atmosphere, making it one of the most popular venues in the RSPBA season. The Grade 1 prizes were announced around 7:15.
Dundee's MacKenzie Caledonian made it two successive Grade 2 major wins, overcoming a seventh in drumming with three firsts from the other judges.
There were 15 in the Grade 1 event, but the Grade 2 competition was one of the smallest in decades, with only nine bands competing. Only two weeks after the UK Championships at Belfast, several bands from Northern Ireland and Ireland elected to give the European a miss likely due to travel and accommodation costs.
With the first major win of the 2018 season for the 2017 World Champion Inveraray & District, the contest marked the third different band to win a major championship this year, following the success of ScottishPower at the British Championships and St. Laurence O'Toole at the United Kingdom Championships.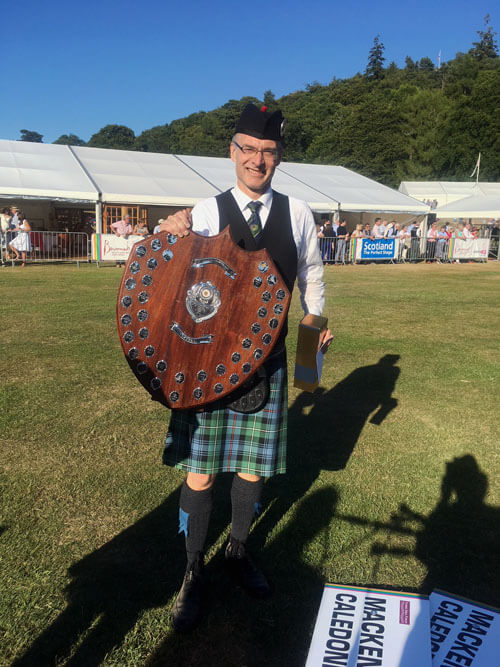 + 2018 UK Champions: St. Laurence O'Toole
+ ScottishPower: 2018 British Champions
It was announced that the European Championship will leave the popular Forres setting after six years to move to Bught Park in Inverness for at least the next three years. The 2019 European will be on June 29th.
Grade 1 (Medley, 15 competed)
1st Inveraray & District (3,1,2,1)
2nd Field Marshal Montgomery (1,3,1,3)
3rd Scottish Power (2,2,4,4)
4th St. Laurence O'Toole (4,4,3,2)
5th Police Scotland Fife (6,7,5,5)
6th Peoples Ford Boghall & Bathgate Caledonia (7,6,6,6)
Judges: John Moles, Alvis Kerr (piping); Alex Dudgeon (drumming); Jim Campbell (ensemble)
Grade 2 (MSR, nine competed)
1st MacKenzie Caledonian (1,1,7,1)
2nd Bucksburn & District (4,3,1,3)
3rd Grampian Police Scotland (3,2,5,2)
4th Royal Burgh of Stirling (6,6,3,5)
5th Isle of Islay (2,4,8,7)
6th City of Discovery (7,9,2,4)
Judges: Barry Donaldson, Gordon Lawrie (piping); Greg Dinsdale (drumming); Tony Sloane (ensemble)