Is the World's killing the pipe band world? Part 1
But what's a modern-day pipe-major to do? He's struggling for numbers himself, and if he gets down on his all-star member for aiding the competition at a contest his band isn't competing at, then he risks alienating and losing the player. It's not dissimilar to major league sports. Team managers are loath to chew-out a top player for not hustling or having a bad attitude for fear of a revolt and the star player ultimately demanding a trade or transfer. The manager mollycoddles the players, turning a blind eye to what used to be an ethical impropriety.
Of course, the band that's not competing at the World's is the one that the temporary help is leaving – temporarily. Generally, upper-grade bands that don't compete at the World's do so because they're challenged for strong personnel. And non-UK bands that don't travel to Scotland to compete in the World Championships might be seen as lacking commitment, so new top-flight personnel are less likely to be attracted. It's an unkind circle in which they're caught.
Impact throughout the grades
It can be said that, overall, no other grade has been more affected by the pressure for Grade 1 bands to produce large section than Grade 2. Only 10 years ago, some 19 Grade 2 bands competed at the North American Championships at Maxville, Ontario. In 2010, only eight entered. There has been a steady decline, not only in entries at the biggest competition in North America, but in the number of Grade 2 bands in North America overall.
The decline is perhaps most pronounced in Ontario. Only three Grade 2 bands competed on its circuit in 2010.
There is strong evidence to suggest that, with Grade 1 North American bands desperate to assemble rosters and sections large enough to be viable at the World's, they are taking players not from Grade 2 bands, but from those in Grade 3. Pipers and drummers who before would stay with their local band, coursing up through the grades with pronounced loyalty, these players are leapfrogging Grade 2, attracted to the siren song of Grade 1. The preparatory ground for Grade 1 that was once Grade 2 is now, more often than not, Grade 3.
The bragging rights that once came with making the cut as an accomplished member of a Grade 1 band today are today commonplace, Grade 1 members and their alumni are scattered all over North America.
And, so, Grade 2 becomes more and more threadbare in North America. The bands that compete in the grade today more often than not lurch from year to year with wildly differing standards. Grade 2 bands can build up a large and talented roster one year, only to see the whole thing collapse over the following winter, often a result of being impatiently unwilling to persevere in Grade 2 or unable to accept not winning in Grade 1.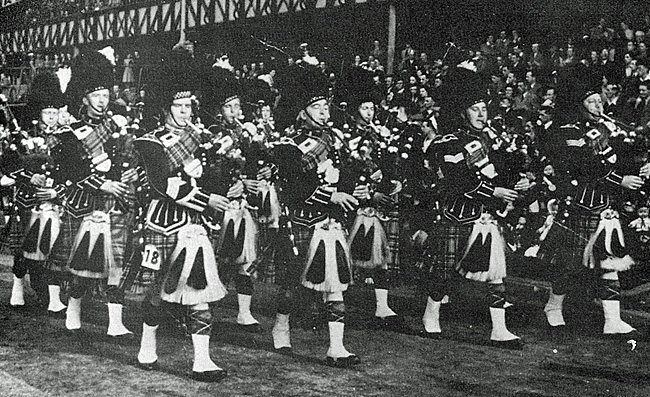 And because players are coming straight from the lower ranks to the top bands, relatively few Grade 3 bands are making a successful leap to Grade 2. And because there are fewer Grade 2 bands outside of the UK, there are relatively fewer bands promoted to Grade 1, so, rather than the number of bands in Grade 1 increasing, that grade, too, is in decline in more mature pipe band regions like British Columbia and Ontario. In terms of the number of bands competing in both Grade 1 and Grade 2, both are in decline.
Recently the Grade 2 Rocky Mountain Pipe Band of Calgary, which finished fourth overall at the 2010 North American Championships, this year has decided not to compete because of numbers. But the band can field the minimum numbers in each section; it just can't come close to putting out 15-plus pipers and six snare-drummers – numbers that make a Grade 2 band realistically competitive. Rocky Mountain would rather not bother at all than toil against bands with a small battalion of players.
"My personal view is that there's an 'unwritten rule' in terms of minimum numbers as far as being competitive," said Rocky Mountain Pipe-Major Sean Somers. "The fact is, a small army of players is an impressive thing. Visually speaking – before a note is even played – it's hard to compete with an eight-wide swath of pipers four rows deep. We bailed-out this year, because if we showed up with eight or 10 pipers to Maxville again this year, I think we'd get laughed out of the park. And it's not just pipers either. Mid-sections especially, are under the same pressure."